Summary
Optimized model for portfolio construction has been proved to successfully generate alpha
Target return is 10%+Market Index return (meaning average monthly outperformance is about 0.8% against benchmark index);
Portfolio downside risk controls at the same level as market index
Historical results are statistically significant at 95% level of confidence
Rebalance every 20 trading days; single line max long 20%, max short -15% (Can be customized)
The below table shows the selection of stocks (HSI components) by different strategies (LongOnly, LongShort, MarketNeutral). Portfolio construction is based on the closing prices as of 08/14. Performance will be evaluated on 09/11 and then rebalance the portfolio.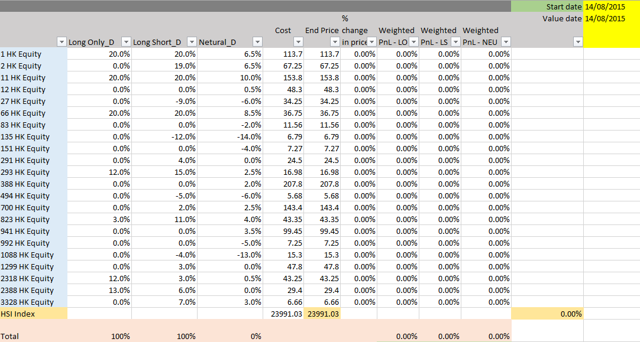 Disclosure: I/we have no positions in any stocks mentioned, but may initiate a long position in THE SELECTED STOCKS AND SHORT POSITION IN THE NEGATIVELY WEIGHTED STOCKS over the next 72 hours.
Additional disclosure: Please note that the stock selection is purely based on numerical optimization. My actual holdings will take extra consideration in macro and industrial analysis.