Summary:
Despite several years of strong growth, the price has actually fallen over the past year.
Insiders have been buying up shares at this valuation.
Bank of the Ozarks is oversold as a result of profit taking, and the Muddy Waters short bet.
Bank of the Ozarks agressive strategy has been paying off.
As I write this OZRK is down 19% from a year ago, despite net income growing almost 30% over the last four quarters. Not only did net income grow by 30%, deposits and loans have both grown at a rapid rate and dividends have also steadily incereased. Bank of the Ozark's value has undoubtetly increased in the last year, however the market cap has dropped in the same time. The P/E ratio has dropped signifigantly to 17.07, a very reasonable valuation considering thier rate of growth. Below is a chart that sums up the above paragraph.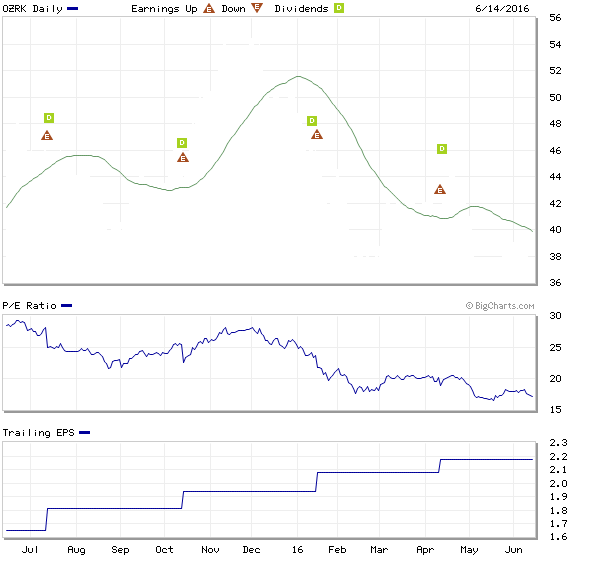 As you can see, right around January and Febuary OZRK reached a peak. At this point OZRK sat around a 28 P/E ratio, and the valuation was alittle rediculous. While their growth shows great potential for reward, thier strategy is just too risky to justify that P/E ratio. Insiders knew this and began selling around $52. Shortly after the stock plunged. Since april, insiders have been buying up more and more shares at around $37 in the open market. I believe this will continue until the stock rebounds. Insiders know that at this cheap valuation there is considerably less risk, with the same amount of reward, associated with the stock.
Muddy waters took issue with the amount of loan commitments OZRK is taking on. To a certain extent I agree. Thier strategy is very risky; much riskier than a big bank. However, the risky strategy is paying off, and they are growing at a rapid rate. If you want high growth stock in the financial sector, with a strong history of growth and good management, OZRK is your stock. Could the stock fail catastrophically? Yes it definitly could if the economy goes through another recesion. So could just about any bank stock if the economy goes down the tubes. However this stock is going to post earnings growth at a far higher rate than any "safe" big bank stock out there. OZRK has been successful with this strategy for a long time now, and i dont see that changing unless outside factors change. This fact, coupled with the vastly decreased downside risk as a result of the large drop in share price, makes this stock a BUY in my book. Analysts seem to agree with me, it has a BUY rating with an average price target of 48.86.
Disclosure: I am/we are long OZRK.