Summary:

Two for the price of one. Miraculo owns two separate but related fast-growing brands:

cannabisMD: a digital media platform that provides comprehensive, un-biased coverage of the potential health benefits of cannabis compounds
God's Greenery: first multi-level marketing company focused on hemp CBD for the Christian community

10,000+ domains valued substantially above capital raises

(Rough) value of $250m based on revenue expectations

Rock-star management team. One of the best media/content-focused management teams we've seen in the space, with deep expertise in traditional and social media, media behavioral data, advertising, and medical professions

Focused on health use of cannabis/CBD. Their focus on medical use of cannabis is a significant driver:

Our measure of health demand for cannabis products is vastly outgrowing the overall cannabis market

We see this medical portion of the industry growing substantially for the next several years
Focused on health use of cannabis/CBD. Their focus on medical use of cannabis is a significant driver:

Our measure of health demand for cannabis products is vastly outgrowing the overall cannabis consumption market
We see this medical portion of the industry growing substantially for the next several years
Traditional pharmaceutical and medical professionals are flocking to clinical trials and offer medical and beauty products
Virtually no competitors in space. Their focus away from pro-cannabis users – where the traditional sites attract users and advertisers – opens up two much larger target groups of tremendous interest to major corporations:

CannabisMD targets three groups who aren't typically cannabis users: health-conscious (and budget-conscious) family household health decision makers, "health agers" who want to remain vibrant and healthy past their 40's, and pro-environmental/organic Millennials who want to take control of their health values
GodsGreenery targets Christians who aren't prone to be cannabis users but who have a connection to cannabis (or at least hemp CBD) through the Bible
Competitors in these spaces tend to be either very small (and unable to generate critical mass for exposure/outreach, nor the technology for the collection of valuable behavioral data) or very large (such as HuffPost, CNN or MSNBC) and focused across the global array of topics/coverage and thus not generating a community of specific users on these topics or from these groups
cannabis MD
Premium, non-promotional content. cannabisMD is the leader in providing quality medical/health/beauty information and content for the fast-growing cannabis market:

Not promotional / no advocacy
No "smoking" or other traditional cannabis imagery/topics
Premium content by journalist staff
Enhanced by medical professionals
Behavioral data is the gold here. From the outside, cannabisMD is a digital media company that provides comprehensive information on the potential therapeutic uses of cannabis and CBD:

But the product it sells is really data, not the premium content it markets to users
This is similar to traditional (and highly profitable) Internet ad and social media sites such as Google, Facebook, Instagram, Twitter and Snapchat
This gives non-cannabis focused corporations a detailed look into the behavior of the underserved (but much larger) target group of users who are not pro-cannabis but are interested in progressive, nature-based (and potentially cost-conscious) health treatments.
This is of high-value to these corporations who are learning how to serve these markets without tarnishing their brands and images.
Tremendous organic online growth in cannabisMD – up 5x Y/Y from their April 2018 launch

Growth from direct search; social media could provide substantial additional upside
The company owns 12,000 keyword-specific domains which direct targeted users to the main site
Owned domains valued at $7.8m USD alone (valued by GoDaddy)
Several areas for improvement for cannabisMD:

Users are thus far coming to cannabisMD for a single article and then leaving; with more content linking (perhaps topic tabs?) cannabisMD can improve site retention
The company appears to be in the early days of utilizing social media as a way to build brand and direct traffic – our assessment is with some focus here they can build a larger recurring user base
A challenge is that "cannabis" is a forbidden word on Facebook and Instagram – working around this is difficult
GodsGreenery
Premium, Christian-based non-promotional content. GodsGreenery is the leader in providing quality medical/health/beauty information and content for the fast-growing hemp CBD market:

Not promotional / no advocacy
Premium content by journalist staff
Enhanced by medical professionals

First MLM in the CBD space. GodsGreenery is the only direct MLM sales channel into the closely-knit and highly lucrative Christian CBD communities.
Accessing locales not normally associated with cannabis. GodsGreenery has launched globally, but their initial launch was in eight states, including California, Florida, Utah, Illinois, Texas and Georgia
Growth of medical cannabis demand
It is well-known that the market for legal cannabis and cannabis products has expanded rapidly over the past five years, driven by recreational use as well as edibles, and medical/health products. However, it is our belief that the medical cannabis sector has vastly outgrown the recreational portion of the sector – there is real science behind much of this newfound popular interest, and as more clinical trials are completed we should see acceptance across a broader portion of the population. To directly measure this transition and the possible beneficiaries of such growth, Cascend Securities measured consumer demand of cannabis by consumers / patients through its online prevalence.
From this data we determined CBD (blue in chart below) has been the outstanding cannabis product, with the highest growth over the past five years -- it's now the largest search/commentary term with respect to online activity and vastly outgrowing "pot" and "weed". The below chart shows that CBD has consistently outgrown "pot" and other interest areas, and appears highly likely to continue. This is impressive, as a decade ago few people knew the term at all.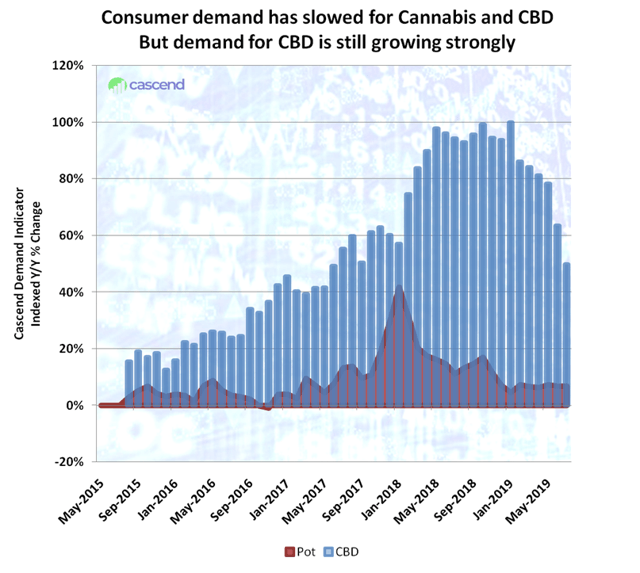 CBD demand has grown from close to 5% of total demand to over 30% in more than five years. And this demand has accelerated from 15% Y/Y growth in 2014, steadily increasing to 100% Y/Y in 2018, and finally slowing a bit to 80% in April 2019.
Our interpretation is that demand for CBD and CBD-based products shows the transition from a mostly recreational cannabis market to equal balance for medical/health focused cannabis products. This is why we believe that medically-driven cannabis extracts and treatments are among the best segments long-term -- we think this is real consumer/patient interest in medical uses of cannabis which is still in early innings – with more research and clinical trials we will likely see more demand
This demand for CBD likely mirrors the demand for extracts: pure compounds must be extracted from cannabis to be utilized in edibles and for health and beauty products. Demand will continue growing for medical-quality extracts, as we discuss later in this report. The recent passage of the US Farm Bill that excludes hemp from the Controlled Substances Act, permits CBD derived from hemp products to be imported and exported across U.S. state lines, although demand was growing strongly well before this.
Drug chain retailers are also entering the CBD, including CVS and Walgreens with CBD roll-outs to 800 and 1500 stores respectively.
There is the risk of the term "CBD" getting saturated in the market: it is getting hyped? We see almost zero online activity in "cannabidiol" suggesting health/medical-conscious consumers are being led to CBD by media instead of directly from scientific reports (or maybe consumers simply can't spell it?) as most scientific literature reference the full name. Also, THC for health usage may be the long-term value play here for brand/offering differentiation: it's barely growing (green below) and from a small base, and CBD is taking all the attention in online, but clinical/scientific research on THC and other derivatives (extracted and synthetics) are much more equal in prevalence
Our measurements (reasonably) show that pot and weed (blue and orange in chart above) combined are the largest category of online activity. Usage of the term "pot" is growing solidly off a very large existing base – not as strong as CBD, but still seeing growth. However, the term "weed" has been basically flat over five years: the term is still used commonly, but it is slowly being more-and-more eclipsed by "pot". Virtually no-one uses the term "cannabis" except industry and medical professionals, and the occasional analyst, and "marijuana" continues to decline in use as well.
There's a clear seasonality for consumer demand in the holiday season – gifts? solace from family?. We can also see investor-driven interest at key points which is much smaller than general holiday consumer demand.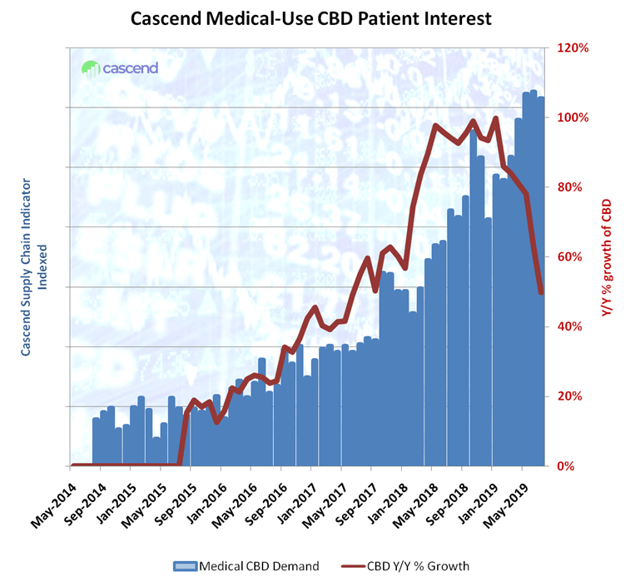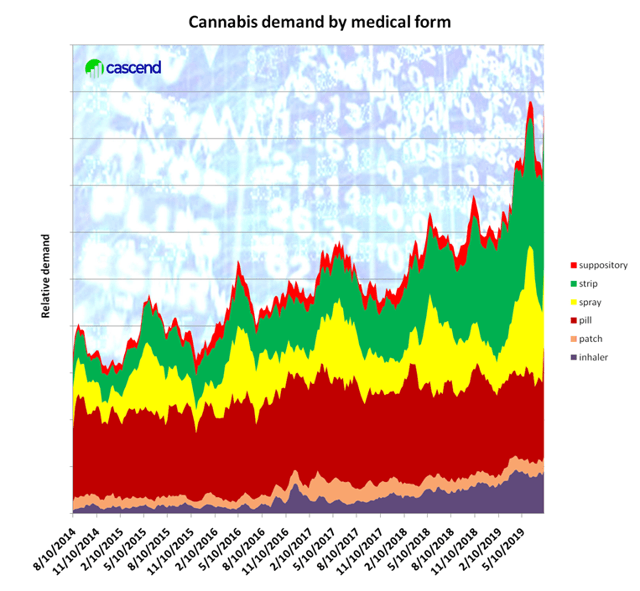 cannabisMD
cannabisMD is a digital media company that provides comprehensive, un-biased coverage of the potential health benefits of cannabis compounds. Content is generally original and is produced by largely freelance editors and writers. cannabisMD's medical advisors also write original content and market the company's insights in the media; they also partner with institutions for research. Some content is curated such as peer-reviewed research and scientific papers. The majority of subject matter is ailment-specific, although the articles are accessible for the general reader. There are also lifestyle stories as well.
Designed for data
cannabisMD has intentionally designed their site to collect data on user preferences and behavior, in order to be a valued data partner for their customers.
As each user enters cannabisMD's network, they are profiled. Their actions and behaviors are tracked through the site, through their syndication network, and through partner sites. They then combine trend analysis and other industry data to profile user behavior for their data customers.
cannabisMD's partner sites host a widget called the Knowledge Navigator, connecting users with information of CBD health benefits. This allows the user to be tracked as far as behaviors and actions (but not beyond that). They then use machine learning to gain more understanding of user behavioral patterns.
Corporate clients are interested in this data because other sites have focused on traditional cannabis users, and thus their data is from a specific group of pro-cannabis users. Corporations are more interested in the much larger user group which cannabisMD brings.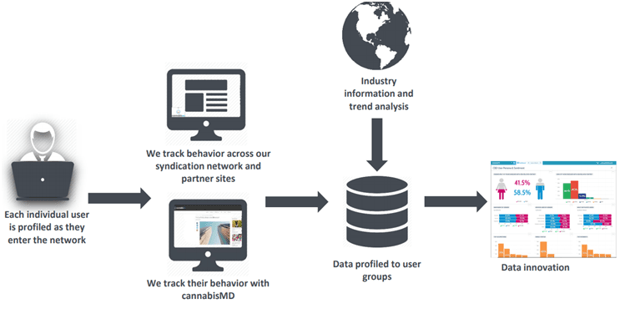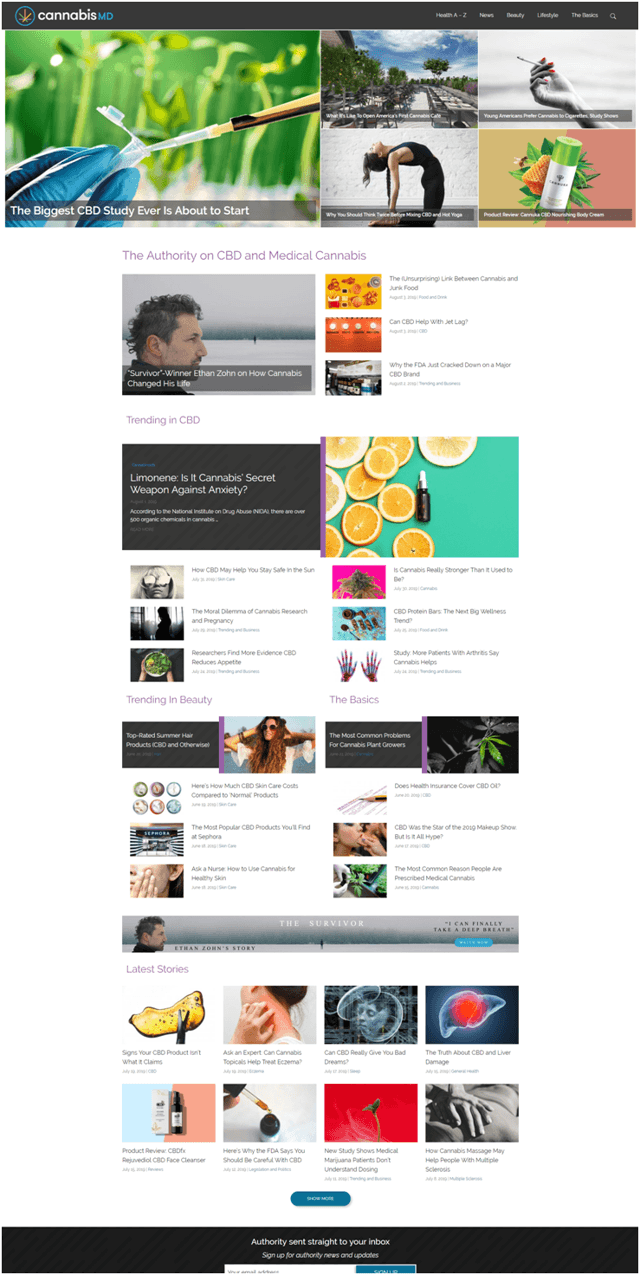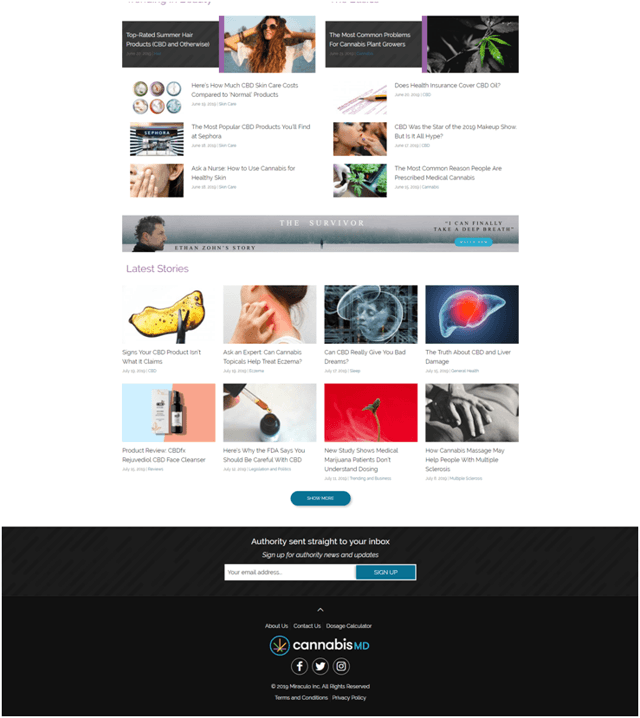 cannabisMD is focused on medical cannabis usage, not recreational
cannabisMD has chosen to focus on the medical, health and beauty aspects of cannabis compounds, and not the recreational market. Users (and advertisers) won't see the words "smoke" or "weed" on the site: it chooses to be an unbiased medical information content provider and not an advocate of recreational use. This strategy is deliberate as it attracts a very different user profile than the typical pro-cannabis sites.
The company is targeting three specific underserved large user bases:
Household medical decision makers. This targeted user group may be termed Chief Medical Officer Mom (cMOM). This group is highly underserved in traditional pro-cannabis sites but represents a much larger portion of the population. These users are responsible for the health and well-being of their families, and are searching for healthier and more cost-effective means to accomplish these goals. The segment attracted to potential cannabis-based health solutions are generally less conservative, more health-conscious, more focused on natural and organic foods and treatments, and open to non-traditional medical alternatives.
Healthy agers. This group is looking for ways to stay healthy as they age. They are still active in recreational sports and lifestyle activities such as hiking and triathlons.
Forward-thinking Millennials. This group has just aged into becoming responsible for their own health care and is concerned that traditional healthcare plans no longer serve their best interest. They are interested in integrating health and wellness into their overall lifestyle.
The company is not targeting existing brands such as cannabis producers or dispensaries. They are focused on bringing a much larger group of companies not focused on cannabis to a target audience open to new products and services.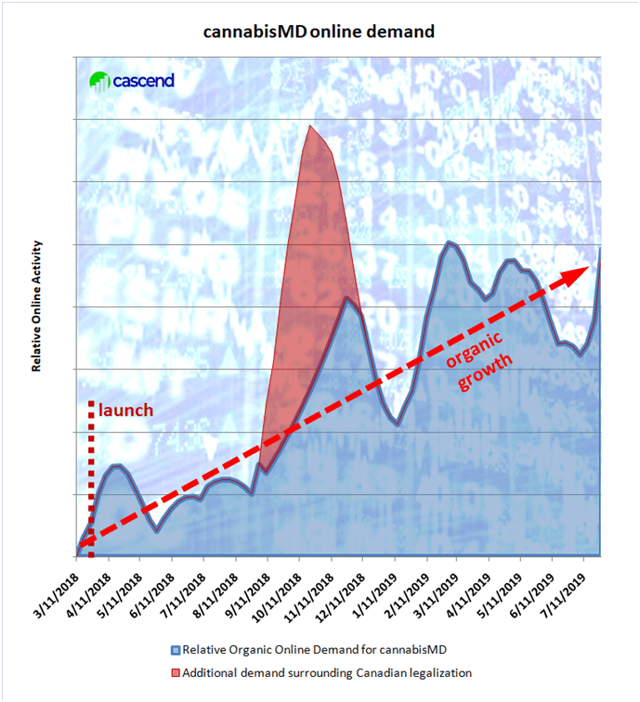 Online Demand for cannabisMD
Our measure of online user demand for cannabisMD.com shows a substantial growth from its launch in April 2018 through to today. Organic growth has been roughly 10x in the 17 months from launch.
Our measurements show the initial ramp produced a bump in user activity likely due to a flurry of press releases and marketing. We also see a significant bump in demand leading up to and surrounding the legalization of cannabis in Canada, announced on October 17th, 2018; demand spiked in mid September and peaked just after legalization was announced.
We do not see the slower activity in May and June as an issue: it appears there is a seasonality to activity as may be seen in the year-ago months after launch.
There were searches and conversations around "cannabis md" before the launch of cannabismd.com, but activity volumes were much lower than after launch, and were very spotty. We assume they were simply users seeking doctors who may prescribe cannabis as a medical necessity and have nothing directly to do with the site.
Major of traffic is still from search
From our analysis, cannabisMD has the hallmarks of an early lifecycle of user growth, and thus there are significant opportunities which may drive usership up over the next several years.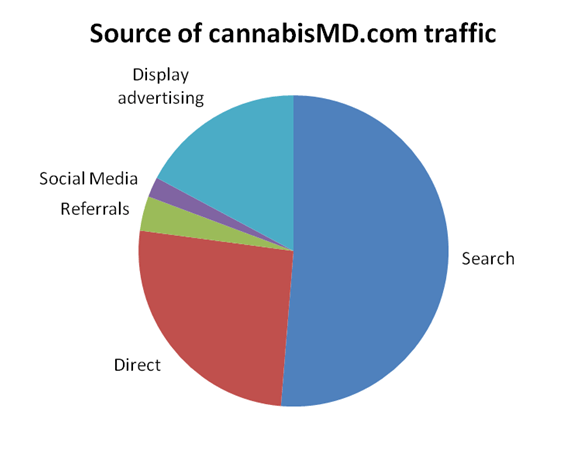 Search
Currently, we see the majority of traffic from cannabisMD coming from Search. Roughly 52% of traffic is from users searching for cannabisMD directly via a search engine, or for a topic which returns a cannabisMD link as a result which is then clicked.
Given the company owns 12,000 targeted web site URL brand assets with focus on highly specialized topics: we are not surprised Search is so prominent in traffic composition: when a user searches for a specific topic, one of the company's 12,000 targeted URLs are likely to feature in the results given their focus regardless of ad-word buying for these topics. Adwords for such specific search terms rapidly decrease in cost and allow highly efficient use of ad marketing dollars to drive traffic.
The company likely enhances the prominence of these URLs through search engine optimization techniques for the most competitive keywords. SEO is a fickle business, and is driven by the ever-changing search algorithms at the major search engines. However, SEO for highly specific topics – as the company has opted to compete in – are far more simple and direct, and generally have less competition for their competitive keywords.
Search terms driving traffic to the site are generally specific light health-based terms, including acne, canker sores and cold sores.
Top search terms:
cbd for body acne
cannabismd
thc for canker sore
cbd oil nebulizer
cbd for cold sores
Paid search terms are more heath-focused and less beauty: ADHD is by far the most searched for ad-word when all variations of the search is combined. Second is migraines/headaches (again, when combined).
Top adwords:
what does cbd stand for
cbd oil for eczema
cbd oil and adhd
cbd oil for adhd
cbd for adhd
cbd and adhd
cbd oil migraines
cbd oil for headaches
cbd and migraines
While "cannabismd" is a top search term for traffic leading to the site, it isn't the top term – users are more interested in a specific topic than the company as a brand; this may be an opportunity as the company builds more of a known brand.
As expected, google.com is the most common (60%) site visited before landing on CannabisMD.com.
Direct
Just over 25% of traffic is direct. Generally this means the user has typed in the web site. Much of this (and most likely most) are from users who have bookmarked the site and return frequently. Many may be from direct sharing of URLs between users (such as in messaging, email or text). In many cases this traffic may also be from mobile devices as some mobile devices index direct traffic differently, indicating that the majority of users are coming in on their PCs. Some of this traffic may also be from internal usage (employees/etc.) although our data cannot distinguish between the two.
Display ads
17% of the company's traffic is driven via display ads, likely through the Google Ad Network and we assume Facebook as well (because of strong traffic there). Display ads allow the opportunity to showcase the company to users on millions of websites around the globe, building brand awareness from users who might not know the company business, but are searching for a specific topic and found the display ad. Display ads also help with customer re-acquisition/re-targeting and brand awareness for customers who have left the site.
Social media is an opportunity
Only 2% of the company's traffic stemmed from social media-driven sources. This suggests that the company has not yet built up a meaningful social media following and/or presence. While in an established company this might be highlighted as a negative, given the company is only 15 months old, we view this as an area from which we will likely see significant growth opportunities over the next several years.
Interestingly, 75% of current social media-derived traffic is driven from Reddit, likely in response to specific questions. Only 25% of traffic is driven from Facebook. There is essentially zero traffic driven from massive platforms such as Instagram and YouTube (more than 1b MAUs each) nor more-targeted established sites such as Twitter, Snapchat and LinkedIn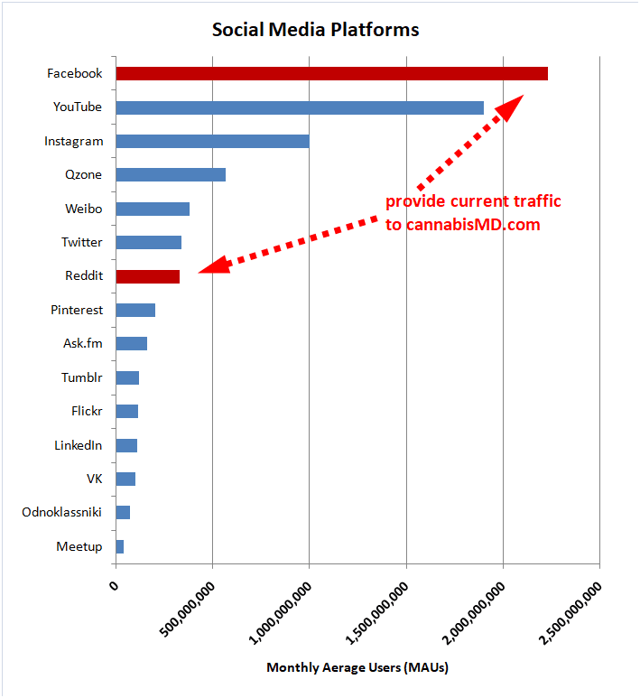 One additional (minor) issue with Facebook is that a different company has "Cannabismd" as their username on Facebook (Cannabismd). This could prevent the company from accumulating critical mass as easily on Facebook. It doesn't always appear in search but the Company is aware and focused on correcting it.

(Above logo is of different/wrong "cannabismd" on Facebook)
Users are visiting for specific content but then leaving
Users appear to be visiting cannabisMD via search for a specific topic or direct link for a specific article, and growth has been tremendous. However, our research indicates that users are highly likely (above 80%) likely to view a single article and then leave for another site; the average number of pages per user is 1.2 implying of 5 users four will view one article and one will view two. While the entire segment is filled with users looking for specific information and then leaving the site, other comparable sites have higher retention rates. This indicates that with some simple changes cannabisMD can retain a higher percentage of viewers to stay for a second or more) article.
Another way this behavior has manifest is through average time a user spends on the site. cannabisMD sees a user for less than 2 minutes on average – barely enough time to view an article – before they depart for another site.
When departing, almost 50% of the time a user will head back to google.com.
12,000 specific domains
The company has invested in a larger number of domains to drive users to their site. These domains are based on specific keywords surrounding medical, health and beauty uses for cannabis. As these sites are highly specialized and specific, they will appear near the top of virtually any search algorithm's results for users seeking such specific topics. And because these domains are owned by the company, there is no leeway for competitors to outbid for them as they might for keyword ads.
Over 95% of these keywords are generally designed to be an exact match for the desired search term. They have built more than 500 of these sites and plan another 2,500 in CY19. According to GoDaddy, these sites together are valued at almost $8m USD based on their search and web traffic.
The Company isn't just rolling these out: they only roll out domains for a specific category as required. This strategy is working, as more than 100 of the company's domains are now top-ranked in search results for the topics they address.
Technical specifications
cannabisMD is a site running WordPress (as are most news sites) with a WPBakery Page Builder front end (WPBakery is a drag and drop page builder for WordPress). It's set up in a simple "tree" format with sub-topics nested inside the main topics, and articles are nested within the sub-topics. Article names form the basis for direct article URLs, making it easier for users to forward articles to friends/family and have them consumed.
Similar competitive sites:
The below sites are the domains which come up most often when searching terms which return the Company's site in the results. Most are very small and haven't built critical mass; several are larger and general. None focus on the Company's target markets. We do not view any as a real competitive threat.
GodsGreenery
GodsGreenery.com is the first online community where Christians can access reliable information, research and stories about the use of CBD -- to create a safe space for Christians to research CBD and see if it might benefit them. They are currently targeting faith-based users and communities in California, Florida, Utah, Illinois, Texas and Georgia.
This community is far-afield of the traditional pro-cannabis user base found on virtually every other cannabis "news" site. They aren't likely to use cannabis recreationally, and likely have children (and don't want those children using cannabis recreationally either).
Typical users come to address health issues, but remain with the content because of the tie-in with and application to Christianity. They come for many of the same issues as users of cannabisMD: acne, inflammation, autoimmune diseases such as psoriasis, seizures, etc.
GodsGreenery 's articles cover Bible passages and Scripture on CBD and related topics, how it can be considered morally, as well as what therapeutic benefits and limitations of related products through using it in its different forms. Unlike most other sites, the site's articles provide Bible references as well as medical and scientific references to ensure users may have a strong factual and Scriptural basis regarding various treatments and uses.
They also provide different stories and experiences from those within the Christian community who use CBD for medical and spiritual needs., exploring how CBD is currently being used, regulated, and perceived within our society.
The company gives back to the communities through a tithe --10% of revenue -- to local churches and charities.
As an aside: CBD isn't "Good News" for everyone in the Christian community: Massachusetts-based Christian Book Distributors, a popular Christian bookseller is changing its name after a deluge of requests for cannabis-related products – for years the company has been known by the initials CBD. The bookseller announced last month it will now go by "Christianbook" to avoid confusion with cannabidiol, an increasingly popular cannabis-derived product that shares its initials.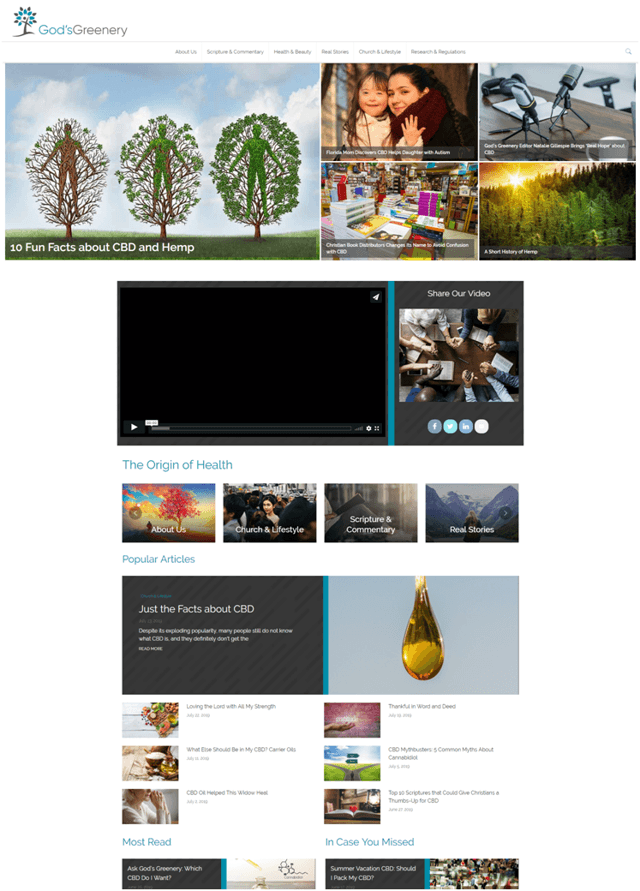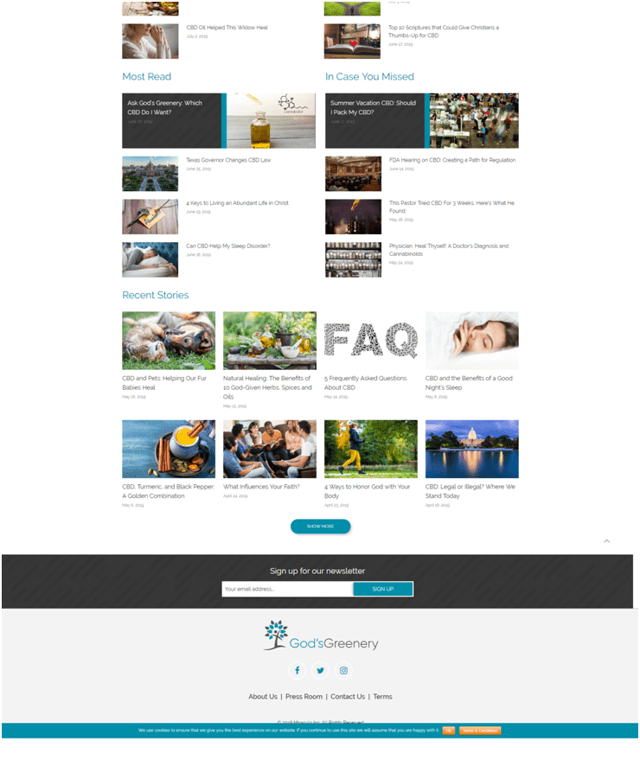 Online demand for God's Greenery
Having launched in November 2018, the site hasn't generated enough demand to see clearly with our online demand tools. But we do see a significant number of press releases and stories on traditional Christian media sites referencing GodsGreenery. From this we expect that by the end of CY19 we will begin to see GodsGreenery
From Google search traffic which ends with a click onto God's Greenery, search terms are as follows:
gods greenery (57%)
godsgreenery (20%)
cbd demographics (6%)
genesis 1:29 cbd (4%)
demographics of cbd users (4%)
As the site is relatively new, we found only four other sites which link back to GodsGreenery, and users spend roughly 5 minutes on the site before leaving.
One positive: GodsGreenery at least owns their name on Facebook, which will be a potential driver for the strong community-based users for the site.
Biblical references to cannabis are unclear
It is almost certain that cannabis existed in the ancient Judeic world from which the Bible derives. Cannabis use for medicinal purposes dates back almost 5,000 years: according to Chinese legend, cannabis was used as early as 2700 B.C. in the court of Emperor Shen Neng as a treatment for a myriad of ailments including (what we believe was) gout, rheumatism, and malaria. Its usage likely spread to India over the next millennium as bhang (dried cannabis leaves, seeds and stems) is mentioned in the Hindu sacred text Atharvaveda (Science of Charms) as "Sacred Grass" for medical treatments, and then to Persia in the next millennium as The Zoroastrian Zendavesta, an ancient Persian religious text, refers to bhang as the "good narcotic." From trade with Persia it is virtually certain cannabis was present in the region when these Biblical figures were portrayed. However, the Bible doesn't mention specifically mention cannabis.
The Bible doesn't mention CBD specifically either. However, it does speak about wine and the usage of plants. There are passages in both Ezekiel 47:12 and Revelation 22:2 which describe leaves being used for healing. There are other passages referencing the existence of seed-bearing plants (in Genesis 1:12, Genesis 1:29-31, Ezekiel 34:29, Isaiah 18:4-5) which many take to include cannabis, including 'Then God said, "Behold, I have given you every plant yielding seed that is on the surface of all the earth, and every tree which has fruit yielding seed; it shall be food for you', from Genesis 1:29, which many supporters believe would include cannabis. These generally form the basis of many Christians' belief that plant-based therapeutic techniques (such as herbs and essential oil) are supported in the Bible.
For wine and sobriety, the Bible instructs to "not get drunk on wine, which leads to debauchery" (Ephesians. 5:18). Paul said to be sober-minded; be watchful." in 1 Peter 5:6-8. Galatians 5:19-21 specifically warns against drunkenness (and other even worse acts), and Proverbs 23:29-30 warns against it in a different way – that you can get hurt (or at least hungover) from its overuse.
But wine for medicinal purposes appear to be encouraged: "Give strong drink unto him that is ready to perish, and wine unto those that be of heavy hearts" (Proverbs 31:6). Paul also told Timothy to use wine medicinally (1 Tim. 5:23); this may be interpreted for Christians to not use wine and plants to get intoxicated, but only for health purposes – this is why Christians have flocked to CBD but not to THC (which intoxicates).
Additionally, given CBD from marijuana is not Federally legal in the U,S., many U.S. Christians have discovered hemp CBD which is legal according to the Farm Bill.
Valuation could reach $250m
Even though Miraculo's content would suggest it is in the emerging cannabis group, we note that unlike the majority of companies in that space, Miraculo neither offers cultivation or extraction capacity, nor retail stores or branded consumer products. We assert it is a better fit in the Social Media/Content and eCommerce sector, but focused on a specific targeted content area (such as Zillow with real estate, or Yelp with restaurants, hotels and other consumer experiences).
We chose several well-known participants in this space for a rough comparables analysis. Using Price-to-Sales as a metric suitable for emerging growth companies, we found the average company in the space trades at 6.2x CY18 revenues. Using our forecast of $41.3m in CY21 revenues for Miraculo, we estimate the Company's valuation based on Price-to-Sales should be roughly $250m (if it were a publicly traded company).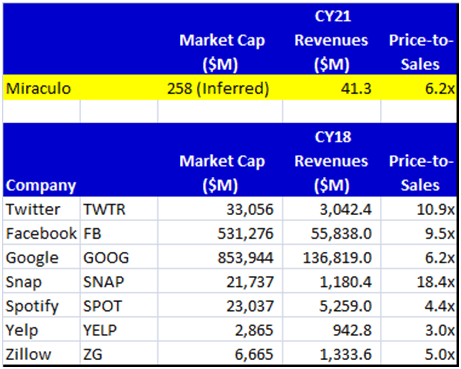 Management Team
Michael Klein

CEO

Mr. Klein is the CEO of cannabisMD. He was the Executive Vice President of Original Content at MTV/Viacom driving content across multiple formats. Prior to MTV he was Executive Vice President of Programming & Content (Digital Channels) and Alternative Programming at Condé Nast Entertainment (incl. Vogue, Vanity Fair, GQ, Wired, The New Yorker). He was also the Head of Original Programming for SundanceTV, and Vice President at The Travel Channel, TLC, and Discovery, Inc. He attended Queen's University and the London Business School.

G. Scott Paterson

Chairman & Co-Founder

Mr. Paterson, is Chairman of Miraculo's Board of Director. He has been the Chief Executive Officer of Paterson Partners Inc. since January 2002. Mr. Paterson serves as a Partner. Chairman or Director at a number of companies including leadership roles at Symbility Solutions and Lions Gate Entertainment, JumpTV, QYOUTV (Co-Founder), Freepour Controls, Versa Controls. Mr. Paterson was consider Canada's top tech and media financier and served as the President and CEO of Yorkton Securities and has been the recipient of Globe & Mail's "Top 40 Under 40 Award" and, in 2007, was recognized by Newsweek magazine as one of the 17 people in its "Who's Next in 2007" article. An active philanthropist, Paterson co-founded Toronto's Merry Go Round Children's Foundation and currently serves as its Chairman.

Rory C.P. Millikin

Co-Chairman

Mr. Milikin is the Co-Founder and Chairman of Miraculo. He is also the CO-Founder and President of Vero Naturals, a parented non-chemical extracter of plant-based CBD. He was also the Chairman and Founder of Dagda Technologies, a commercial kitchen safety technology company supplying to major fast food chains. Mr. Milikin graduated from Queen's University.

Jennifer Romilini

Editor-In-Chief, CannabisMD

Ms. Jennifer Romilini is cannabisMD's Editor-In-Chief. Since joining cannabisMD traffic grew by 700%. Prior to cannabisMD Ms. Romilini was Chief Content Officer at Shondaland.com. She was also Editor-In-Chief and VP of Content at HelloGiggles Productions, a Webby-Award Winning lifestyle brand for Millennial women. Prior to this she was Editor-In-Chief and Editorial Director at Yahoo Shine and Yahoo Lifestyles. She was also Deputy Editor at Lifestyle Magazine and Editor at Condé Nast. She graduated from Emerson College.

Natalie Gillespie

Editor-In-Chief, GodsGreenery

Ms. Gillespie is Editor-in-Chief of GodsGreenery. Ms. Gillespie was the Editor of women's lifestyle magazine mtl. She is also the author of "Successful Adoption: A Guide for Christian Families" and "You Were Made to Make a Difference (with Max Lucado)".

Joshua Neilly

Chief Growth Officer

Mr. Neilly is the Chief Growth Officer at Miraculo, and has served at Chief Marketing Officer and Chief Technology Officer as well. Prior to Miraculo he was CEO and Managing Director of Fat Fish Marketing, and the Vice President of Marketing of Nameste Technologies. Before this he was the International Online Sales Manager for Goodgame Studios, the Fastest Growing German Tech Company at the time. In 2014 Mr. Neilly was named one of Northern Ireland top Technological Entrepreneurs. He earned his degree from the University of Stirling.

Nitin Kaushal

Strategic Advisor

Mr. Kaushal is a Healthcare Industry expert and strategic advisor for Miraculo. He is Managing Director, Corporate Finance, at PwC Involved in numerous mergers and acquisitions. Prior to this he was Managing Director at Medwell Capital. He earned his degree at University of Toronto, Scarsborough.

Dr. June Chin

Medical Advisor

Dr. Chin is a Medical Advisor for Miraculo. She is a physician at MedLeafRx, practicing integrative cannabis medicine in California and New York. She is also the Director of Education at the Association of Cannabis Specialists. She was the Physician Dosing Expert for CannaKids in California, and was an Adjunct Clinical Professor at the Touro College of Osteopathic Medicine. She received her undergraduate degree from Cornell University, and her Medical Degree from Touro University in California.

Dr. Matt Montee

Medical Advisor

Dr Matt Montee is an orthopedic physician and healer, who sits on the Board of Advisors and is a regular contributor to cannabisMD. He is the former Medical Director for Global Protection Shield, and has worked extensively with Doctors Without Borders, Wilderness Medical Society, Trek Medics Intl., Waves for Water, and Global Stem Cell Network. He earned his Ph.D., M.S., and P.A. from Cornell University.

Andrea Drummer

Food Editor

Chef Drummer is the Food Editor for cannabisMD. has been a pioneering force in the culinary and cannabis industry, starting her cooperative, Elevation VIP in 2012. She is the author of the book Cannabis Cuisine: Bud Pairings of A Born Again Chef and has partnered with The James NoMad Hotel in New York to create an in-room-dining, CBD-infused menu which is currently available for guests. Chef Drummer's work has been featured in Marie Claire, Vogue, Forbes, Bon Appetit, the Los Angeles Times, among many others.

Audrey Sommerfeld

MLM Advisor

Ms. Sommerfeld is the multi-level-marketing advisor for GodsGreenery and Miraculo. She is currently the Chief Marketing Officer for StartupBuffet.com. She is also a consultant for Win Marketing. Prior to this she was Vice President of Marketing & Global Product Development at ViSalus Sciences, Senior Director of Product Marketing at Obagi Medical Products, Vie President, Global Product Marketing at Herbalife International, Director if Marketing at CinAgra, and Director of Marketing at Johnson & Johnson. She earned her undergraduate degree from University of Minnesota, and her MBA from Kellogg Graduate School of Management.

Dr. Jordan Tishler

Medical Advisor

Dr. Jordan Tishler is a Harvard-trained Holistic Care expert. As a leading expert on Cannabis therapeutics, Dr. Tishler employs Western medicine and Cannabis care to treat a wide array of illness. He is additionally focused on stress management, insomnia, and human sexuality. The intersection of Cannabis medicine and sexuality is a particular area of expertise for Dr. Tishler. Dr. Tishler is an accomplished author, teacher, nationally sought-after speaker, and tireless patient advocate. A caring and dedicated physician,
Disclosure: I/we have no positions in any stocks mentioned, and no plans to initiate any positions within the next 72 hours.
Additional disclosure: Please see our disclosures on published research report dated October 10th 2019 on Bloomberg, Thompson Reuters (Refinitiv), Factset and cascend.com, including disclosures on company sponsored research.