Major Headlines Major Bitcoin exchanges and startups exit New York because of BitLicense Woes
Major Bitcoin exchanges and startups have announced that they will no longer be providing services to New York residents due to financial regulation changes in the State of New York. On the 7th of August, Bitfinex said that they would not be applying for the BitLicense issued by the New York Department of Financial Services (NYDFS) and hence has requested all the New York residents to withdraw all cryptocurrency balances currently held on Bitfinex by 4:00 pm EDT on August 15, 2015. Kraken also made a public announcement on the 9th of August through a blogpost stating they will no longer service New York customers. A few other exchanges including Poloniex, Shapeshift and other startups like BitQuick.co, have shut down their operations in New York because of the BitLicense. In the midst of this situation, on the same lines 'A.B 1326'- California's Bitcoin License has been stirring up some opposition. While the likes of Jesse Chenard, CEO at Bitcoin exchange MonetaGo calls this a 'Necessary Evil' others are skeptical that too much regulation may hurt innovation.
Overstock Unveils Blockchain Trading Platform at headquarters of Nasdaq
Overstock's chairman and CEO Patrick Byrne formally announced the launch of tØ (pronounced tee-zero), the firm's much anticipated blockchain-powered private and public equities trading platform at the headquarters of Nasdaq on August 5th. Byrne said that tØ, a subsidiary of overstock.com is already being tested in an enterprise pilot and has drawn interest from major banks. The platform uses Peernova's blockchain technology to allow pension and other stock holders directly provide their shares to hedge funds and other traders removing the middlemen such as agent lenders and brokers from the process. The technology utilizes "Pre-Borrow Assurance Tokens" (PATs), which are digital tokens that allow stock holders to closely monitor their loaned stock. Patrick Byrne has stressed that tØ is ledger agnostic and can work with any decentralized ledger. Ultimately, Byrne hopes that his platform will replace the primary stock markets and reinvent the way Wall Street does business.
Technical Analysis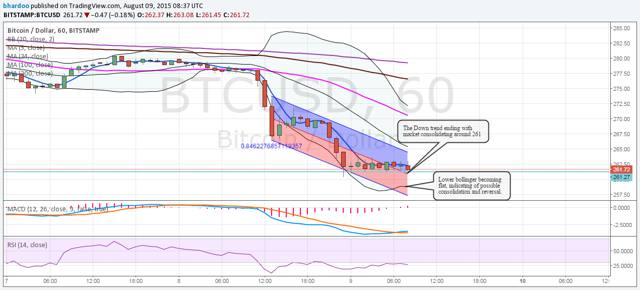 Long Term
On a weekly scale, the market has been in a bearish trend for a long time before finding some support at the start of this year. From then on it has been predominantly sideways with choppy moves from 200-300. The market is moving in mini-swings as indicated by the red arcs in the weekly chart. For the bearish part of the swing, 5 SMA has been a hard resistance and has provided some good shorting opportunities at the highs. The Bollinger bands in the weekly chart have become parallel and contracted to a great extent, which means there is great potential for break out trades.
On a long term scale, the market hasn't been able to break the middle Bollinger band and 34 SMA for some time, but in June and July the market successfully overcame these resistances respectively and has been trading above them for the 5th consecutive week. Though RSI remains around 50 without giving much indication, MACD has been trading above the signal line for some time now and is ready to cross the zero line. If the MACD crosses and remains above the signal line, it is a double confirmation for the launch of the bullish trend and would be an opportunity to capture a potential good bullish trend. The proper entry points for such trades would be around 250-255 region, which has 34 SMA and middle Bollinger band as points of support. The targets could be the high of previous month, upper Bollinger band of weekly and weekly 100 SMA.
If the market breaks out on the downside, then it would find good support around 214-227 region which houses weekly 200 SMA and the lower Bollinger band. These prices have proven to be strong points of support in the past and are good targets for break out shorts at 250.
Mid Term
In the daily chart, the market has rallied considerably from 217.26 in June to 317.50 in July and now is in a state of correction for the move. Using Fibonacci retracement levels for the move, it can be observed that market is trading in between the 50%-61.8% retracement price levels. The region between 250-255 has daily 100 and 200 SMA's and also the 61.8% re- tracement level at 255.16. Hence this zone can be considered as a zone of heavy support as it also backed by 34 SMA and Middle Bollinger band from the weekly chart. A crucial aspect which might indicate a trend reversal would be the 'Golden Crossover' of 100 and 200 SMA's in July. The last time a 100-200 SMA crossover happened, the market continuously traded below the two SMA's resulting in a completely bearish trend which was supported by fundamentals, Now that market is trading above the crossover, this might be the onset of the trend. Though the MACD is showing a bearish in the short term, RSI has been approaching the oversold region. In the medium term, and it appears that 255 could be tested before the anticipated bullish move.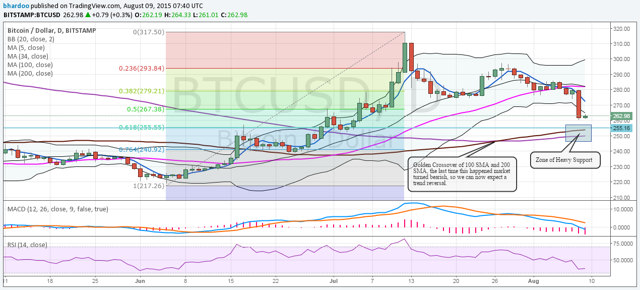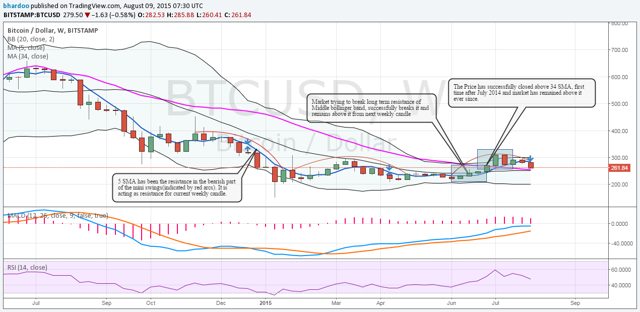 The decision of Bitfinex to leave New York because of the BitLicense has resulted in a negative sentiment among the market participants which prompted a bearish move on Saturday with comparably low volumes. This move as shown in the hourly chart, was opposed by heavy support at 261. The lower Bollinger band flattened at this point, indicating a possible trend reversal and a good short covering rally. The MACD indicator has just crossed the signal line and the RSI has been in the oversold region for some time now which implicates impending bullishness in the market. The possible entry points for quick momentum (short covering) trades would be around 262 and possible targets would be hourly middle Bollinger band and 34 SMA. With change in the trend patterns of SMAs and Bollinger bands supporting, these short term trades can be converted to medium term trades with targets taken from daily chart.Fundamental Analysis
The fall of Mt.Gox was the onset of a bearish trend that has plagued the market sentiment for more than a year in Bitcoin trading. While the question about the missing coinage is still unanswered, Former CEO of Mt.Gox, Mark Karpeles was arrested in Japan on 1st of August on the suspicion that he has illicitly added a million dollars to an account under his control. While any news regarding Mt.Gox will continue to have a negative impact on the sentiment, adding to the existing woes BitLicense in New York and AB-1326 : California's Bitcoin License have affected the market in the later part of last week. Major Exchanges like Bitfinex, Kraken, ShapeShift and many other Bitcoin related startups have blocked residents of New York from their services. While AB-1326 is engrossing similar opposition, these regulation imperative road blocks are expected to have a short term effect on Bitcoin Trading as of now. The representatives at G7 summit which was held at Germany this year in June, have pledged their support for the 'appropriate regulation' of virtual currencies. How would these regulations affect the current setup and crypto currency trading is to be seen.
On the positive front, NASDAQ adopting Blockchain Technology to for its stock trading platform to improve the efficiency of financial transactions has been a major positive story for Bitcoin. The launch of tØ(tee-zero) by Patrick Byrne, Chairman and CEO of Overstock.com at Nasdaq headquarters on the 5th of August has fortified the sentiment among the Bitcoin community. tØ is a blockchain-powered private and public equities trading platform that can work with any decentralized ledger. Symbiont, a bitcoin startup has come up with the innovation of 'Smart Securities', which uses the blockchain technology to make it quicker and easier to prove the ownership of assets or transfer them between buyers and sellers. Quant specialists from Wall-Street giants are now opting to join Bitcoin startups which is a strong indication that the potential of Bitcoins and Blockchain technology has been acknowledged by Wall-Street and further applications of the same in further asset classes is not a distant dream.
From a political standpoint, US Presidential candidate Rick Perry has revealed his stance on bitcoin by saying that he supports 'regulatory breathing room' for digital currencies such as bitcoins. London's Mayoral candidate Galloway has openly suggested the idea of tracking the city's budget by putting it on blockchain and letting people know how the funds are being directed. British Prime Minister, David Cameroon's inclusion of bitcoin company, Blockchain in the trade delegations with Asia, is an indication that UK Government maybe positioning to take up a critical role in the field of cryptocurrencies. With Australian senate's recognition of Bitcoins as a form of currency, any news regarding the acceptance of bitcoins on the political front can reinforce positive sentiment in the market in the coming days.
Across the borders, Brazil has recorded its highest volumes last month. Brazil which is the world's major exporter of soft commodities has seen rising levels of inflation over the years. Also with July-August being the harvest months for the crops, it might be possible that the increased volumes might be the result of the merchant transactions being carried out in bitcoins. Countries with weakening economies would likely see Bitcoins as their exit option for the future. With the release that major banks like Barclays and BNP Paribas are experimenting with altcoins and the Dutch ABN AMRO executives positive statements about blockchain, further adoption of Bitcoins into the existing financial services system looks more likely and is definitely going to be positive news for the Bitcoin Market Participants.Sentiment Analysis
The start of the month involved the arrest of the Former CEO and chairman of Mt.Gox , Mark Karpeles on the suspicion that he has been illegally adding money to his account from the outstanding amount of Mt.Gox. This followed by another negative stroke as Tokyo District court ruled against a bitcoin compensation plea, stating that 'Bitcoin is not subjected to ownership'. After a shaky start, the sentiment stabilized with the launch of Blockchain powered technologies by Symbiont and Overstock. These were then fortified by the online discussion event organized by Zapchain, which allowed users to interact and discuss about bitcoins. Going into the week, the acceptance of Bitcoins as a means of payments by Polish airlines, Madstar mobiles and the record trading volumes in Brazil have cultivated notable positive sentiment. At the end of the week, the announcement of Bitfinex about exiting New York regarding BitLicense has tanked the market emotion which was clearly visible on Saturday's trading. Along with Bitfinex, Kraken a few other Bitcoin exchanges and Startups have stopped serving residents of New York due to BitLicense and there will be a short term negative impact on the market sentiment due to this regulation block.
Technocorner
On the technological front, ONEBIT (www.getonebit.com/) has made it possible to pay with Bitcoins anywhere in the world. ONEBIT is a bitcoin wallet app that lets you pay at any store with mobile payment by giving you access to the credit card payment network. It securely converts Bitcoin on the fly into any major local currency and pays the merchant via NFC payment terminals. The app is currently in its alpha phase and is being tested. On a controversial front, a collective of politically radical coders that calls itself unSystem plans to release the first version of Dark Wallet: a bitcoin application designed to protect its users' identities far more strongly than the partial privacy protections bitcoin offers in its current form. If the program works as promised, it could neuter impending bitcoin regulations that seek to tie individuals' identities to bitcoin ownership. Skeptics are worried that this might aid money laundering and hinder any attempts of regulation.
Other notable developments this week would include launch of 'Smart contracts' by Symbiont and Overstocks tee-zero which have been discussed in depth in the report.
Developments in Blockchain Technology
Symbiont is a fintech company focused on developing a symbiotic relationship between traditional financial markets and cryptographic blockchain technology. Symbiont has issued the first Smart Securities contract on the Bitcoin blockchain on 4th of August. The Smart contracts are programmable versions of traditional securities issued on any type of distributed ledger, such as the blockchain. In a similar fashion, Overstock's launches tee-zero at NASDAQ headquarters on 5th of August which is powered by Blockchain technology. The platform is a securities trading platform which provides transparency and is ledger agnostic.
Alibaba, the e-commerce giant has been perennially confronted with problems of counterfeit goods which have resulted in the filing of many infamous lawsuits by major brands against the giant. Hence Alibaba has used Taoprotect, a platform which is based on blockchain to ensure transparent logistics and fight counterfeiting. On a similar note, what might be the biggest application of blockchain by a government body, The state of Vermont is considering to employ Blockchain technology to maintain state records. The request has been signed by the governor himself and the center for legal innovation at Vermont Law School have been asked to look into the risks and benefits before employing the technology in full scale.
Disclosure: I am/we are long BITCOIN.
Additional disclosure: Deepak Bharadwaz is a Market Data Analyst for IHB's Bitcoin Trading Intelligence platform