Over the past year, share prices in hospital operators have made impressive gains.  Community Health Systems (NYSE:CYH) and Health Management Associates (NYSE:HMA), as illustrated below, have outperformed the S&P 500 (bottom, brown line) by a nearly two-to-one margin, and Tenet Healthcare (NYSE:THC) by more than three times.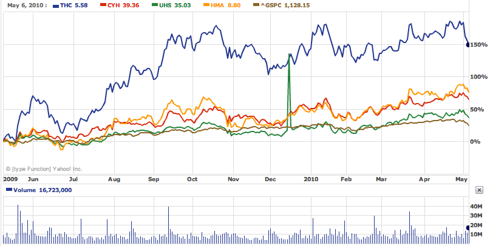 Investor enthusiasm also extends into the private markets.  In the days after President Obama signed health reform into law, Cerberus Capital Management announced a $830 million investment in Boston's second largest hospital network, Caritas Christi.  According to
reports
, Cerberus may also target additional investments in hospital operators. 
And just this week, HCA, the nation's largest hospital operator, has filed for a $4.6 billion IPO to pay off debt incurred by its private equity owners, KKR and Bain Capital.
While prospects might seem good, big questions remain, especially in two of hospitals' primary revenue sources: state governments and commercial health plans.  Noted health care entrepreneur and pundit,
Stephen Hyde
, is cautious:
| | | | |
| --- | --- | --- | --- |
|   |   |   | While [32 million newly insured users] may mean an end to the era of chronic unreimbursed care, it also brings on a new age of chronic under-reimbursed care. Without fundamental changes in how hospitals operate, increased losses will make it difficult for many of them to survive. |
He
argues
that a combination of different factors could severely challenge profitability as costs outpace revenues on rising volume, including:
no credible source of higher Medicaid payments, especially if state budgets remain stressed
increasing demand for non-ER services and strains on capacity, as providers continue dropping Medicaid coverage
an escalating inability of commercial health plans to subsidize shortfalls through cost shifting
As would be true with any 3,000 page law, health reform will, no doubt, showcase an expanding list of unintended consequences in the years to come.  Mr. Hyde points to the perils of badly conceived health insurance exchanges, as one example:
| | | | |
| --- | --- | --- | --- |
|   |   |   | [T]he federal rules for the new state insurance exchanges contain some nasty landmines that are actually more likely to force insurers to be seeking subsidies rather than providing them. These rules include overly rich mandated benefits, excessively restrictive patient cost-sharing limits, uneconomic medical-loss-ratio mandates, unrealistic premium controls, continued medical inflation, and the probability of serious adverse selection... (Read more here.) |
So, one, the bill mandates state insurance exchanges, a distinctly different target than the care delivery system; two, the rules laid out governing the exchanges severely restrict private carrier pricing and profitability; and three, hospitals, the recipient of the unintended consequence, will no longer be able to rely on private sector payments to offset below-cost Medicaid reimbursement.
At the same time, we're now witness to the consequences of severe government indebtedness, which we may soon experience in the quality of our health care system.
Disclosure:
"No Positions"