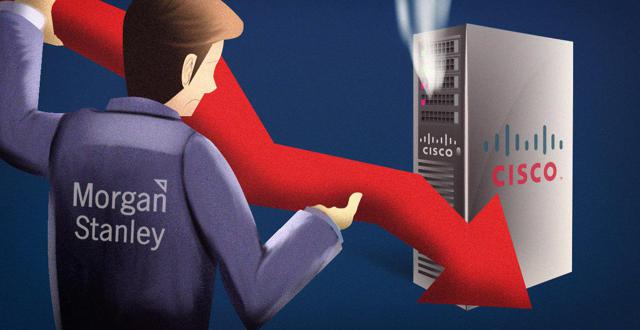 Morgan Stanley downgraded Cisco stock, from Overweight to Equal weight, but maintained a $30 stock target price.
Cisco Systems Inc. stock is down 1.21% during the pre-market session, as the stock of the company was downgraded by Morgan Stanley to Equal Weight from Overweight, and reiterated a stock price target of $30, according to Cisco stock news. The firm quoted longer upgrades cycles, increased research and development spending, and valuation apprehensions as the main reason of the stock downgrade.
The analysts team working under James Faucette, said that the company did not cut its research and development costs, despite a plain profit pool and sluggish growth. He also mentioned that other companies have risen their R&D spending. Cisco is not in the position to cut R&D, since it is looking to retain its customers. It appears that the company's ability to improve operating leverage, or escalate return on investments, is restricted. Therefore, the analysts put a cap on multiple expansions and valuations.
Morgan Stanley comments that in light of extended product cycles upgrade, it doesn't expect significant continuation in growth acceleration for numerous years. The note allows the company's latest efforts to revive majority of its offerings in an advanced cycle, which haven't been seen in the past four to five years. However, MS doesn't believe that the plus will last in the long-term.
Morgan Stanley initiated its coverage on the stock last year in June, with a rating of overweight, and $30 stock price target. At the moment, the firm speaks out that the market hadn't factored in the impending refresh cycle. While, it expects long term earnings per share to float around 2.8%, compared to 1% growth evaluation from last yea, as reported on Cisco stock analysis.
The note specified, "We think that growth will remain elevated in 2015 as the current upgrade plays out but that growth will contract as we head out of FY16," and adds that consequently, Cisco stock "will trade in-line with its historical multiple of 13x P/E and not see multiple expansion."
Cisco Systems reported positive earnings in the latest quarter (4QFY15) earlier last week. The company reported $12.84 billion in revenues with non-GAAP earnings per share of 59 cents, beating consensus estimate of $12.66 billion and 56 cents, respectively.
After the announcement, Cisco System's share price went up by 2.9%. Unlike Morgan Stanley, majority of street analysts are bullish on the company stock. Almost 23 analysts rated it a Buy, 15 gave it a Hold, while 6 suggested a Sell rating. The consensus stock price target is $32.15.
Cisco stock closed at $28.83 on Monday August 18. The San Jose based company has $146.60 billion of market capitalization.