BIHI announced revenues of $4.2 million for Q3 2010, a 203% increase over Q3 2009
.  The company reached EBITDA breakeven for the month of September and expects to be EBITDA positive for Q4 2010.   The company continued to have strong gross margins of 83%, and stated they believe margins of ~80% are sustainable for the foreseeable future.  BIHI gave revenue guidance of $15-17 million for FY 2010, and guidance of $52-57 million for FY 2011.   Taking the midpoint of $55 million for 2011, BIHI would generate EBITDA of approximately $17 million and net income of $11.5 million (0.32 basic/0.24 fully diluted EPS).  Management commented that 200% year/year growth is achievable for the foreseeable future with current products in the market.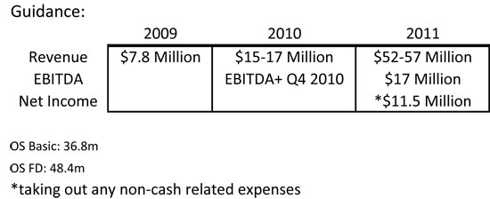 Bacterin ended Q3 (Sept 30th) with 35 direct sales reps, and added 17 more in the month of October for a total of 52.  Combined with new distributors, Bacterin now has 400 feet on the ground selling product which is about double what it was just a couple months ago.  Bacterin products are currently being sold in 350 hospitals with 30 new hospitals being added every month.
With pricing pressures and year/year declines in surgeries plaguing most every other company in the medical device-biologics space, Bacterin is one of the only beacons of light.  Most every other company in the industry is not growing or showing single digit growth at best, and BIHI expects to show 200% revenue growth with 80% margins for the foreseeable future.
I expect the current S1 reg statement should go effective around year end (give or take 30 days) which will free up shares to trade in the stock.   Although I believe the stock will likely come down in price due to this increased liquidity, if the company continues to show impressive growth numbers over the next couple quarters, watch as institutions come into the stock in droves.  This is the type of story that if management executes over the next couple quarters it can trade at 40-50-60x 2011 EPS.  Bacterin is currently my largest holding.
Disclosure:
LONG BIHI