Bullion Monarch Mining (
OTC:BULM
) is a natural resource development and royalty company with interests in gold, silver and oil shale. Gold royalty companies have been making a buzz lately as they are a very low risk high reward way to play the resource bull market. Royalty companies are considered low risk/high reward because they don't have the capital cost risk associated production but offer full exposure to the upside of rising gold or other resource prices. Royal Gold (NASDAQ:
RGLD
) and Franco Nevada (FNNVF.PK) are the most widely held gold royalty companies. Bullion Monarch (
OTC:BULM
) is positioning itself as a resource royalty company, not only encompassing mining royalties but also other resource royalties (ie energy). BULM is profitable, has no debt, low management salaries, and buying back stock. BULM bought back ~4% of their outstanding shares in 2009.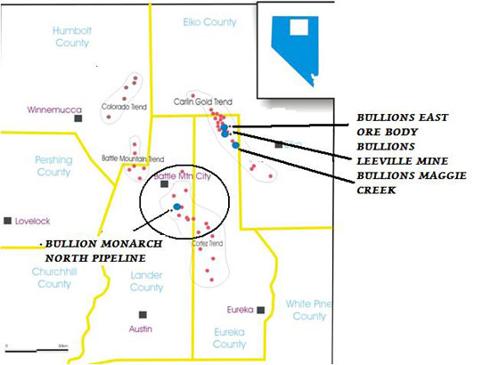 Unlike what I normally do, I will start with the blue sky potential in BULM:
 
·

        
1% royalty over an area of interest covering over 250 sq. miles in the Carlin Trend:
The Morris Family controls the company and Robert D. Morris, Sr. in the late 1950's and early 1960's working in conjunction with Dr. Ralph Roberts proved the viability of producing gold from rock with the gold not visible to the naked eye. Dr. Roberts was the theory behind the possibility and Robert Morris Sr. was the proof of the theory.
This early work was the basis for more than 80 million ounces of gold approximately (USD $88,000,000,000) billion at today's prices produced and probably more than 100 million ounces still to be mined. BULM currently holds a 1% net smelter return royalty by virtue of a May 10, 1979 agreement, whereby they are to receive a 1% royalty over an area of interest covering over 250 sq. miles. Many of the major gold producing mines within the Carlin Trend lie within this area.
Newmont Mining and American Barrick are currently mining several properties in the area. Bullion currently is in litigation over unpaid royalties that are due and contested future royalties. The law firm of Robison Belaustegui, Sharp & Low have agreed to litigate the lawsuit on a contingency basis and feel strongly about the merits of the case. 
o

  
The fact that BULM has already won against Newmont in court (ie Leeville) gives precedent they can do it again. This court case is expected to go to federal court later this year. If BULM wins Newmont would owe them 1% of gold produced from their claim block retroactively to 1991, and owe BULM 1% royalty on production in the claim block going forward. 
It is hard to calculate what a win would mean in its entirety to BULM but it is thought that it would be in the $100 Million to $1 Billion range.
 I believe Newmont will try to settle this before it goes to court. A win against Newmont would also leave Newmont liable against other large mining companies who Newmont sold interest too without disclosing BULM 1% Royalty.
BULM's Current Royalty Producing asset:


·

        
Leeville Mine (mined by Newmont):
Bullion is currently receiving a royalty from Newmont Mining for gold produced from this property. According to Newmont, production will be 3,200 tons per day. Newmont's reported grade is 0.41 ounces gold per ton of ore. Bullion is receiving royalties, and expects
$6 million dollars per year at today's prices.


BULM's Future Producing assets:
1.

      
North Pipeline Mine:
is currently producing placer gold. The underground portion of this property has yet to be explored. This claim group is located between American Barrick's Pipeline ore-body and Klondex Gold's Fire Creek property. These ore bodies have been major producers of gold. The property lies in the heart of the Cortez Gold Trend.
Maggie Property:
This property is located in Eureka County, Nevada, approximately 7 miles north of Carlin, Nevada. The property lies just south of Newmont Mining's largest open pit gold quarry deposit. The property is in a straight line from Newmont's Tusc Open Pit to the Mac Open Pit to the Gold Quarry Mine. The Gold Quarry Mine is located less than one half mile from the northern border of the two square miles of which we hold a 3% net smelter royalty interest. The company acquired the interest in an agreement with Newmont Mining dated April, 1990. Bullion Management believes this property has significant potential to produce royalty revenues in the future.


3.

      
Other Gold Properties:
Ophir Property, Gold Mountain Property, Brazil Properties 
4.

      
Enshale:
BULM holds an 80% interest in EnShale
. Enshale, with its innovative patent pending process and hard rock mining expertise, EnShale plans to drastically improve production efficiency while virtually eliminating environmental concerns. Enshale has 4,650 acres of State of Utah School Trust Land leases that have been estimated by an independent certified geologist, using U.S. Geologic Survey Studies, to contain a
667 million barrel oil resource
. EnShale has already secured financing for design, construction and operation of a demonstration processing facility. 
Projected production cost is less than $30 US per barrel.
BULM is looking to leverage the cash flow produced by its Leeville asset and invest in other late stage resource projects. The company will continue to make strategic investments in gold properties as well as other resource investments to diversify its future royalty interests. The company is profitable, buying back stock, with significant royalty interests adjacent to major producing mines. The company also has blue sky upside from the pending litigation with Newmont Mining over a 1% Royalty covering 250 sq miles in the Carlin trend (the most prolific mining district in the Americas). I believe we will see Newmont try to settle before it goes to court. BULM winning against Newmont in court would result in BULM going from a small royalty company to a potentially large royalty company. The question remains:
 
1.

      
What is 1% of all the gold out of this 250 sq miles worth? 
a.

      
Newmont would owe BULM 1% of anything produced out of this region since 1991.
b.

     
Newmont would owe BULM 1% of current production out of this region on an ongoing basis for decades.  
 The answer is I don't know but what I do know is a litigation win or large settlement would likely see the stock price move considerably higher ($5 - $10 -$20 share). I know it gets my mind wandering especially since I think they have a decent shot at winning. And remember a win against Newmont would have the likes of Barrick and others suing Newmont directly for not disclosing BULM's interest when Newmont sold them parts of this 250 sq miles.  BULM could also be an acquisition target by either Newmont (easy and perhaps cheapest way to end the litigation) or perhaps even Royal Gold (for the potential land position). 
Even without a litigation/settlement win, BULM's royalty stream and property position warrant a much higher stock price. The company is looking to dual list on the Toronto exchange which will increase visibility for the stock. I've also communicated to management that I believe a dividend strategy would be a prudent move to get wide spread interest in the stock right away. Even if they paid 1/3 of their royalty out as a dividend today, roughly 5 cents/share, the stock would likely higher. I think the only risks are boredom and/or gold falling to $600 ounce. I've picked up an initial position at a 64c average. 
Disclosure:
LONG BULM