*What we already know but need to hear again from time to time
The golden safe haven for investors has always, and most likely will continue to be gold. When gold reached this year's sought after $1300 milestone in May (however brief) we saw quite the pull back and by the first week of June it was already back to the low 1200's. I myself, along with many others, saw this as a "healthy" pull-back before it began rallying once more as anticipated.
With the recent announcement that the FED will not be increasing ratesfor June this comes as no surprise given the abysmal NFP report from last month followed by a less-than-exciting Jobless Claims report this week. Energy is leading the red ink (or I guess pixels now-days) with not much else in the green. No one is really shocked the FED didn't raise anything. Yet, it begs the question: What are the negative consequences that are looming because of the CB's decisions? I have lost faith in the FED as it becomes increasingly data-dependent, only furthering my conviction that gold prices are primed for a short-term bull for the rest of the month of June and possibly on into July.
When faith in our delicate little system wavers we, (as investors) are always going to seek out the "sure" thing and mitigate our risk. It is anticipated that a 'Brexit' will occur (Britain's quest to secede from the European Union) as officials plan to meet on June 23. This will have some unfavorable repercussions likely felt here in the US as recent poll suggest that majority vote will swing in favor of secession. Historically speaking, the ripples of global market changes/scares (i.e. Greece debt crisis, China Financial Crisis, etc.) almost always have negative consequences for us here at home. I see no reason why this situation would call for anything different. As the British pound strengthens, the USD will inevitably weaken, however slightly, causing a demand in price for our precious yellow metal to once again increase.
Now, it is true that just because it has happened before does not mean it will happen again, or every single time. But, it is worthy of note to mention the probability of an increase is likely. And as Mark Twain said, "History does not repeat… but it does rhyme". In the past three months, there is nearly an uncanny relationship between gold and the S&P 500 index (along with the DOW and NASDAQ, but I will only display the S&P).
S&P 500


Gold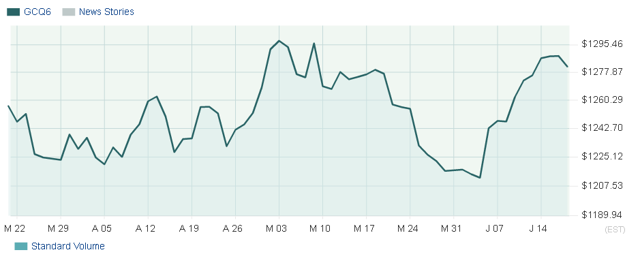 But if that wasn't enough for you, throw in the uncertainty of a 'no-holds-bar' political showdown for the POTUS election. Now we should be able to assert with a fair amount of confidence that it is still any ones game. This is not a political article by any means, but America's politics will weigh in quite heavily on our economy given the presumptive nominees on both sides of the political isle. If the American economy is rewarded by growth and steers clear of bad jobs report for the next few months, then the democrats will be given an edge over the "beloved" Mr. Trump. On the flip-side of that same coin, we very well could see a very strong front presented on behalf of a less than strong market for the GOP nominee given his business background. Of course this is all assuming that the racial slurs and federal indictments just sort of … go away. Neither of which seem probable. I hope that we as a country can keep our act together, but I am not holding my breath. In the meantime, keep your eyes on the prize as gold will be a very smart investment amongst the chaos in the coming weeks.
Disclosure: I/we have no positions in any stocks mentioned, and no plans to initiate any positions within the next 72 hours.
I wrote this article myself, and it expresses my own opinions. I am not receiving compensation for it. I have no business relationship with any company whose stock is mentioned in this article.