Great Basin gold has just been streaking up since they announced the commissioning of the metalurgical plant at Burnstone, South Africa on October 6th, 2010.  The main gist of the press release is as follows:
The Company has reached a significant milestone in the history of the project with the commissioning of the metallurgical plant which commenced on October 1, 2010 with the turning of electrical motors on the various appliances. Crushing of ore commenced on October 4 to allow for the filling of the silo in preparation to start the mills by October 8, 2010. In preparation of the hot commissioning, a number of activities were successfully completed.
As at September 30, 2010, a total of approximately 4,200 meters of on-reef development has been completed. Good progress continues to be made with Long Hole Stope trials. In excess of 170,000 tons have been accumulated on the surface ore stockpiles, which will be used to commission the Metallurgical Plant.
The equipping of the vertical shaft to surface has been completed and the final work in the shaft headgear is in progress. As both the man and the rock winders have been fully commissioned, the focus has moved to the man and rock conveyances which are currently being commissioned. This is all in preparation for the final licensing by the Department of Mineral and Resources which is planned for the week of October 10, 2010 where after the vertical shaft will become available for general usage.
This prompt da Rock to redo my GBG price forecast.  The forecast is posted below in the chart.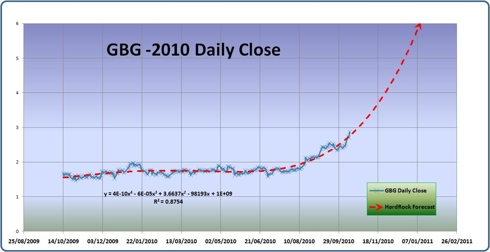 Now some of you may say, the tail is too high.  Please take a look at my previous forecast from
July 18th, 2010 here
.
Great Basin having waited for so long to move is now making up for lost time, together with the rising price of Gold.
HardRock
Disclosure:
Long GBG