Summary
I expect Sarepta (NASDAQ:SRPT) will test the $40.00 mark before the FDA November 23-24 meeting
The technical simple moving average trends show an intersection right around $40
SRPT seems to be moving outside of the China headache, so I expect it to return to its trend channel
Company Overview
Sarepta develops RNA-based therapeutics to improve the lives of people affected by serious diseases; this includes eteplirsen for the treatment of DMD. The current eteplirsen Phase 2 trial has 20 patients in a 96 week study with a completion date of May 2017.
Trend Behavior
Looking at the simple SMA trend lines SRPT is in a good uptrend channel (ignoring China's impact this week). We expect it to resume course back to the upcoming inflection point around the $40.00 mark.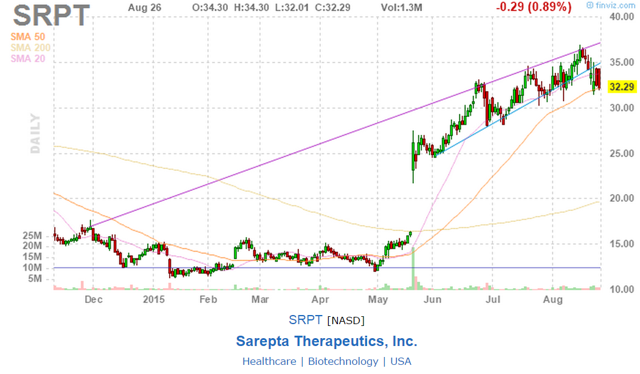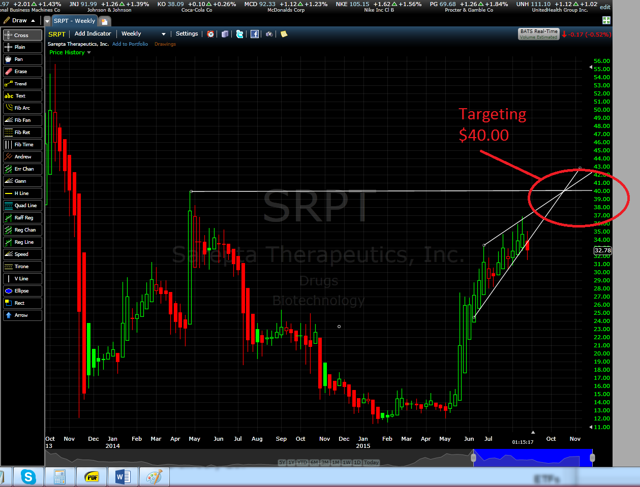 Upcoming Events
The technical charts have an intersection line targeting the November 23-24 committee meeting as the biggest upcoming event and the biggest risk.
What are the Risks?
Biomarin (NASDAQ:BMRN) is still on the playing field, and SRPT and BMRN will be reviewed by the Peripheral and Central Nervous System Drugs Advisory Committee board tentatively set for November 23-24.
Conclusion
I am thinking about buying this and getting out before the November 23-24 meeting. Additionally the options spread play sounds enticing, but I need to research how much the options are.
Disclosure
The author has no current positions in any stocks mentioned. The author wrote this article themselves, and it expresses their own opinions. The author is not receiving compensation for it (other than from Seeking Alpha). The author has no business relationship with any company whose stock is mentioned in this article.