Eastman Kodak (NYSE:KODK) is an interesting opportunity at the current share price of $13.66. There are four primary reasons why I believe KODK is exciting at this price: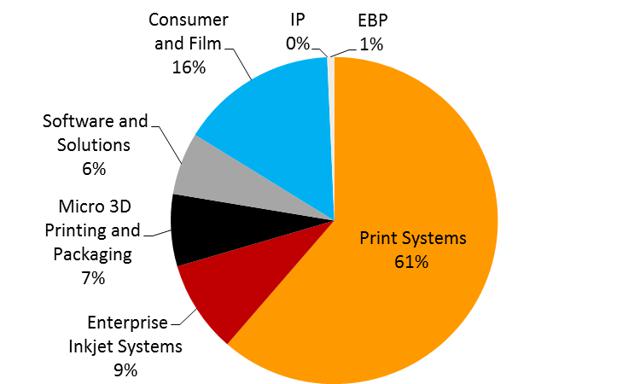 Significant value in KODK's non-core assets (i.e., patent portfolio and Eastman Business Park, brand name) which the company is actively trying to monetize
Growing strategic base of business that is overshadowed by the declining legacy base of profitable annuities stream business: SONORA and FLEXCEL both growing and already profitable businesses. Stable annuity based income; PROSPER is growing, expected to breakeven in 2016; Micro 3D Printing is still in investment phase and is expected to start being profitable in 2017.
Opportunity to pay down or refinance current, very expensive debt with rates at L+6.25% and L+9.5%
The strategic business (excluding the non-core assets and one-time cash opportunities) appears to be fairly valued.
Business Overview:
Kodak has transitioned away from the old consumer focused camera and desktop printers business in which it built its brand. Today, Kodak is a technology company focused on imaging. KODK provides hardware, software, consumables, and services to customers in various markets worldwide. Listed below are the seven divisions of Kodak, each of which is in different phases of development.
What Makes Kodak Interesting?
Recently out of bankruptcy:
Reset capital structure - The Company has meaningfully delevered its balance sheet from $3.7B debt and $1.2B underfunded pension liability to $650M debt, $250M adjusted underfunded pension liability and $520M of cash
Cost structure savings - KODK has significantly reduced operating expense by ~32%; headcount by ~26% and continues to improve its operating leverage
New CEO and re-organized business divisions - New management team led by shareholder friendly CEO with track record for turnarounds. Recently reorganized the business into 7 divisions to drive accountability, transparency and speed of decision making.
Growth businesses (SONORA, PROSPER, FLEXCEL NX and Micro 3D Printing) - The company is making focused investments in key growth engines.
SONORA - strong continued growth and already making meaningful contribution to EBITDA and cash
PROSPER appears to be at an inflection point. Increasing its installed base and is projected to result in annuity income growth in 2015 and breakeven in 2016
FLEXCEL NX Packaging business has strong momentum. The business is gaining market share and is growing revenues in double digits and increasing contribution to EBITDA
Micro 3D Printing is a possible disrupter of the touchscreen industry. Still in investment phase and is expected to be profitable in 2017
Several opportunities for meaningful one-time cash transactions from non-core assets (see below)
Eastman Business Park / Portfolio of more than 5,000 patents / Licensing brand name
Over statement of underfunded pension liability by ~$300M
NOL carry-forwards for income tax purposes of $1,352M
Carestream Health earn-out that can range up to $200M
Call options on future technology or business from new / existing patents
Disclosure: I/we have no positions in any stocks mentioned, and no plans to initiate any positions within the next 72 hours.
Additional disclosure: Disclosure: This does not constitute a recommendation to buy or sell shares of KODK. I own shares in KODK and I may buy or sell shares without further notice or updates.