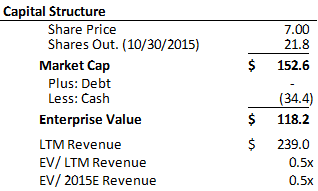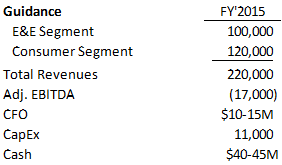 Thesis:
I am recommending a long position in the Rosetta Stone (NYSE: RST) at the current price of $7.00 per share. The stock is meaningfully undervalued as its turnaround is gaining traction and it's now an attractive acquisition target. RST's strategic value is very high in this rapidly consolidating industry. The company has hired external advisors, which makes me believe that near term catalysts leading to value realization are highly probable.
Background:
Rosetta Stone is a leading learning company based in Virginia. The company provides innovative, technology driven language and literacy solutions that are used by thousands of schools, businesses, government organizations and millions of individuals around the world. RST derives revenue (through product, subscription and service) from sales of language-learning (90% of revenue), literacy, and brain fitness solutions. RST operates through two reporting segments: Enterprise & Education (E&E) segment (40% of LTM revenue) and Consumer segment (60% of LTM revenue).
· The E&E segment derives revenue from sales to educational institutions, government agencies and corporations worldwide. Education (Lexia and K12) is a fast growing $60M business. The Literacy (Lexia) business has a 90% renewal rate and is expected to grow at a sustainable growth rate of 35%. Management expects Lexia Core5, RST's K-5 blended literacy product, to be a $100M business with 20-30% EBITDA margin over the next 4-5 years. Management will be reinvesting cash flows to grow this business.
· The Consumer segment derives revenue from sales to individuals and retail partners. RST offers courses in 30 languages across a broad range of formats including online subscriptions, digital downloads and mobile apps and is actively shifting away from perpetual yellow box and CD packages. While Consumer segment is cash flow positive and is currently being better managed, it is expected to continue to decline in revenue as the company focuses on targeting more serious learners.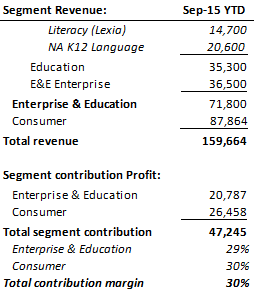 RST trades at 0.5x EV/LTM and 2015E revenue, versus the median of 1.0x of its closest peers. I believe this is substantially undervalued as RST is an 80% gross profit margin business that can support a 30% contribution margin in both its Consumer and E&E segments. In addition, as the SaaS revenue scales and the E&E business grows, it is reasonable to expect the company to generate ~25% EBITDA margins as a pure-play SaaS learning company. RST has no debt, a cash balance that makes up 25% of its market capitalization, and activist shareholders that would like to sell the company at an attractive price.
Investment Overview:
1. Depressed stock value: RST is under-followed and mispriced for the following reasons: 1) Dying yellow box and CD model, 2) pricing pressure on the more discretionary consumer segment business, 3) poor profitability, 4) lack of focus in capital allocation and execution, 5) trading at a discretionary language company multiple while the growing part of the business is really a SaaS, EdTech product masked by a declining language business, 6) change in strategy and leadership, 7) small float with top 6 holders owning ~50% of the 21.8M shares, and 8) minimal analyst coverage.
2. Unsolicited buyout offer from RDG Capital Fund Management at $9-10 per share. Soon after, RST has hired external advisors to analyze options to enhance shareholder value. Judging by the consolidation activity in the industry, I believe there is high probability that RST will be sold to a larger strategic or a PE buyer. RST's prominent brand and proven product/technology makes it a highly attractive acquisition target. Recent comparable transactions has executed at a median revenue multiple of 2.5x (vs RST's current valuation multiple of 0.5x total revenue).
3. New interim CEO John Hass - a former Goldman Sachs dealmaker who was a Sr. advisor to one of RST's largest shareholders (Osmium Partners) and holds a meaningful stake in the Company. Hass joined the RST board in Nov-2014 and became the interim CEO in April 2015. In addition, Hass holds options with strike price at $7.00 per share.
4. Presence of deep value activist investors - over 50% of common shares outstanding is held by 6 investors (including activist investor Osmium Partners, NIMCO, Roumell Asset Mgmt, Senvest). Osmium & NIMCO are on the board.
5. Strong balance sheet - Cash is ~25% of market cap ($1.50 per share); no debt and $25M untapped LOC.
6. Strategic shift in business model:
a. Transition to SaaS model - shifting from selling CDs in a yellow box at kiosks/airports to online subscriptions, digital downloads and mobile apps format which provides for a better experience and the flexibility to use on multiple platforms (i.e., tablets and phones). More profitable and easy to scale.
b. Reorganizing the business around E&E segment and accelerating the growth and penetration in language and literacy markets. Focused on more passionate Corporate and K-12 learners who need to speak and read English, rather than the casual learner.
c. Improved capital allocation with focused investment in growth via Lexia. Cut back on the number of new business initiatives. No longer doing too much and cutting back investment on Consumers segment.
d. Right-sizing cost base - Optimizing media spend, reducing consumer sales and marketing, and G&A costs to focus more on the passionate learner. Already identified ~$65M in total annual expense reductions.
Valuation: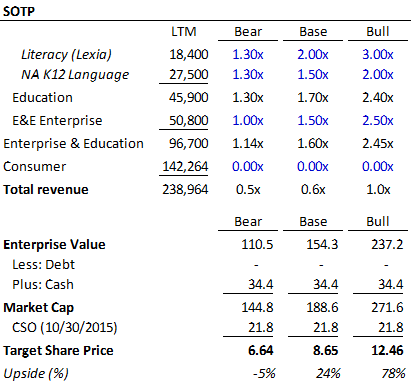 1. Bear case - No buyout offer, RST continues to execute on its plan and trades below its peer's valuation of 1.0x total revenue. Slight multiple expansions if SaaS E&E business grows.
2. Base case (~25% upside) - No buyout offer. However, market rewards RST for growing the E&E business. I'm conservatively assuming a multiple expansion to 1.6x RST's E&E segment and assigning no value to the Consumer segment. SaaS businesses like Leixa trades around 3x revenue. Lexia is growing at 30% annually with 95% renewal rate and is expected to be a $100M business in 4-5 years.
3. Bull case (+80% upside) - Very conservatively, RST gets sold in a competitive M&A process at 1.0x total revenue. My best case scenario assumes that the E&E segment is priced at 2.5x revenue. Consistent with my base case scenario, I am not ascribing any value to the Consumer segment in my valuation.
Risks and Catalysts:
Risks:
1. Company does not generate interest from a potential buyer willing to pay over $10 per share.
2. Company fails to execute on the E&E segment business plan. Lexia fails to perform as expected.
3. Competition intensifies with more freemium language and learning providers taking market shares.
Catalysts:
1. Sale of RST or the E&E business at an attractive valuation of ~$13 per share.
2. Successful execution of the company's plan to grow the E&E segment. Market should reward RST with a multiple expansion as the E&E business grows. Current multiple of 0.5x revenue reflects a discretionary Consumer language business. SaaS business like Lexia should trade at approximately 3x revenue.
3. Investor awareness and understanding of RST as a SaaS learning company.
Disclosure: I am/we are long RST.