SKX reported on 10/22, and crashed 35% overnight. It used to be a high-flying stock, and as well other shoe/athletic apparel companies (NKE, UA) were rising at that time.
Why did it fall 35% overnight? And if you're wondering that, then you're probably wondering why it's fallen 50% in three months?
My explanation is that SKX, like AMBA, had a blow-off top.
Here's some daily charts: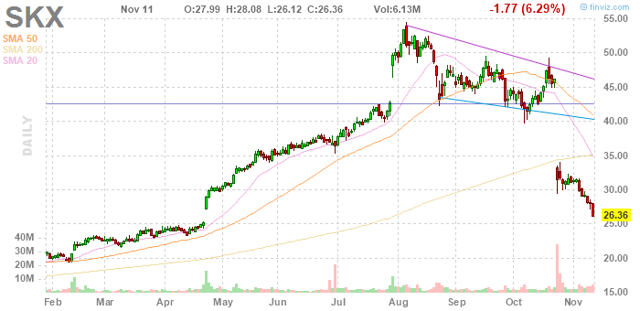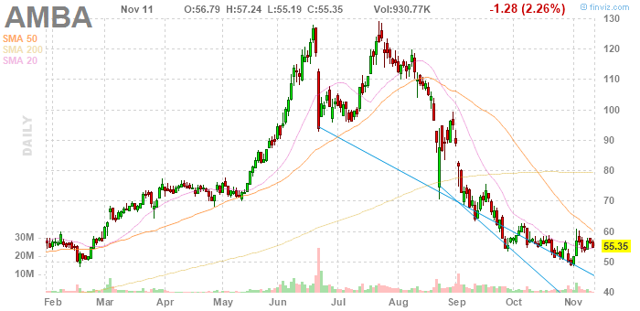 The similarities should not be ignored; take SKX's current position in comparison to where AMBA was in September.
Could We Have Known a Blow-Off Top was Coming?
One thing to watch for, is to use technical analysis. Look for the price to double up the 200-day moving average (this is one reason why 200-day moving averages are used).
In the middle of June in AMBA, the price was ~127 and the 200-day ma was at ~62 (I am estimating from the chart). Likewise for SKX, at the beginning of August its price was ~54 and its 200-day ma was at ~27.
Taking Cues from AMBA's recent past for SKX's near-term future
As stated earlier in this piece (I like to use that term, even when I just spit out something in 15 minutes), I can see similarities in where SKX is now (November) with where AMBA was in early September. Now AMBA in November dipped even more in price, its 50-day ma crossed below its 200-day ma, and in fact it still has not risen back to its 50-day ma (and is finding resistance from its 20-day ma). Beware that this can happen to SKX too.
Market Environment
The S&P index has defended 2070 so far this week.
Hourly chart: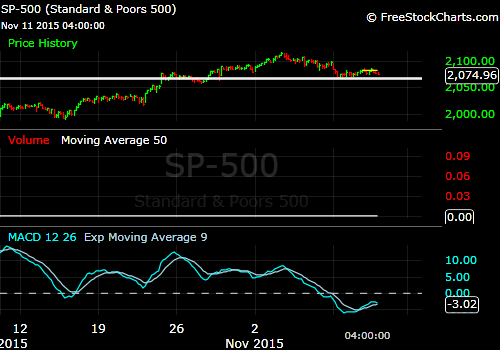 But it has had trouble finding buyers at these prices, so may have to take a dip down before buyers step in.
Disclosure/Warning: This is not investing advice (more of something I wanted to just point out); I have not taken into consideration your own risk profile, nor your investing horizon.
Disclosure: I/we have no positions in any stocks mentioned, and no plans to initiate any positions within the next 72 hours.