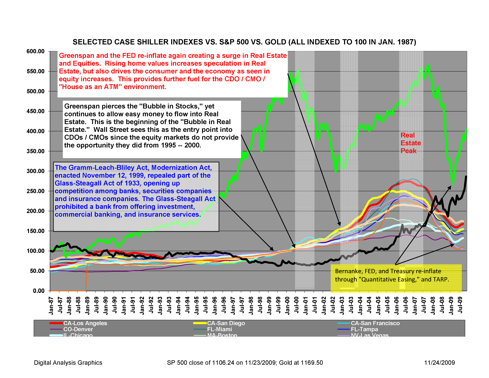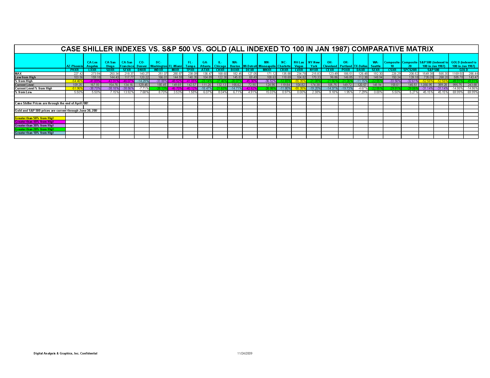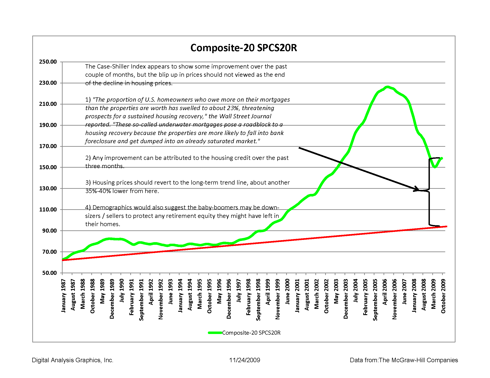 Over the past couple of months there has been minor improvement in the housing market in selected areas of the country.  This with the support of the housing credit, the moratorium on foreclosures, and the massive amount of stimulus dollars poured into the economy should have created a much more robust bounce.  Now we hear "

The proportion of U.S. homeowners who owe more on their mortgages than the properties are worth has swelled to about 23%, threatening prospects for a sustained housing recovery," the Wall Street Journal reported. "These so-called underwater mortgages pose a roadblock to a housing recovery because the properties are more likely to fall into bank foreclosure and get dumped into an already saturated market."

11-24-2009
 The Federal Reserve and the Treasury have basically purchased / swapped out a substantial amount of the underlying debt by increasing their balance sheet through quantitative easing.  Companies have reported tepidly better earnings, but mostly through cost / job cutting without top line revenue growth.  The unemployment rate remains over 10% (actually over 15%) and headed higher.
The dollar debasement / devaluation continues with the "zero interest rate policy," of the Fed hoping for inflation to kick in while staring down the grim reaper of depression / deflation.  Asset values (mostly in paper / commodities) have been chased higher by investors with no green shoots turning into trees.  Trade wars will soon be breaking out because of imbalances in cross currency rates, and the US dollar / Japanese Yen carry trades propel markets ever higher.
There are some quality companies producing and innovating in these difficult times.  Some of these would include Apple, Amazon (though a little rich in price at these levels; this company's model should give commercial real-estate its largest problems on top of the monstrous debt levels being carried), RalCorp (a basic private label food manufacturer is significantly under-valued; company has authorized a share buyback and implemented plans to enhance their Post Cereal acquisition, Emerson Electric (innovation through great technology designed at better controls and efficiency; with a focused CEO).