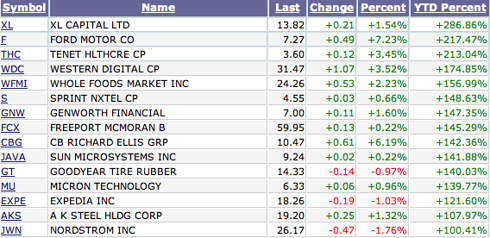 Here are the stocks up over 100% this year.
XL Capital +287%, Ford Motor +217%, Tenet Healthcare +213%, Western Digital+175%, Whole Foods +157%, Sprint Nextel +149%, Genworth Financial +147%,Freeport McMoran +145%, CB Richard Ellis +142%, Sun Microsystems +142%,GoodYear Tire +140%, Micron Technology +140%, Expedia +122%, AK Steel+108%, Nordstrom +100%.
This is a very eclectic group with financials, technology, wireless, oil, tires, travel, steel and retailing represented.  You can analyze the 10 year fundamental trends by clicking on each of the companies listed.
You will notice that most of the companies listed reached historical Price to Sales Ratio lows and have since rebounded dramatically.

Disclosure: We do not own any stock listed.