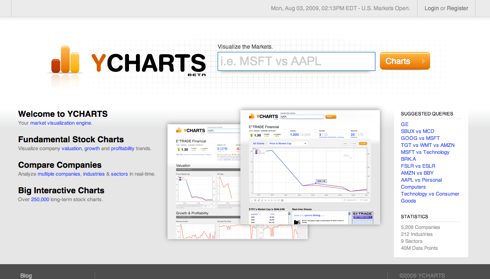 Today, we're releasing the beta version of YCHARTS to enable investors to visualize massive amounts of fundamental market information in real-time.
YCHARTS is your market visualization engine for fundamental analysis.
New Features in Beta:
"We're building a powerful market research tool that combines advanced data analysis, visualizations and proprietary algorithms to help investors analyze companies and ultimately make better investment decisions." said YCHARTS Co-founder & CTO Ara Anjargolian.
So, let's say you want to research Apple Computer.  You have lots of options.
YCHARTS provides you with insights on company valuation, growth and profitability trends in real-time.  We're just getting started and would love to hear what you think so far.  We plan to release updates weekly.   Feel free to post ideas and suggestions here.