This Oil Rally is not a short story. Since the beginning of September, we have seen a 23 percent price movement in oil futures. Let us not forget the dollar; it has worked hand in hand with the price of oil. Which brings me to my question, why this sudden retreat in oil prices? Simply put, it was overbought; look at gold's 7 % retreat. What? Is gold no longer a safe haven; let us all run to the dollar in hopes of savior. Are you kidding me, do I have to mention the Saudi's latest temper tantrum. Nothing can make me laugh more then a bunch of stubborn oligarchs that want attention.
Investors no reason to worry, its winter and nothing can beat fundamentals. Inventories have been eyed like a hawk these past few weeks, we are almost there.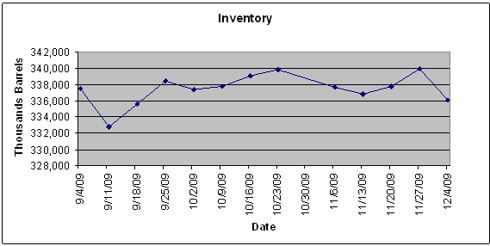 We have just seen a 1.1% decline to 336.08 million barrels for the week ended December 4th. This to most analysts was an unexpected drop but not for me, I wear sweaters in the winter. The standard deviation for this data tells me we will start to see a down trend in the inventory levels. Till then BUY OIL!