Tesla Motors (NASDAQ:TSLA) is up more than 1100% since its IPO, versus about 120% for the NASADAQ (shown in Figure 1).
Figure 1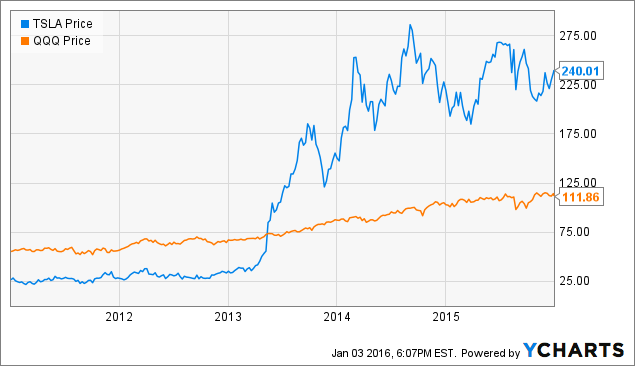 But after missing delivery targets, disappointing earnings, and cautious guidance, investors are wondering if TSLA has gone too far too fast. Indeed, there are many questions surrounding Tesla at this point, and perhaps one of the most blaring is can Tesla stop burning through cash and actually turn a profit? That's a legitimate question, and one we'll try to answer in this article.
Background on Tesla
After being in business for over a decade, raising more than $4 billion in debt and equity, and selling tens of thousands of cars, Tesla still operates at a loss. With no earnings, negative cash flow, and book value per share of less than $6, virtually all of TSLA's current market value is based on speculation it will meet or exceed expectations. Meanwhile, it faces competition from industry bellwethers like Toyota Motors (NYSE:TM) and General Motors (NYSE:GM) that sell enough cars to make Tesla look like a rounding error (shown in Figure 2).
Figure 2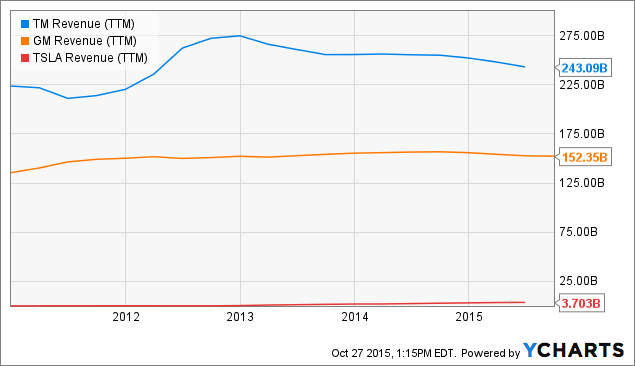 TM Revenue (NYSE:TTM) data by YCharts
Against that backdrop, Tesla's last quarterly earnings report showed more losses and an alarming negative free cash flow figure of -$565 million. Adding insult to injury, Tesla returned to the markets in the third quarter and sold more than $500 million in additional stock. Without the equity injection, Tesla would have likely ended up short on cash. But with annual losses in the hundreds of millions, even $500 million won't buy much time. So again, with cash burn expected to continue, just how does Tesla plan to reach profitability?
Spend money to lose money
A closer look at Tesla's financials may provide some insight. Tesla has been losing money consistently since 2010, shown in Figure 3 below. What's more, the losses have grown, reaching -$521 million for the twelve months ending 06/30/2015.
Figure 3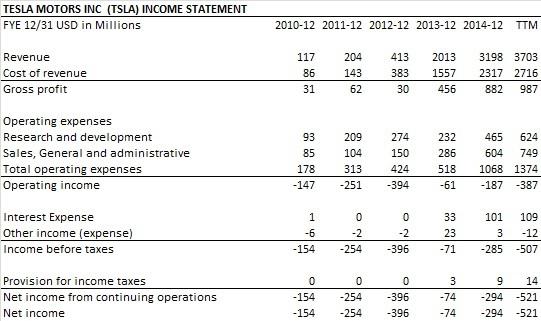 Data Source: MorningStar
The media attributes the widening losses to increased spending on operating expenses like research and development, building out its gallery stores, and expanding the Supercharger network. These high profile expenses are easy to blame, but they actually may not be the main factor behind the losses.
Between the lines
Yes, Tesla's operating expenses have increased in absolute terms (as they should have for a growing company), but more importantly they've also decreased in relative terms. For example, when cost of revenue (things like materials and manufacturing) and operating expenses (things like R&D and SG&A) are considered together, operating expenses have actually decreased significantly as a percentage of total cost. In fact, the percentage fell by more than half from 2010 to 2014 (from 67% to 32%), shown in Figure 4.
Figure 4

Data Source: MorningStar
In other words, despite all the negative publicity Tesla gets for spending on things like R&D, it's cost of revenue that is actually the largest component of total cost for Tesla, and it's increasing as such. Over time and as revenue rises, cost of revenue should increasingly become the main factor for profit or loss.
That's actually good news because Tesla's gross profit margin (revenue - cost of revenue) is positive. And not only are gross margins positive, but they've increased at a compound annual growth rate of 95% from 2010 to 2014. Yes, the bottom line is still negative, but in between the lines Tesla has found a path to profitability in the crudest sense.
Path to profits
Tesla understands the key is not to stop spending or investing, but rather to reduce the cost of revenue. With that in mind, it's no secret that one of the biggest costs for Tesla are the over-sized lithium ion batteries used in its cars. What may be less well-known is that thesuppy of these batteries is relatively low, and thus expensive.
That's exactly why Tesla is investing in it's giant battery factory in Nevada, the Gigafactory. It's a strategic move to secure a steady supply of batteries at lower cost -- this is a necessity for Tesla to achieve scale, production goals, and profitability. Tesla expects the Gigafactory to be in production by 2017, and for it to reduce battery costs by at least 30%.
Tesla doesn't share the details of it battery costs with the public, but information from the US Department of Energy, the MIT Technology Review, and Bloomberg puts reasonable estimates in the $200 to $300 per kilowatt hour range. Tesla has hinted that it's costs are even lower and it has a goal of reducing costs to $100 pkwh.
Based on what we know and using some simplifying assumptions, we can cobble together estimates about how Tesla could reach bottom line profitability. Consider the following, admittedly oversimplified, example.
Assume Tesla's current average battery cost is $250 pkwh
Assume Tesla's are built with an average of 80 kwh (midpoint for the current 70, 85, & 90 kwh Model S models)
Assume average sale price of $100,000 per vehicle (midpoint based on 2015 Model S price data)
Assume Tesla currently loses approximately $4200 per Model S sold (estimates based on most recent quarterly data)
Assume Tesla delivers 52,500 cars this year (midpoint for 50,000 to 55,000 2015 Tesla sales estimate)
Assume Tesla grows deliveries at a CAGR of 57% (based on Tesla's long term production goals, note its delivery CAGR since 2010 is 168%)
Based on the above, we estimate that Tesla's average per vehicle battery cost is approximately $20,000 ($250 pwkh x average of 80 kwh per car). Assuming Tesla is able to realize it's 30% cost reduction, battery cost per vehicle falls to approximately $14,000.
Now, assuming all else is equal, this nets a profit of about $1,800 per vehicle ($20,000 old cost - $14,000 new cost - $4,200 current loss). Combing that with Tesla's growth projections derives the five year estimates shown in Figure 5.
Figure 5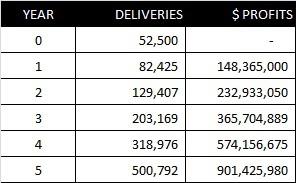 Clearly this example is very rough and many things were not considered -- increased operating costs, taxes, margins on future models, and so much more. However, the point is not to model precise predictions -- rather it's simply to show that Tesla is on the right trajectory and on a reasonable path to profitability. The real question is not if, but when that will happen (and I'm not trying to answer that).
The bottom line on TSLA
Whether this makes TSLA attractive at current prices is a another story. As noted earlier, current prices already factor in aggressive growth expectations. For example, even at $100 million in profits (and a 35% tax rate) TSLA's current price to earnings ratio would be over 400 times. Multiples can certainly go higher, but that level of valuation would not be sustainable. Eventually something has to give -- either earnings explode higher or prices collapse lower. Ultimately, an investor's expectations about those things should help guide the decision to buy or sell -- and this isn't an endorsement for either.
As for this article, the bottom line is this. Tesla's "staggering spending" and much-maligned cash burn is not as ludicrous as it seems. As the saying goes, "you have to spend money to make money," and Tesla is certainly spending it. But judging by its sales trajectory, its trend in expenses, and of course a whole lot of "ifs," Tesla is on a reasonable path towards profitability. If nothing else, that answers at least one of the many questions surrounding TSLA.
Disclosure: I/we have no positions in any stocks mentioned, and no plans to initiate any positions within the next 72 hours.
Additional disclosure: The article solely represents the personal opinions of Victor Lai. Victor Lai is not compensated to write about any particular stock, investment, or topic. None of this information represents advice. Investing is inherently risky and involves the potential loss of principal. You should conduct your own due diligence and/or consult with relevant professional advisors before making any investment decisions.