Last September I pointed out why I thought Sanderson Farms (NASDAQ:SAFM) looked like a good buy At $66 or better. My price target at the time was about $100.
My thinking was SAFM looked meaningfully undervalued relative to peers and that fears about avian influenza and export weakness caused investors to be overly pessimistic.
SAFM closed today at $91.26. I still think, as I wrote before, "Sanderson possess all the hallmarks of a growing and fundamentally sound company," but I've also adjusted my price target to about $90 due to updated earnings estimates.
At this point SAFM looks to be trading at or near fair value. The market price could certainly overshoot, but at the current price or better I'd take some profit. That's over 37% -- not a home run, but not bad for a few months time, and certainly better than the Russell 2000 or S&P 500.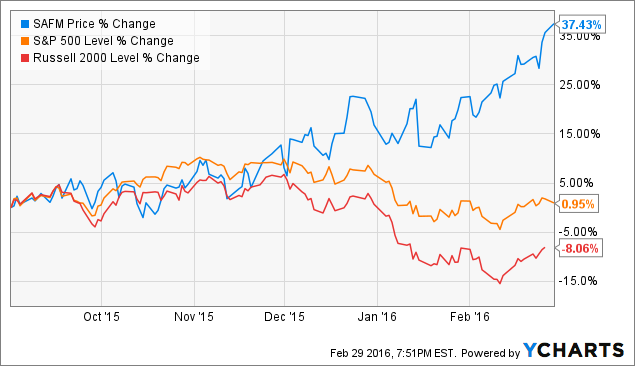 Additional disclosure: Victor Lai is not compensated to write about any particular stock, investment, or topic. None of this information represents advice. Investing is inherently risky and involves the potential loss of principal. You should conduct your own due diligence and/or consult with relevant professional advisors before making any investment decisions.