Last October, I wrote an article about going long silver (SLV), here's a quick update on the position.
Timing has never been a forte of mine, but I may have nailed it with silver because prices bottomed in November of last year. From its 2018 low of $13.15 SLV is up about 30% as of today.  All that came from the strong rally in precious metals that began with the May swoon in stocks.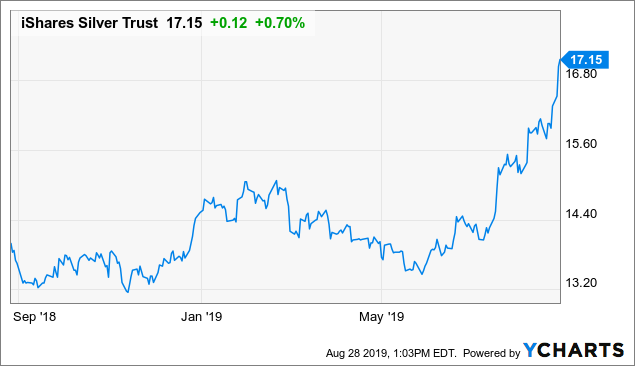 Precious metals were punished for years by what seemed like a relentless drawdown and silver was long considered "dead-money" by many.  So, this "surprise" spike seems like a vindication of sorts for those willing to buy into the metal's darkest hours.   
Longs from 2010 to 2012 heydays are probably still licking their wounds, but those who bought in Q4 2018 or Q1 2019 should be nicely in the black.  I'm already taking profits into this rally but am still long overall. 
SLV has blown past resistance levels at $15 and $16, and momentum looks quite strong, so my guess is this rally has some legs.
Meanwhile, inflation is ticking up, risk aversion is on the rise, and the gold to silver ratio is still in the 80s (versus a post gold standard average of 47x).  Lastly, SLV still serves as a good counterweight against the equity positions I hold.
The bottom line, I'll continue to hold silver so long as these points hold up. 
Disclosure: I am/we are long SLV.