Last October, I  wrote an article on going long Turkish stocks. As we close in on the 1-year mark and another round of Turkey dinners, here's a quick update on the position. 
Since October 2018, TUR has gained a total return of +11.9%. Not fantastic, but that's blown past the global equity market ACWI and major underlying components including SPY, EFA, and EEM (shown below from etfreplay.com). 
Total Returns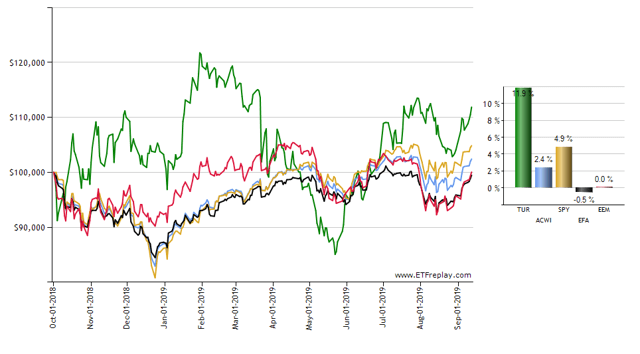 Like I wrote in the article comments, I saw TUR as more of a "position trade" than something to "buy and hold forever," and also that "trades should be watched like a hawk."  
From that perspective, late January to early February would have a been great time to take profits because the position was up over +23%. Of course, hindsight is 20/20 and timing is typically the trickiest part. 
Based on price action it should be obvious (painfully) how sensitive TUR is to sentiment and risk appetite. It got hammered during the May swoon this year and also during the selloff in December 2018.  
The position is now solidly back in the black and as it fights to reclaim new highs, it's also likely a good time for traders to take profits (I have done so myself). 
To be clear, I still think TUR looks relatively undervalued versus global markets and a long-term bullish case still exists for Turkish stocks.  However, rising global economic uncertainty in the near-term also increases the risk of large drawdowns for developing economies in general and positions like TUR in particular (just look at the magnitude of TUR's price swings versus EEM).
Again, this may be a moot point for those planning to buy and hold forever.  In ten years, the trajectory is most likely up and to the right. But likewise, this should be a salient point to those seeking to profit from a shorter-term position trade.