Facebook's fantastic financial 2015 results fail to reflect the true picture of its business dynamics and its gloomy prospects, as described in my previous article. It seems that Facebook has in the past, and still is using, as many tricks as possible to paint the rosiest of pictures. Every effort is being made to convince its investors that business is going well. The peak of those tricks was an article published recently in Vanity Fair which highlighted the lavish lifestyle of Facebook's first 250 employees. After all who would doubt a company that enables its employees to have such lifestyle whilst publishing a net profit margin of almost 18% and a massive free cash flow of $1.3bn.
Of course, the real picture is a bit more complex and there are several factors to consider.
I believe that the financial statements show the footprint of possible earnings manipulation. This can be found by employing the Beneish M model. The variables of the model are constructed from the company's financial statements and create a score to describe the degree to which the earnings have been manipulated.
When you run the numbers Facebook's Beneish M-score is -0.46 (twelve trailing months) for 2014, -0.53 and -0.50 for Q1 and Q2 2015 respectively. These results point to a more than an average chance that earnings have been manipulated during those periods. Put another way, the results suggest that since September 2014 Facebook has possibly been managing its earnings by means of cost deferral and/or increasing its intangible assets.
Its 2014 balance sheet reveals that there was in fact a sharp increase in Intangibles relative to Total Assets (54.5% in 2014 compared to only 9.6% in 2013 and a rapid increase of the ratio of Goodwill to Total Assets to 45% from just nearly 5% in 2013). This increase remained at this high level throughout the first two quarters of 2015. The explanation for the impressive increase of its Intangibles can be found in its 10-K annual report for 2014 p.66:
"These estimates are based on management's knowledge about current events and expectations about actions we may undertake in the future"
And
"Actual results could differ materially from those estimates"
I think it is quite easy to prove that the estimates Facebook makes can generally be quite random and, arguably, divorced from reality. Take for example the extremely low estimate of the percentage of fake accounts existing on its platform. Also, in the case of the increase of Goodwill and intangibles, it makes perfect sense to take those generous estimates with several pinches of salt. For example, when Facebook purchased Whatsapp, a company with negligible revenue of $10 million and a loss of $138 million, it managed to record, for this acquisition alone, $15.3 bn. in Goodwill. Since 2014 these abstract figures make up more than a half of Facebook's total assets.

The next example is the virtual reality game company Oculus VR. Facebook purchased this company in July 2014 for $2bn. although it was a private company with no revenue, no market product and unproven technology. Soon afterwards it recorded $1.5bn. in Goodwill! There are other examples but the method and points are clear:
Facebook pays imaginary amounts of money to acquire companies. This way it reduces Total Assets and records even more imaginary amounts in Goodwill to inflate the percentage of Goodwill and intangibles.
Another factor is that top managers are sending bearish signals to the market by selling their shares.
In the past 12 months Facebook's insider trading transactions reveal a worrying pattern. Out of 353 insider trading transactions only 132 were 'Buy' transactions. Furthermore, the vast majority of 'Buy' transactions (90%) were 'Non Open Market' acquisitions at $0 per share. This means that insiders who "acquired" those shares actually received them without paying for them. Probably as a result of bonus or an employee stock option plan.
The remaining 10% of all 'Buy' consisted of thirteen transactions.
Two of which were 'Open Market' and took place within 5 months by Jan Koum who purchased in total more than seven million shares. The rest involved the Chief Technology Officer, Michael Schroepfer, who purchased the shares at a low price of $1.85.
Other than the described exceptions, all other insiders have sold and still are selling their shares at a relative slow pace which does not attract much public attention. As a result, in the past six months alone, Facebook recorded a change in total insider ownership of -24%.
Although not all insider sales are a negative sign I believe that in Facebook's case, it does send a strong bearish sign that those who know the real financial health of their company may be selling their shares in an expectation that prices will soon sharply fall for all the reasons mentioned above.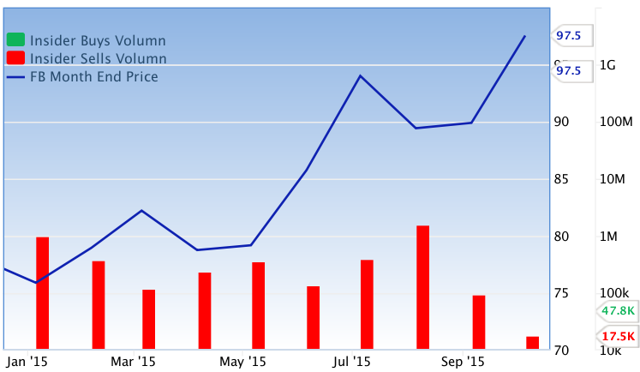 source: Gurufocus
Disclosure: I/we have no positions in any stocks mentioned, and no plans to initiate any positions within the next 72 hours.