Let's jump right into the chart: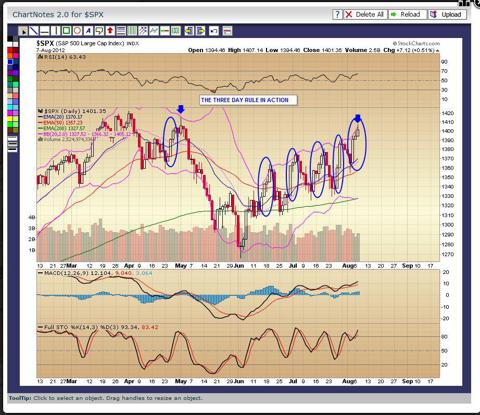 When I look at this chart I see a very bullish, yet mature uptrend. The market has been doing what it is supposed to be doing, which is stair stepping up - back and fill. This brings me to a very important concept - the 3 day rule.
Day one, smart, well capitalized, confident traders buy, effectively buying up the remaining stock for sale within a downtrend which then pushes the stock higher, creating a reversal candle. You can tell a candle is a reversal candle as it often forms a decent sized wick on the top or bottom of a candle. Look at the blue arrows on the chart above. Both of these candles have top wicks.
Day two is when the semi-smart money notices there is a tradeable bottom in place and jumps in, giving credence to the rally of day one.
Day three is when the tentative, often "retail" crowd buys - and guess who they are buying from? Day one traders.
Look at all of the circles on the chart. These are examples of the 3 day rule in action. Today, we rose for the third day and formed a top wick as the buying petered out. Normally I'd just make a mental note that we may be in for a little pullback and to buy after we retrace about half of the last leg up. This time however, I am on heightened alert because of the chart below: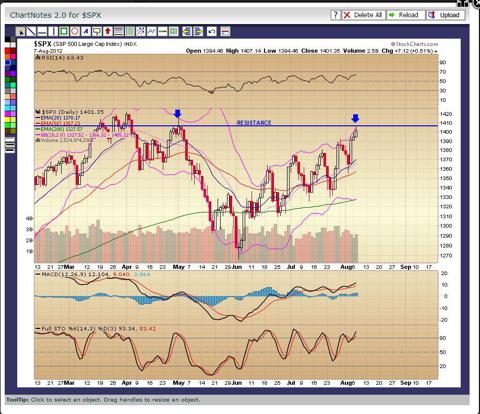 This chart warns of a double top right here at 1407. We are pretty extended above the 200ema, and in a vulnerable position. The adage goes "loose lips sink ships"..One off comment could start a nice correction. Our corrections have been between 30-50 points each time since June. Ask yourself - is this the time to get majorly long in anticipation of a breakout?
Look at this chart with the fib's applied: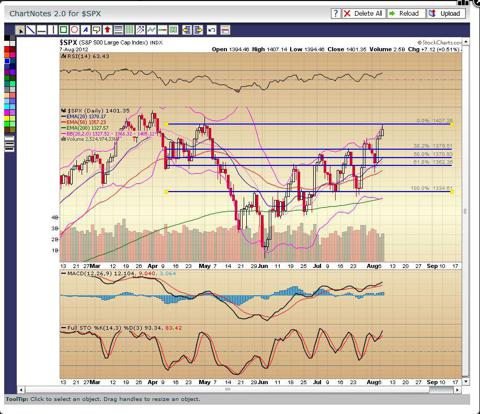 A normal retracement is 50%. Look to the left to see where the last ledge of support was - April 9-23. This would be the first target of a correction, SPX 1370, a nice round number and consistent with the point range of the prior corrections. It is a plausible theory.
Am I saying we're in for a 30-50 point drop starting tomorrow? No! I'm just saying before you click on the "confirm and send" button, give a little thought to where we are in this move. Nothing goes straight up or down, and we have a viable case for the market to take a little rest.
Suz
Suz@MSCM.com
@SuzyQ76022
Disclosure: I have no positions in any stocks mentioned, and no plans to initiate any positions within the next 72 hours.
Additional disclosure: Data is provided for informational and educational purposes only and is not offered as investment advice. Timing of transactions can be critical to the success of a postion. MSCM, its employees or owners shall not be liable for any errors or delay in the content, or for any action taken in reliance on any content provided within. Opinions expressed here are the sole opinions of the author and not representative of any firm view.