An important part of being a successful trader is being accountable and responsible for your trades. Once you make the decision to place a trade, that trade is then yours. You own it. You manage it, and you are responsible for the outcome. In that vein, it is a beneficial exercise to do a postmortem on all closed trades, both winners and losers.
Let's take a look at MNST.
This was the thesis: "We'll keep this short and sweet. On the slightly soft earnings report, the stock sold off to a key support level, which is the 200ema. When we hit that magical green line, something nice happened, we bounced. If this chart could show the earnings candle, it would be a solid red candle with a big wick on the bottom. The stock has a solid level of price support at $62.50 on the weekly. As we've now tagged both short term and long term support levels, this stock is attractive as a medium term hold. The weekly chart is just now giving a buy signal, and what better place to put on a position that at a support level in the beginning of a new stochastic cycle. Remember this is the weekly chart, and it took a long time for price to fall to the oversold level."
So, the thesis was that the weekly support @ 62.50 would hold and we would get a bounce. All was well, until this headline came out:
finance.yahoo.com/news/investigation-dampens-monsters-energy-buzz-180211960.html
The stock immediately sold off to $57, thus violating the support @ $62.50. The next day the stock attempted to regain the support level but ultimately failed. Here's a picture of the ugly that followed: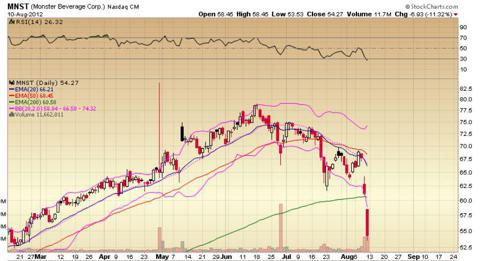 As you can see the 200ema was clearly violated. The basis of the trade was that the bounce there would place us back into the support area of $62.50. When it became evident that outcome was not going to happen in a timely manner, I immediately liquidated half of my entire position. That's right, shut it down via stop market at the first lower low. That is a discipline - if X happens, you immediately do Y & Z without question or emotion.
The remainder of the covered calls were rolled down and out to the December 60's, which limited our potential but still allowed for a profit albeit, a lower one. This trade was now placed into the status of "hot potato", and had to be monitored carefully. I monitored the hourly and weekly and when it the second thesis - that the 50week ema would hold the decline, was invalidated, the trade was exited in full.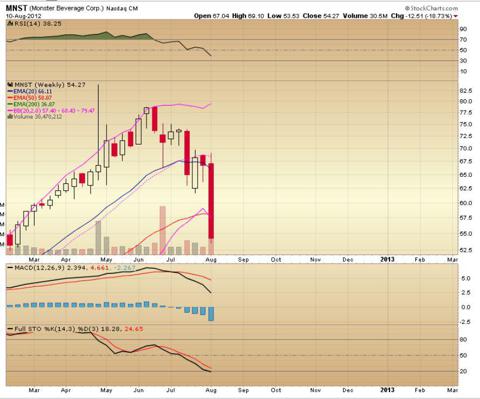 Now, there are a couple of important things I'd like to point out from a risk management standpoint. The stock dropped 11.32% on Friday. Because my positions were put on with an ITM CC, I had downside coverage of $8. By using the covered call strategy, it significantly decreased the impact of the price move to my overall portfolio.
Next, because this was a high beta stock, the positions held were small in overall relation to portfolio size. You must always match the total risk to each portfolio so that one trade does not blow out your account and you don't see huge swings that make your clients nervous.
Long time followers know that I own my trades and share it all --the good, the bad and the ugly. This trade I rate as a B for effort and an D for outcome. My postmortem has helped me identify how I can improve execution and outcome for my next trade.
I'd encourage all to do this simple little exercise on ALL your trades. By reviewing them objectively you can see trends and behavioral patterns. If they are negative, identify and remedy them. If they are positive, seek to do them again. Over time you will refine your trading, and thus improve your bottom line.
Suz
Questions or Comments? Email Suz@MSCM.net
@SuzyQ76022
Disclosure: I have no positions in any stocks mentioned, but may initiate a short position in MNST over the next 72 hours.
Additional disclosure: Disclaimer: MSCM and/or I may or may not have a position in this stock which may or may not be exited without advance notice. Data is provided for informational and educational purposes only and is not offered as investment advice. Timing of transactions can be critical to the success of a position. MSCM, its employees or owners shall not be liable for any errors or delay in the content, or for any action taken in reliance on any content provided within. Opinions expressed here are the sole opinions of the author and not representative of any firm view.