AMZN reports quarterly earnings today at the close. In August I wrote an article here targeting a top for AMZN at 353. There was a very lively discussion that followed on the merits of technical analysis. In one of those comments I suggested that my projected top could coincide with the October earnings. However, rather than topping and beginning a decline from this earnings announcement, I think AMZN will spike towards the target and potentially extend even beyond the original 353 target into the 370s over the coming weeks.
Again, I am not making any claims to the long term soundness of AMZN's fundamental business model. I am basing my targets on chart patterns of investor sentiment.
This is what I updated on our ongoing analysis of AMZN for my subscribers of Stock Waves at elliottwavetrader.net this morning:
"I would like to see a small c wave lower into the close to 323-318 region to complete 4 and I expect a spike toward 345 on ER [earnings report] and potentially even higher getting closer to the TL [trend-line] and the completion of c of iii of the larger ED (tomorrow that TL will be crossing over 370 & intersecting with a larger degree 138.2% extension of the move off the 2006 low. That should be VERY strong resistance and I expect it to begin its long trek down in the meandering iv (targeting 305-290 from 370s) soon after the giddy-ness of earnings wears off."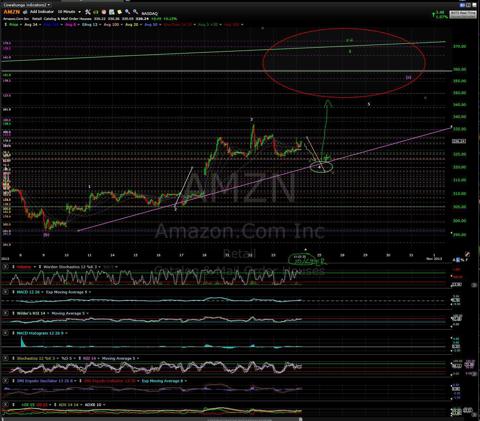 Disclosure: I am long AMZN.
Additional disclosure: I primarily base my trading decisions on chart patterns and technical analysis. Patterns can change quickly, and I am constantly looking for new support levels to lock in gains and minimize potential losses.