A long-term significant bottom is forming in the solar sector, presenting a great investment opportunity on the long side.
Price Action Over the Prior Week(s).
Solar stocks in general have been in a downward plunge since 2015, with even sharper extension since early 2016. But in the last few weeks we have seen some noticeably sharper drops in the likes of First Solar (NASDAQ:FSLR), SunPower (NASDAQ:SPWR) and others. SPWR got hit with a 33% drop as investors did not react well to a recent earnings report lowering guidance. This fear infected many stocks, including FSLR, which saw roughly a 25% fade in August.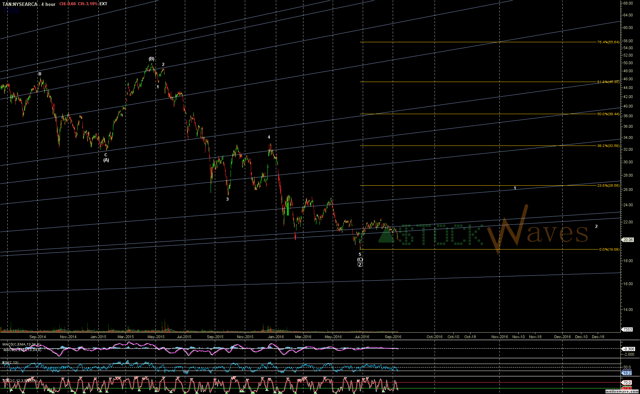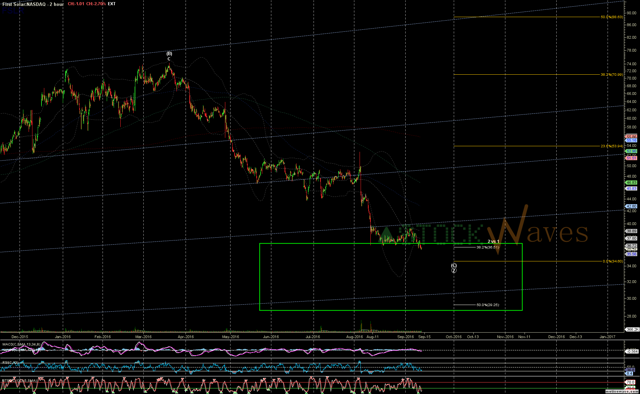 Anecdotal and Other Sentiment Indications.
Elliott Wave Theory teaches us to look for patterns in investor sentiment that manifest themselves in price action. This form of analysis gives us high probability indications that sentiment is near extreme levels of fear or greed. At times, it causes us to be somewhat contrarian to other analysts. I think the "infection" from SPWR that spread so easily to FSLR and put pressure on the Guggenheim Solar ETF (NYSEARCA:TAN)and other solar stocks says a great deal about sentiment. Investor fear is at an extreme and the stocks are due for a turn.
The final move in a correction is often punctuated by extreme pessimism, which is evidenced by the presentation of news and analysis. Even financial or political events that would be seen as bullish against another background will now be looked at in a negative light. Recently, we experienced a slew of downgrades within the sector on August 10th. Subsequently, we saw headlines like: "ETF's with exposure to SunPower Corp" and "Are Solar Developers in Trouble?" Then, a class action lawsuit was filed against SPWR. Heck, even the Audubon Society has turned against solar! One might have thought that a group dedicated to nature and wildlife would be a strong supporter of clean green energy. But bird lovers are suddenly not fans of solar farms. Now that sentiment is so negative, the public is finding reasons to dislike solar, as evidenced by recent articles on that topic. For instance, Garry George, renewable energy project director for Audubon California, says, "Ivanpah is a bird sink - and a cautionary tale unfolding on public lands. It continues to operate as though there's an endless supply of birds to burn." (http://www.latimes.com/local/california/la-me-solar-bird-deaths-20160831-snap-story.html)
The end of a larger correction often sees a capitulation event where price spikes lower and then sharply reverses. Additionally, I think we are in the process of that final, painful spike extension to lower lows, and we are about to see a significant bottom. In fact, I would not be at all surprised to see some large write-downs of "Good Will" for some of the Solar names as they report earnings next quarter or at year end, even after likely starting the initial moves up from lows.
But what are some factors that could contribute to a rally in solar?
As "Risk on" technology stocks, they could certainly benefit from a broad market rally. And, as energy-linked commodity plays, they could get a boost from a continued climb off the lows in Crude Oil. It is also an election year, and the potential political fallout clouds can either cast shadows or shine brightly on our solar panels.
I have seen several articles that have talked about the benefits to green technology a Clinton administration would bring, with subsidies for wind and solar, as well as additional taxes and restrictions on fossil fuel emissions and extraction/refining. I would like to take things one logical step forward. What would stop that administration from compelling Americans to buy solar panels for their homes? Requiring builders to install them on new homes and buildings would be an easy first step. But precedent has already been set with the Affordable Care Act that the government can require the purchase of a good or service that they deem is for the public good. What could be better for the public good than wide-spread reduction of our carbon footprint and our dependence on foreign oil?
Would that really be a boon for solar companies, though? How is it working out for the likes of AET and UHC? I want to examine a statement from SunPower's recent earnings release and guidance. They said, "the extension of the Investment Tax Credit, as well as the bonus depreciation credit, while beneficial to the long-term health of the industry, has reduced the urgency to complete new solar projects by the end of 2016, with many customers adopting a longer-term timeline for project completion." This, and a mention of increased competition were the "bearish" catalysts for the sharp drop. Is this a preview of possible further losses in competitiveness and momentum caused by too much external "stimulus"?
On the other hand, my Facebook feed has no shortage of voters worried that a Trump administration would completely abolish agencies like the EPA and numerous subsidies and green initiatives. But consider that this could allow normal market forces to work effectively. It is possible that the resulting increased competition could spur faster advancements and innovations in efficiency. Passing certain efficiency "barriers" could tip the balance for many consumers thus creating a natural boost to demand!
Despite these examples of public opinion, I believe Solar will not be affected by politics in the long run. Regardless of who actually wins the election, and whatever subsidies or regulations are added or taken away, people will frame the results in a light that fits the sentiment. Either outcome could be framed as positive or negative for Solar. The charts argue for a turn. When the trend shifts back to bullish, the public will frame the news in a bullish light. I think the price movement is governed by patterns of investor sentiment and investors will find ways of making the news fit their mood.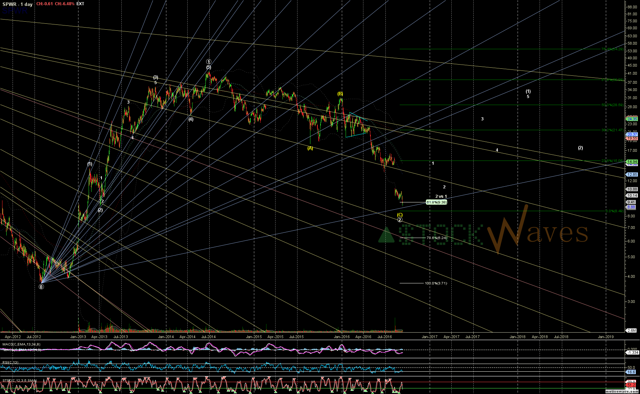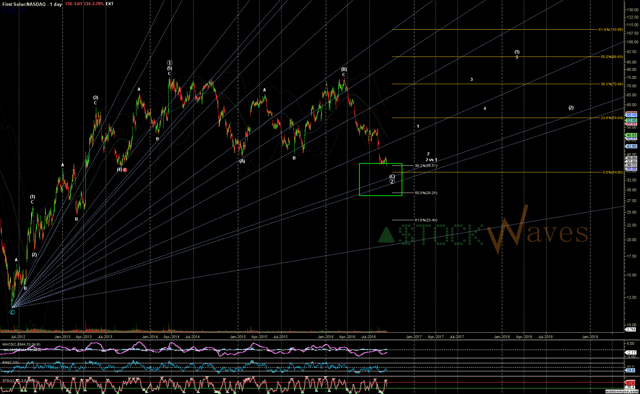 Price Pattern Sentiment Indications and Upcoming Expectations.
I mentioned that Solar stocks have been heading down since early 2016, and some may say it is in the shadow of the SunEdison bankruptcy. But I actually think that was only the second half of a larger Primary degree correction. It counts as an ABC flat that started for many Solar stocks as they topped into the Spring/Summer of 2014. The TAN, SPWR, FSLR and a few other names have very nice clean 5-wave patterns off very significant lows into 2014, and this large corrective pattern is nearing an end into respective Fibonacci retracements/support levels. We have begun to closely monitor the smaller timeframe charts daily to watch for the initial signs of micro-impulsive moves starting. Come check us out in the StockWaves room and get alerts atwww.elliottwavetrader.net!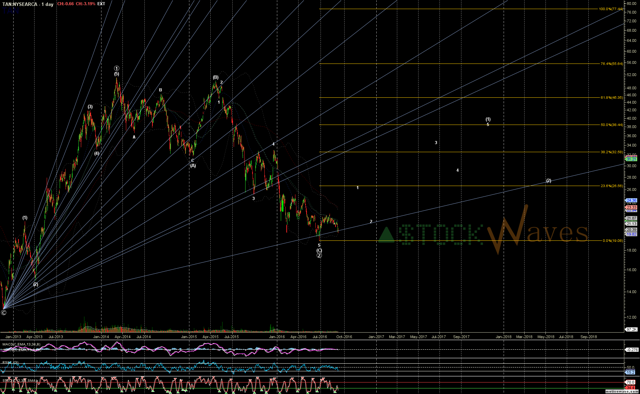 Disclosure: I/we have no positions in any stocks mentioned, but may initiate a long position in SPWR, FSLR over the next 72 hours.
I wrote this article myself, and it expresses my own opinions. I am not receiving compensation for it (other than from Seeking Alpha). I have no business relationship with any company whose stock is mentioned in this article.