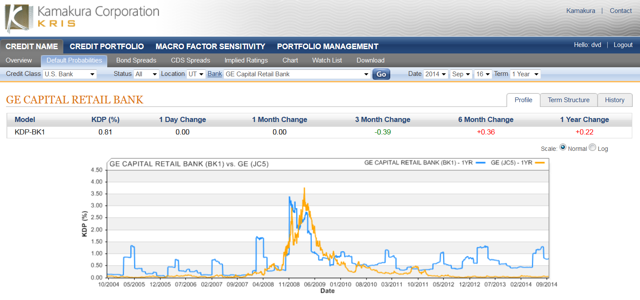 The chart displays the default probabilities as of today for both the parent company and subsidiary U.S. banking legal entities.
The blue line is the banking subsidiary's one year default probability using the Kamakura Risk Information Services U.S. Bank Model, Version 1.0, released in August 2014. The yellow line is the one year default probability of the publicly-held parent company.
The default probabilities can differ widely because there is a substantial difference in information available at the bank level. In general, the bank level financial statements in the Quarterly Report of Condition (also known as "call reports") are much more banking-specific than the parent firm's financial statements. On the other hand, the privately held bank subsidiaries have no stock price so insights from the stock price are not available.
Disclosure: The author has no positions in any stocks mentioned, and no plans to initiate any positions within the next 72 hours.