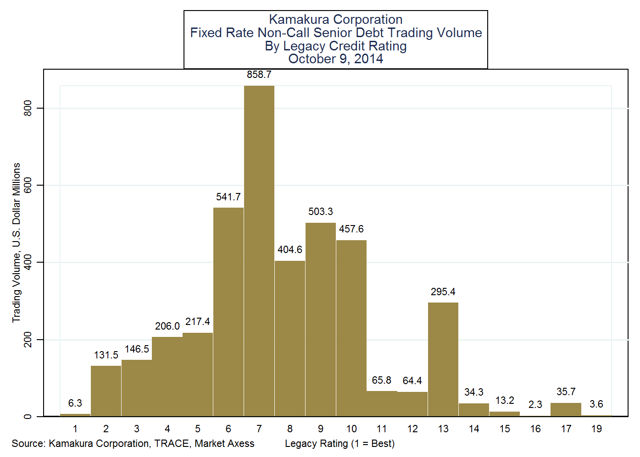 This graph displays the dollar volume of underlying principal traded in the U.S. corporate bond market, displayed by legacy credit ratings, on this date for bonds that meet the following criteria:
Coupon: Constant fixed rate until maturity
Seniority: Senior debt
Callability: Non-call (except for "make whole" calls)
Survivor Option: Bonds with a survivor option are excluded
A legacy credit rating of 1 is the best credit quality. This graph gives the misleading impression that most corporate bond trading volume is in corporate names with medium credit quality. That impression is due to errors in legacy credit ratings. Please check the related posts that plot trading volume by default probability level to see the reality of trading patterns: the heaviest trading volume is in the bonds with lowest default probabilities.
Disclosure: The author has no positions in any stocks mentioned, and no plans to initiate any positions within the next 72 hours.