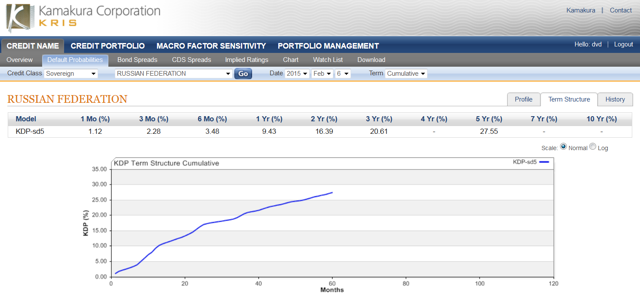 Kamakura Corporation launched the world's first quantitative default probability model for sovereigns in 2008 under the sponsorship of one of the world's largest insurance companies. The Kamakura Risk Information Services Sovereign Default Service covers all of the world's important sovereigns. Default probabilities are updated daily and include an annualized and cumulative default probability term structure out to 5 years.
The KRIS Sovereign Default Service uses modern reduced form default probabilities like those in Kamakura's well-respected public firm models. For background on the role of macro-economic factors in sovereign credit risk, see Kamakura's senior research fellow Prof. Jens Hilscher's paper with Yves Nosbusch. Kamakura Corporation's management team has published an introduction to sovereign risk assessment and comparisons with corporate default probabilities. For more information on Kamakura's Sovereign Default Service, please contact info@kamakuraco.com.
Disclosure: The author has no positions in any stocks mentioned, and no plans to initiate any positions within the next 72 hours.