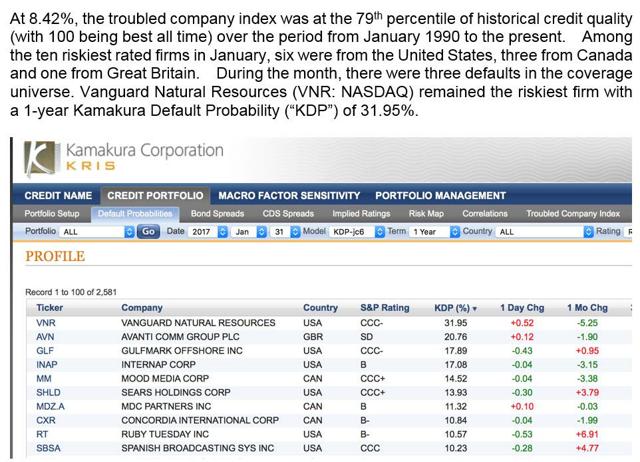 This screen capture is from the Kamakura Corporation press release posted on SeekingAlpha on Wednesday, February 1. In that release, Kamakura's KRIS default probability service ranked Vanguard Natural Resources (NYSE:VNR) the riskiest rated firm in the world. Today Vanguard announced it was filing for bankruptcy in this press release:
www.prnewswire.com/news-releases/vanguard-natural-resources-llc-files-for-chapter-11-protection-300401035.html
This is not an accident. The analytical team at Kamakura has a long track record of successfully calling out firms that filed for bankruptcy very soon after being listed in Kamakura's "top 10" list. The public archive of past KRIS "top 10" lists is in the press release section of the Kamakura Corporation web site www.kamakuraco.com.
Disclosure: I/we have no positions in any stocks mentioned, and no plans to initiate any positions within the next 72 hours.