Bull Trap Or Sustainable Improvement? Kamakura Troubled Company Index Improves To 39th Percentile
Please Note: Blog posts are not selected, edited or screened by Seeking Alpha editors.
Summary
This post was authored by Martin Zorn, President and Chief Operating Officer of Kamakura Corporation.
The Kamakura Troubled Company Index decreased by 4.57% to 13.98% in November, indicating an improvement in worldwide corporate credit quality.
HighPoint Resources (HPR) continued to be the riskiest rated firm in the Kamakura coverage universe.
NEW YORK, December 2, 2020: The U.S. elections and another month of COVID-19 spread have gone by. In fact, the announcement of several promising results in vaccine trials spurred a historic November rally in the markets.  While the rally may or may not stick, depending on what happens with the vaccines, the end of the U.S. election cycle and renewed hope for another round of government support have removed some of the questions regarding potential future defaults.
U.S. GDP for the third quarter increased 33.1%, with  personal consumption expenditures showing an increase of 40.6%. Impressive third-quarter GDP data was seen across Western economies. Although the rebound in Covid-19 cases tempered enthusiasm somewhat, it also encouraged observers to hope for another round of government stimulus to bridge the risks until vaccines are rolled out.  China leads major economies in its recovery, with output rebounding above pre-pandemic levels.
But despite the optimistic GDP reports, growth is bound to moderate at some point, given the uncertainties still surrounding the pandemic and its long-lasting social and economic ramifications, which will persist even after vaccinations are broadly administered. The large number of unknowns make it difficult to determine a post-pandemic growth target.
The Kamakura Troubled Company Index® indicated that credit quality increased in November, with a decrease of 4.57% over the month to 13.98%.  It ended the month at the 39th percentile. The index continued to be volatile, ranging from 12.66% on November 26 to 18.31% on November 2.  The index reflects the percentage of 40,500 public firms that have a default probability of over 1%. An increase in the index reflects declining credit quality, while a decrease reflects improving credit quality.
At the close of November, the percentage of companies with a default probability between 1% and 5% was 11.50%, a decrease of 3.29% over the previous month.  The percentage with a default probability between 5% and 10% was 1.62%, a decrease of 0.71%. Those with a default probability between 10% and 20% amounted to 0.68% of the total, a decrease of 0.43%; and those with a default probability of over 20% amounted to 0.18%, a decrease of 0.14%.
Troubled Company Index – November 30, 2020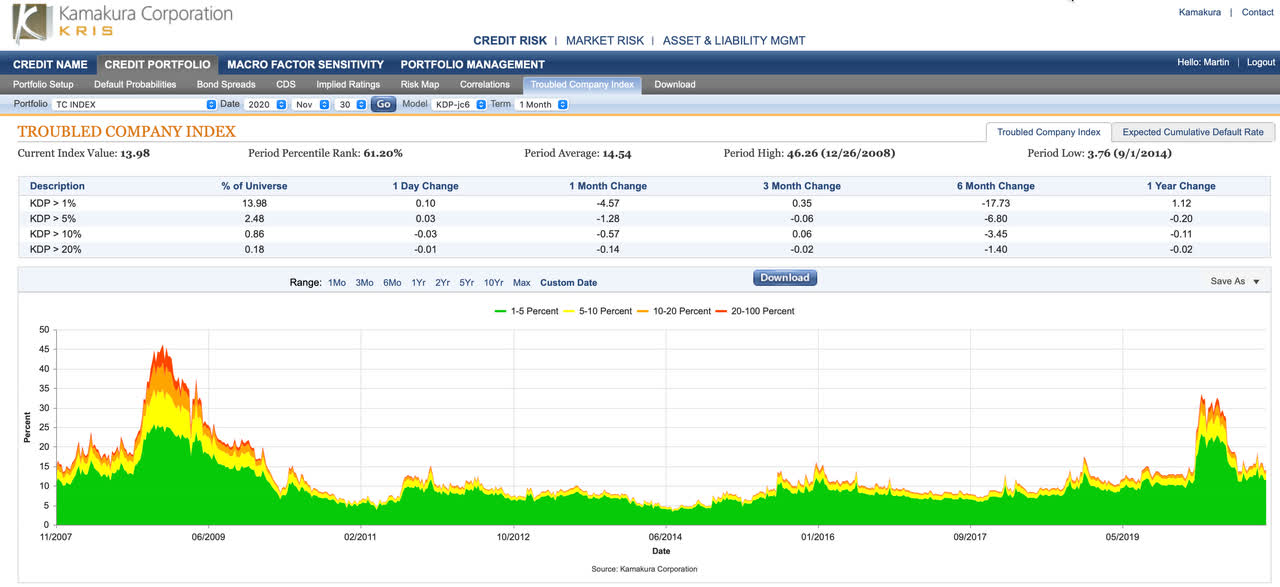 At 13.98%, the Troubled Company Index declined to the 39th percentile of historical credit quality as measured since 1990.
Among the 10 riskiest-rated firms listed in November, eight were in the U.S., with one each in France and Japan.   The riskiest-rated firm remained Highpoint Resources (NYSE:HPR), an energy exploration and production firm. There were five defaults in the Kamakura coverage universe, with four in the U.S and one in India.
Riskiest Rated Companies based on 1-month KDP

The Kamakura expected cumulative default curve for all rated companies worldwide widened, with the one-year expected default rate decreasing by 0.30% to 0.80%, while the 10-year rate increased by 2.21% to 14.7%.
Expected Cumulative Default Rate – November 30, 2020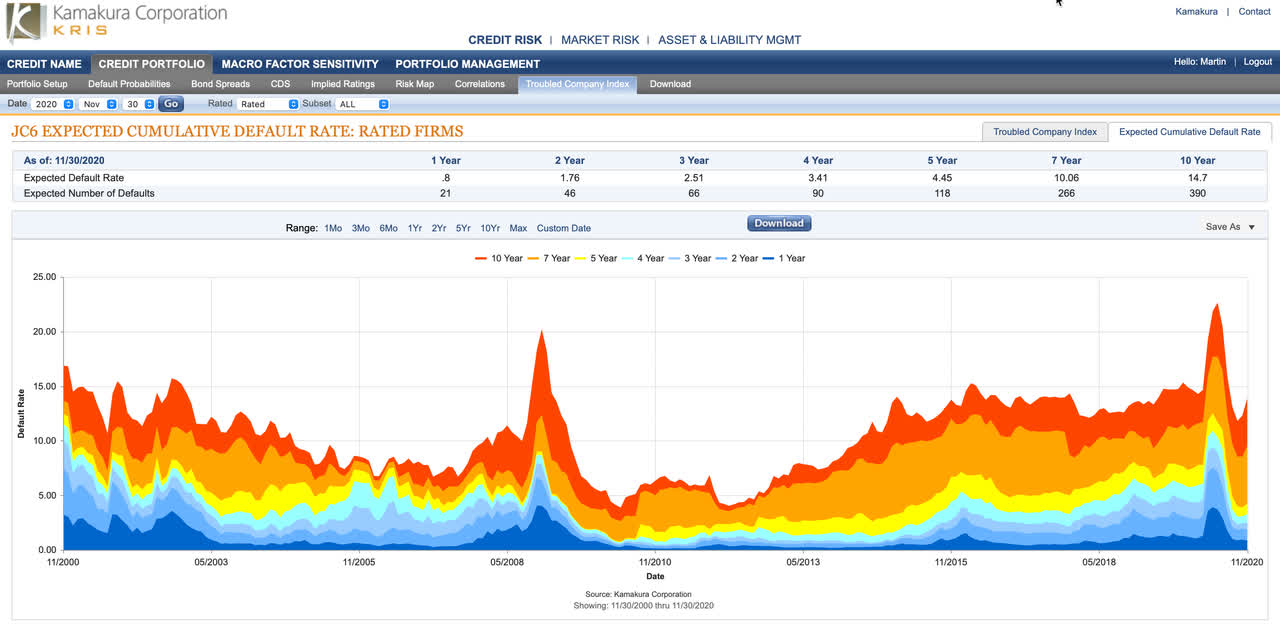 Commentary
By Martin Zorn, President and Chief Operating Officer, Kamakura Corporation
Investors have rallied around any sign of good news this year, especially any indication of easing of the pandemic shock.  Small businesses continue to feel the brunt of its economic effects, even after government policies have tried to provide a lifeline.
One problem that seems to be running beneath radar is fractures in the Chinese corporate bond market.   Now worth more than $15 trillion, this market is the second- largest in the world behind U.S. corporate debt. Though almost 50% of non-financial corporate bonds have a triple-A rating, there have been several high- profile defaults over the past weeks.  Yongcheng Coal is a good example. Rated AAA--largely on the assumption that the provincial government would step in if the firm ran into problems--the firm is now trying to arrange a compromise with shocked investors after the local government did not, in fact, come to its rescue.  Then there's Huachen Automotive Group. Less than a month before it defaulted, the company transferred away its most valuable assets to another subsidiary.  Those shares were pledged two weeks after the default by Huachen.  In the U.S., the SEC took action on ratings for an instrument known as CLO Combo Notes.  Our North American team wrote an interesting analysis of these debt instruments ("Eyes Wide Shut") on November 20.
The thread that ties these stories together is the search for yield and the continuing belief that high ratings mean low risk.  Yields continue to be driven down by central bank actions, resulting in less and less differentiation based on risk. The Federal Reserve issued its report on purchases of corporate debt on November 24.  The scale of the purchases are providing liquidity but also mask risks in the market.
Quantitative analytics provide important tools for analyzing risks, and portfolio managers should take advantage.  Don't forget the old adage: "Pigs get fat and hogs get slaughtered."
About the Troubled Company Index
The Kamakura Troubled Company Index® measures the percentage of 40,500 public firms in 76 countries that have an annualized one- month default risk of over one percent. The average index value since January 1990 is 14.54%.  Since November 2015, the Kamakura index has used the annualized one-month default probability produced by the KRIS version 6.0 Jarrow-Chava reduced form default probability model, a formula that bases default predictions on a sophisticated combination of financial ratios, stock price history, and macro-economic factors.
The KRIS version 6.0 models were developed using a data base of more than 2.2 million observations and more than 2,600 corporate failures.  A complete technical guide, including full model test results and parameters, is provided to subscribers. The KRIS service also includes a wide array of other default probability models that can be seamlessly loaded into Kamakura's state-of-the-art enterprise risk management software engine, the Kamakura Risk Manager. Available models include the non-public-firm default model, the commercial real estate model, the U.S. bank model, and the sovereign model.  Related data includes credit default swap trading volume by reference name, market implied credit spreads, and prices on all traded corporate bonds traded in the U.S. market.  Macro factor parameter subscriptions include Heath, Jarrow, and Morton term structure models for government securities in the U.S., Germany, the UK, Canada, Spain, Sweden, Australia, Japan, Thailand, and Singapore.  All parameters are derived in a no-arbitrage manner consistent with seminal papers by Heath, Jarrow, and Morton, as well as Amin and Jarrow.  A KRIS Macro Factor Scenario Service subscription includes both risk neutral and "real world" empirical scenarios for interest rates and macro factors.
The version 6.0 model was estimated over the period from 1990 to May 2014 and includes the insights of the entirety of the recent credit crisis. The 76 countries currently covered by the index are:  Argentina, Australia, Austria, Bahrain, Bangladesh, Belgium, Belize, Botswana, Brazil, Bulgaria, Canada, Chile, China, Colombia, Croatia, Cyprus, Czech Republic, Denmark, Egypt, Estonia, Finland, France, Germany, Ghana, Greece, Hungary, Hong Kong, Iceland, India, Indonesia, Ireland, Israel, Italy, Japan, Jordan, Kenya, Kuwait, Luxembourg, Malaysia, Malta, Mauritius, Mexico, Nigeria, the Netherlands, New Zealand, Norway, Oman, Pakistan, Peru, the Philippines, Poland, Portugal, Qatar, Romania, Russia, Saudi Arabia, Serbia, Singapore, Slovakia, Slovenia, South Africa, South Korea, Spain, Sri Lanka, Sweden, Switzerland, Tanzania, Taiwan, Thailand, Turkey, the United Arab Emirates, Uganda, the UK, the U.S., Vietnam and Zimbabwe.
About Kamakura Corporation
Founded in 1990, Honolulu-based Kamakura Corporation is a leading provider of risk management information, processing, and software. Kamakura was recognized as a category leader in the Chartis Report, Technology Solutions for Credit Risk 2.0 2018.  Kamakura was named to the World Finance 100 by the editor and readers of World Finance magazine in 2017, 2016 and 2012. In 2010, Kamakura was the only vendor to win two Credit Magazine innovation awards. Kamakura Risk Manager, first sold commercially in 1993 and now in version 10.0.5, is the first enterprise risk management system for users focused on credit risk, asset and liability management, market risk, stress testing, liquidity risk, counterparty credit risk, and capital allocation from a single software solution. The KRIS public firm default service was launched in 2002. The KRIS sovereign default service, the world's first, was launched in 2008, and the KRIS non-public firm default service was offered beginning in 2011. Kamakura added its U.S. Bank default probability service in 2014.
Kamakura has served more than 330 clients with assets ranging in size from $1.5 billion to $3.0 trillion.  Current clients have a combined "total assets" or "assets under management" in excess of $26 trillion.  Its risk management products are currently used in 47 countries, including the United States, Canada, Germany, the Netherlands, France, Austria, Switzerland, the United Kingdom, Russia, Ukraine, South Africa, Australia, China, Hong Kong, India, Indonesia, Japan, Korea, Malaysia, Singapore, Sri Lanka, Taiwan, Thailand, Vietnam, and many other countries in Asia, Europe and the Middle East.
To follow risk commentary by Kamakura on a daily basis, please follow:
Kamakura CEO, Dr. Donald van Deventer ( www.twitter.com/dvandeventer)
Kamakura President, Martin Zorn ( www.twitter.com/riskmgrhi)
Kamakura's official twitter account ( www.twitter.com/KamakuraCo).
For more information, please contact:
Kamakura Corporation
2222 Kalakaua Avenue, Suite 1400, Honolulu, Hawaii 96815
Telephone: 1-808-791-9888
Facsimile: 1-808-791-9898
Information: info@kamakuraco.com
Web site: www.kamakuraco.com
Analyst's Disclosure: I/we have no positions in any stocks mentioned, and no plans to initiate any positions within the next 72 hours.
Seeking Alpha's Disclosure: Past performance is no guarantee of future results. No recommendation or advice is being given as to whether any investment is suitable for a particular investor. Any views or opinions expressed above may not reflect those of Seeking Alpha as a whole. Seeking Alpha is not a licensed securities dealer, broker or US investment adviser or investment bank. Our analysts are third party authors that include both professional investors and individual investors who may not be licensed or certified by any institute or regulatory body.