Today's Daily Comparison Between KRIS Default Probabilities And Legacy Credit Ratings
Please Note: Blog posts are not selected, edited or screened by Seeking Alpha editors.
Summary
Modern KRIS default probabilities have a term structure from 1 month to 10 years, updated daily, for 42,000 public firms, over 4,900 banks, and 183 sovereigns.
Only 3-6 public firms get new ratings each day and only about 2,650 corporate "families" have ratings.
The result is that the median time since the last change in credit ratings is 1,796 days, up 3 days, as of July 31, 2023.
We update proof of the inconsistency of legacy credit ratings, invented in 1860, with modern default probabilities each day in this note.
Summary
The median number of days since a change in #creditratings is up 3 days at 1,845 days for 2655 public firms.
Correlation between legacy ratings and modern KRIS default probabilities remains low, with ratings explaining less than 40% of the variation in default probabilities at all maturities.
Ratings cover only about 2,600 corporate families, while KRIS default probabilities are updated daily for 42,000 public firms, more than 4,500 U.S. banks, and 183 sovereigns.
Daily Comparison of KRIS Default Probabilities and Legacy Credit Ratings
Legacy credit ratings were invented in 1860 (not a typo) by a predecessor to S&P Global Inc.  Surprisingly, the credit ratings business has hardly changed at all since then.
At Kamakura Corporation, we are sometimes asked about the differences between our KRIS default probabilities and legacy credit ratings.  It's simple to list them:
KRIS default probabilities are updated daily for 42,000 firms in 76 countries, for more than 4,500 U.S. banks insured by the FDIC, and for 183 sovereigns.  The legacy rating agencies update ratings on only 3-6 corporate families per day.  Worldwide, only about 2,650 corporate families have ratings.
KRIS default probabilities have 10,001 grades, from 0.00% to 100.00%.  Legacy ratings have only 20 grades.
KRIS default probabilities have an explicit maturity, with a term structure of default probabilities for each issuer in KRIS from 1 month to 10 years.  Legacy ratings have no maturity and no term structure.
KRIS default probabilities are purchased by the investor, so there is no "issuer pays bias."  Ratings, on the other hand, are paid for by the issuer, and the "issuer pays bias" is a serious problem.
KRIS default probabilities are adjusted for the size of the company to exactly the correct degree.  Ratings, however, have an excessive "bigger is better bias" above and beyond the true impact of size on default risk.
KRIS clients want the most accurate default probabilities possible.  A senior official at Moody's in 2008 proudly proclaimed in a Chicago credit crisis seminar, "Our clients prefer stability over accuracy."  The median number of days since a change in #creditratings is now 1,845 days for 2655 public firms. By contrast, KRIS updates default probabilities for 41,600 public firms, 4900 U.S. banks & 183 sovereigns every day.
The result of these problems with 1860 ratings technology is a low correlation between legacy credit ratings and modern "big data" default probabilities derived with the most advanced statistical techniques possible.  We summarize the low correlation as of TODAY in the following paragraphs.
Spread and Ratings Analysis
This graph shows the distribution of ratings by default probability level and vice-versa.  It confirms that legacy credit ratings are a very rough proxy for modern KRIS default probabilities: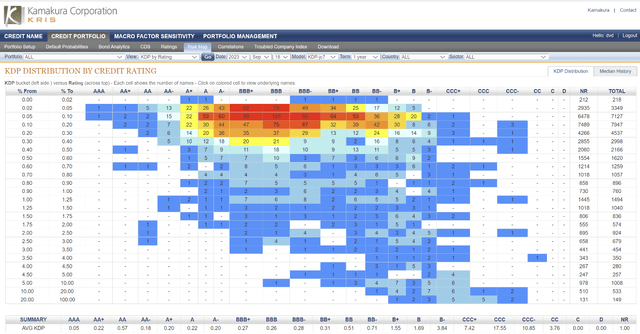 The chart above confirms by visual inspection that the correlation between 164-year-old credit ratings and modern big data default probabilities from KRIS is low.  Indeed, at every maturity tested, legacy credit ratings usually explain less than 45% of the variation in KRIS default probabilities as shown here.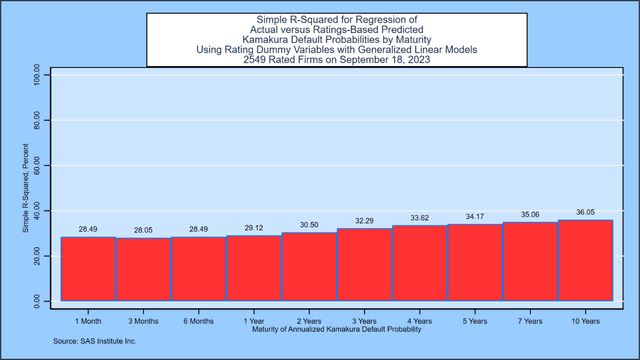 The current mapping of credit spreads and legacy ratings, based on all corporate fixed rate bonds which traded at least $1 million for the day, are shown here: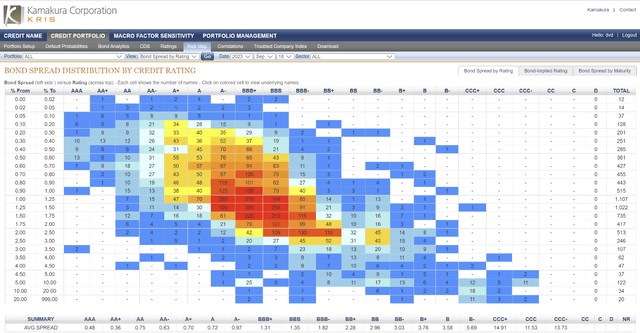 As is the case with default probabilities, the correlation of legacy credit ratings with traded senior debt credit spreads in the U.S. market on the day was low.  How low?  Generally speaking, credit ratings explain less than 70% of the variation in traded bond spreads on any given day if you use dummy variables for each variable, allowing higher rated companies to have higher spreads.  If you use an ordinal variable (AAA = 1, AA+ = 2, etc.) to enforce a widening of spreads as ratings get weaker, explanatory power is much lower.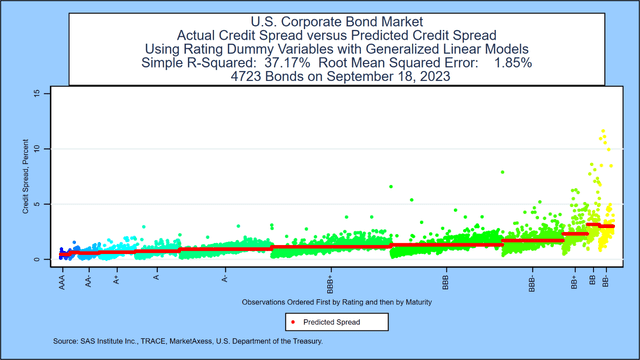 Here is the same analysis using the ordinal variable to predict spreads from ratings: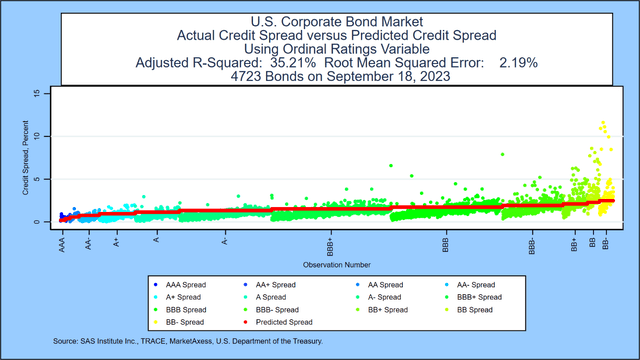 The probability of each legacy rating, conditional on the credit spread being in the range for that row, is given in the table below.  The median rating at each spread level is marked in red.  These red squares can be interpreted as the "bond-implied rating" conditional on the given spread level.  Ratings, of course, ignore maturity and that makes a direct spread to rating match very rough: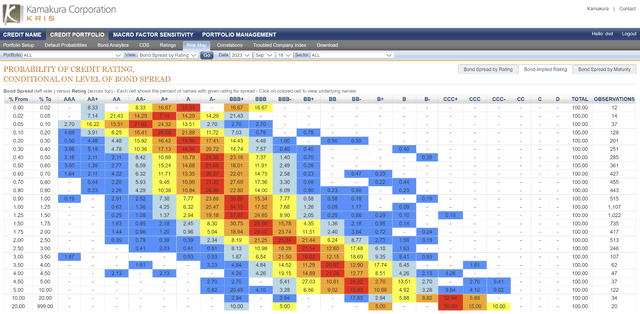 The graph below documents the fact that the median time for all rated public firms since the last rating change is 1,845 days.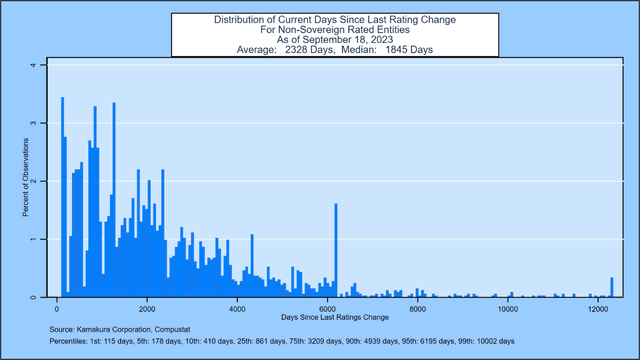 ADDITIONAL INFORMATION
Here is a helpful guide to other resources on SeekingAlpha:
https://subscriptions.seekingalpha.com/lp_premium_beat_the_market_4/?source=affiliate:420043
For near-real time credit and risk management updates from Kamakura Corporation, please follow
https://www.linkedin.com/in/donald-van-deventer-5938b76/
www.twitter.com/SASSoftware
Updates are posted at least every three hours, and more often (every 30 minutes) when market conditions are highly volatile.  
For technical research papers, please see
https://www.researchgate.net/profile/Robert_Jarrow
https://www.researchgate.net/profile/Donald_Van_Deventer
www.sas.com
Analyst's Disclosure: I/we have no stock, option or similar derivative position in any of the companies mentioned, and no plans to initiate any such positions within the next 72 hours.
Seeking Alpha's Disclosure: Past performance is no guarantee of future results. No recommendation or advice is being given as to whether any investment is suitable for a particular investor. Any views or opinions expressed above may not reflect those of Seeking Alpha as a whole. Seeking Alpha is not a licensed securities dealer, broker or US investment adviser or investment bank. Our analysts are third party authors that include both professional investors and individual investors who may not be licensed or certified by any institute or regulatory body.