Interest rates have been rising ever since they hit their lows back in 2016. As a result, bond prices have been declining ever since. However, after brief pause, the bond Bears are now showing some renewed strength and could be taking prices significantly lower in the coming months.   
From a price perspective, we are at an important juncture in the battle between Bulls and Bears, with a potentially explosive move approaching.
Technically speaking, what we are witnessing in the long term charts, is what I call a volatility squeeze situation. A volatility squeeze typically takes place when the upper and lower Bollinger Bands move historically closer together. Many times this situation sets the stage for an explosive move in either direction.  
With respect to the 20 year bond prices, they have been recently trending lower with them now threatening to push through the lower BB band on the longer term monthly chart. Unless the Bulls can show some renewed strength, and are able to push bond prices higher in the near future, we may see a dramatic collapse in prices over the next several months.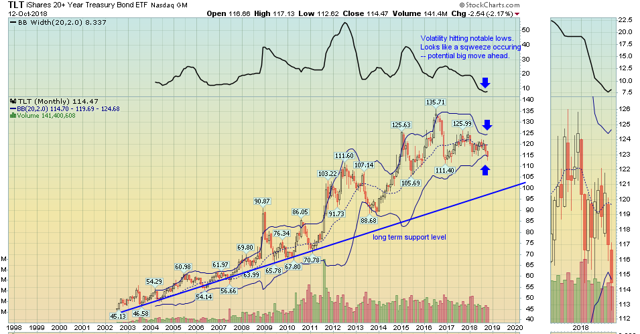 With this being said, what is important at this time is interpreting what has happened and is happening, to help anticipate future movements.
What to look for in the coming weeks...
A monthly close of October at levels below the lower Bollinger band, around 114.70, could spell bad news for the Bulls.
A close below the lower band accompanied by heavy volume would validate this Bearish development.
A powerful move from the bulls during for remainder of the month would be needed to reverse this bearish situation. Ideally push prices higher and close above the monthly open price of 116.66.
A monthly close between 116.66 and 114 would have a neutral to bearish implication for bond prices.
In short, the longer term up trend for bonds is still very much intact. However, a weak close for October could setting the stage for lower prices over coming months, and bring bond prices closer to their long term support levels - see chart for details.
Lets see what price movements during the second half of October reveals to us.  
Stay tuned....
Disclosure: I/we have no positions in any stocks mentioned, and no plans to initiate any positions within the next 72 hours.