The Drudge Ratio: The Confluence of North Korea, Iran, and Israeli News & Why I'm a Silver Bull
As a faithful Drudge Report reader, I couldn't help but notice the juxtaposition of North Korea, Iranian and Israeli news today.  Not that it is anything odd to see the three countries listed for news items together, but today the tone of the news took a strikingly more aggressive tone.
Three Headlines from Drudge:
NORTH KOREA FIRES MORE ROCKETS; SAYS US IS HOSTILE
IRAN SENDS SIX WARSHIPS TO INTERNATIONAL WATERS
POLL: HALF OF ISRAELIS BACK IMMEDIATE STRIKE ON IRAN
If we were to chart the bellicose tone of the articles over the years, I would bet they would be peaking now. How many times do we have to hear Ahmadinejad say that Iran is not going to go along with western nuclear demands before we believe him? How many times do the North Koreans back out of agreements and fire missiles before action is taken?
The United Nations should have a "Perpetuity" Clause that says our stated mission is to make toothless resolutions in perpetuity. 
When ½ of Israelis back an immediate strike on Iran and the US wants to continue playing Kumbaya with the Iranians, something is about to go down in the Middle East.
I think the Israelis are finally at the end of their rope. My bet is they don't sit idle, and I don't blame them. If you are sitting at the end of a bar and a drunk continues to shout over the bar that he is going to "wipe your family off the map", it only a matter of time before you knock him off his stool.
Remember the last time oil ran above $100? Anyone? Anyone? Bueller? How about an 800 lb anchor dragged behind the so called "stimulus"?
If the Obama administrations so called "investments in our future" do not work as intended, how many more trillions of dollars for "investments" do we need to PRINT? As President Obama said to a C-Span reporter recently, "We're out of Money".
The interesting thing about precious metals is that there is a finite amount on this planet and can't be made by man at whim. Gold and Silver have always been great places to be in times of war and geo-political uncertainty.
Silver relative to Gold looks like a value. The Silver/Gold ratio has averaged 56 to 1 over the past three years. The ratio is currently at 65 to 1. Silver did not hold up as well during the last 18 months, but has recently regained momentum having moved above both 50 & 200 day moving averages.
Gold has gotten much more attention than Silver lately. When is the last time you saw a commercial for Silver? G. Gordon Liddy has been doing a great job of advertising Gold every five minutes on cable television, but the average investor still has not heard about Silver as an alternative.
I am a long term bull on both Silver and Gold. When Gold bumps up against resistance at $967 an ounce, Silver will continue to play catch up. The big money will be made owning Junior Mining companies at or near production. In the late 70's, Junior mining stocks produced phenomenal returns as the underlying metal prices soared.
As the US dollar recently broke below the 200 day moving average, prepare to take advantage of the long term trend by owning a combination of physical silver/gold, Blue Chip Mining Stocks, and a carefully selected group of juniors as the sprinters in your portfolio. We might have a short term rally in the dollar, but there is no mistaking the trend. Combine a major international crisis in the mix, and we have a recipe for four-digit Gold.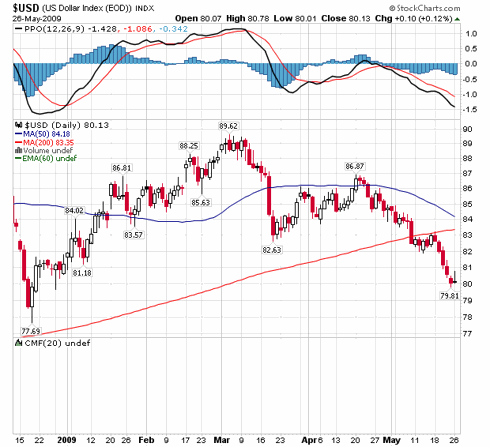 Disclosure: No positions