US Population regional mix (1980 to 2020 trending) – World Regions
This below table shows regional ethnicity/ancestry mix of US population at very high level (2020 projected very high levels. All Asian category includes Japanese, Viet, Middle-East and Thai population as well).
Start of H1 Visa Program

1980

1990*

2000

2010

2020

English/Irish

31.6%

29.2%

25.4%

23.0%

19.0%

German

23.7%

21.9%

19.1%

16.0%

14.3%

Other Europeans

23.7%

21.9%

19.1%

16.0%

14.3%

Black

11.5%

12.0%

12.5%

13.0%

13.5%

Latin Americans*

6.5%

9.0%

12.5%

16.0%

19.0%

All Asians*

3.0%

6.0%

9.0%

12.0%

15.0%

Mixed/Native

0.0%

0.0%

2.5%

3.0%

3.0%

Others

0.0%

0.0%

0.0%

1.0%

2.0%

* Source of new immigration wave
Same data is shown in bar chart format is as follows: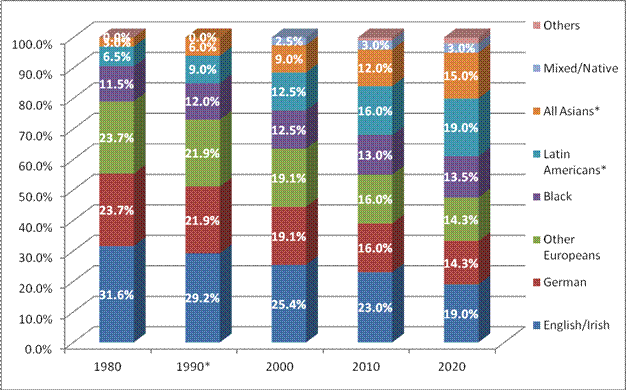 You would notice a big re-balancing in US population's global-regional mix happening over last 50 or so years. If everything follows the trends as it had been since last 35 or so years, by next 10 years or so there would be about 6 equally represented population groups in US population each at around 17% +/- level (living out exceptions). In last 30 years or so these three trends in US immigration have affected population mix big time.
Latin America had been a big source of immigrant population consistently over the years.
Introduction of H1 and other legal entry visas have opened doors for immigrants from Asian countries.
There had been minimal European and Russian/Eastern-Bloc immigration in last 30-40 years.
As you would notice from population data, these new trends in US immigration have created new good sized population groups representations. The secondary wave out of this new immigrant population, i.e. friends and family immigration since now these new immigrants can support dependents, would further balance out regional mix.
Asian groups' family orientation, democratic demeanor and job-orientation would help this group do well in this new world for them and provide them economic stability.
In conclusion, US as country is now a very different country with very different racial and ethnic profile and has immigrations from all over the world because of programs like H1b visa. This has created very well representation of world gene pool in home population and global racial mix is much better now in home population.
All Asian Stats Details:All_asian_popu_Ats.xlsx