Changes in US job markets for Indians (Pre H1 and Post H1)
Formal work or education related immigration to US from Indian started in and around 1960 when country started working as proper independent nation after establishing itself post independence struggle. It could build some education infrastructure and start partnership projects with foreign countries. Since then main immigration waves had been:
1. 1965 - Green -jobs
2. 1970 - Factory -jobs
3. 1975 - Science Talent/Social-studies Talent for teaching – jobs
4. 1980 - Country and corp. partnerships (Retail, Swadeshi, Electronics, Computers, Software)
5. 1985 - Education development (EISLN)- 1M per year good English medium students now
6. 1990 - Liberalization, privatization, globalization, industrialization – increased global focus
7. 1995 - Talent development for global job markets (Job immigration) – 3M+ US jobs – work visa
8. 2000 - International careers
9. 2005 - International life style
10. 2010 - International pricing for skillset(or up to 10 trips to US and $3M lifetime jobs in India)
Pre H1 immigration demographics was very different from post H1 immigration. Some highlights around changes are:
Pre H1
Pre H1 immigration to US had few legal routes most of which originated through universities and education campuses. There were lots of illegal immigration jobs in even some high tech companies and research organizations in those days. Any illegal process is obstacle in system and would create impediment in normalcy. Pre H1 immigrant hiring was mostly in following technology development, research and corporates.
Mainframes, supercomputing, high performance computing

Science research, telecom, pharmaceutical

Universities, manufacturing, retail, petro
There were problems with proper employment records management, job grading and advancements, quality of work assignments, salary and reward system and even sometimes with US stay of workers with longer term tenures. US-India relationship wasn't in good shape between 1970 and 1990. In 1975 to 1977 period during emergency, around 50 US companies closed their shops in India because of changes in foreign companies employment rules (FERA). US was only mediator in many home conflicts that India faced such as: Bangladesh problem, Punjab problem, Kashmir problem, Srilanka problem, Assam problem, Telangana problem. Immigrants' documentation & identification used to in dis-order and financial information was mostly unavailable.
Post H1
US started H1 visa for corporate hiring and job based immigration process (Green card & Citizenship) in 1989-1990. In the last 30 years since than following technology development waves have seen huge H1 employee base involvement. Some of these technologies though have been developed in partnership with H1 source countries (India, China, Philippines, Korea etc). Out of about 4 Million or so H1s which been processed since early 1990 (large %age took subsequent permanent immigration to US route), India took big chuck of about 2.5 M plus. Hence Indians also have big presence in job markets and companies which resulted out of these technologies' development.
Personal computing, servers, systems & data management

Internet infrastructure, connectivity & access

Use of internet infrastructure for web

Use of internet infrastructure for telecommunication

Use of internet infrastructure for modern communication and social networking

Data center & cloud architecture

Use of modern compute and communication infrastructure for business research/apps
Since start of H1 process systematic improvements have been made in employment records management, job grading and advancements, quality of work assignments, salary and reward system and situation is much improved and better now. Even better, there is large pools of equality qualified people available for networking connectivity in immigrant population has improvement resulting in over all better life and cultural economic presence.
Since invention of software, web, internet, personal computers and increase in their use in everyday business/personal activities, India's involvement in US business and industry has increased many folds. That involvement has brought in highly educated and talented immigrants to United States. Indian diaspora's population in US is now 5m plus big and it has presence in many sectors of US economy. At high levels division of this culturally connected economy would show segment ratio's as below:
Segment economies: US Indian Diaspora (Ratio's at very high level) ~ $500B
High tech/IT – 10%

Outsourcing/Cross-country/Governmental/Intra-company projects–10%

Hotels/Restaurants/Real-estate/Grocery – 14%

Travel & Tourism, Transportation – 8%

Entertainment, Media – 8%

Education/Healthcare – 10%

Insurance/Finance/Banking/Legal & Emigration- 10%

Friends/Family/Religion – 10%

Research/Small business owners/CFA/CPA/Tax – 10%

Industry/Oil/Energy – 10%
Average salary per employee in this immigrant group is $100k per employee and major portion (70% - 3.5m ) is employed with additional perks, stocks and rewards. That generates an expanding economy of around $ 500 B plus per annum just in salaries plus other benefits today and is about the size of 20% of country India's total economy. Not only that there is already enough investment in this economic segment for growing it to almost double the size of today in next 10 years with new immigration and increase in involvement in other adjacent segments such as agri-business, retail and supply chain, sports and stock markets, auto, industrial automation, mechanical engineering and construction.
Similarly UK/Continental Europe and Middle-east diaspora creates matching size of "same" type of economy to the tune of about .5 T each, taking that number to about 60% of country Indian's economy which is already third largest economy in world. Most of this is new economy and is still well connected to India. There are some more areas in which similar type of trends are visible such as Australia, Japan, Hong-Kong, Singapore Zone and also Eastern Europe, North-Africa and Russia Zone. This would add some more points.
I went through my H1B visa process in mid 1990ies. It used to be highly lucrative option for top foreign students in those days. Salary multiples of ~10x were possible and people did put in lots of efforts in H1B process and at job/work so that they could qualify and stay good candidates in H1B visa category.
These day salary multiples are at around "4x" or so level when you look at top Native/Near-Native STEM category job/salary data. Process is much lengthier and painful making it very less lucrative option for top graduates. On top of it there are now many more top end career choices available for good graduates in let's say "India" or "China" itself and in other world geographies. Here is a bird's eye-view on current H1B data:
Total number of good international-STEM class engineering/tech colleges* in India = ~100
(* Equivalent of US top 250-300 universities, or world 600-700 universities)
Average no. of graduates out of these colleges every year = 400
Total annual world class engineers production out of India = 40,000
Career options for these grads:
No. of students who would have destinations other than US = 3500
No. of students who can get better "PPP adjusted top end salary" in India itself = 2500
Indian higher education as "good" option = 2000
Indian top services requirement = 4000
-------------------------------------------------------------------------------------------------------------------------
Total non-H1B seeker grads = 12,000
-------------------------------------------------------------------------------------------------------------------------
Total no. of students who would be "candidates" for US H1B program = 28,000
(Good talent out of these students GPA 3.25 or higher/70% +) 50%ish = 14,000
US H1B stats and requirements:
-------------------------------------------
Total no. of US H1B visas every year (non US MS/MBA) = 65,000
Top subscribers of H1B visa: India ~70% = 45,000
China ~10% = 6,000
Philippines ~3% = 1,900
As you would notice that H1B program's requirement from India every year is at about 45,000 graduates, however India only produces about 15,000 or so top end graduates and approximately about 30,000 or so of total H1B worthy graduates. Rest of the 15,000 or so H1Bs would go to candidates who don't have US top 300 or so equivalent education and would not fall into Native/Near Native STEM (20%), foreign STEM talent (20%), H1-B companies STEM talent (40%) or even other STEM (20%) talent categories. H1 portability and up-skilling at job might become an issue for these guys. Hence, there is certainly a big "over-subscription" in H1B visa numbers specially when it comes to countries like India, China, Philippines where this has become sort of an annual "process".
H1B visas numbers have been this way since last 25 years now. There is hardly any annual backlog or past "depth" left to use for program. It has sort of become rolling number year by year. You can make similar calculations for China (home requirement would be higher) and Philippines and you would notice similar over-subscription.
In my very humble opinion, H1B "corporate" LCA certification process when it was started in 1990 had very different goals and there were "resources" available for it to produce very good program results (i.e. good 40-50K top end STEM workers from all around the world). However, I think now there is this "huge" depletion of talent in other countries because of this constant H1B talent pull from those countries and it would have even affected "talent" production machinery in those countries.
Some trends in favor of program though, population increase and infrastructure development (education etc. i.e. no of good colleges 100 by now over 30 or so about 40 years ago) would have created room for more production capacity. However, those top places would only supply about 33% of required talent. Rest of the 66% or about 30,000 candidates would come from places where there are insufficient resources available to up-train candidates to world class levels. I would guess that instead of playing with H1B program logistics i.e. 6 years/9 years debate or total number debate, time would be better spent in creating capacity and investing in talent development processes.
Another problem is "how do you reduce total number of applications?" in the program. At this point you get ~200,000 applications for something that is only 65,000. Lots and lots of unnecessary processing is involved in handling those many applications. How do you reduce no. of total applications in program to it's old level of ~100k and still pull all of top STEM in? One idea would be to further divide application pull categories as shown below:
H1B Top STEM = 20,000 (US 50 equivalent and 3.5 GPA like old times): apps. Probably =20,000

Diversity and Inclusion = 20,000. Mostly pull categories, focus on geographies

Open 25,000 : Certification and benchmarking, even tests (GRE/Toefl types ): 50,000 to 60,000
Total no. of apps: Less than or equal to 100,000 (Masters-education H1B is already separate processing)
I would guess program goals would be better served by making these types of changes over playing with overall numbers and logistics of the program.
Good links for H1B related info.
H1B STEM immigration and it's impact on local economy:
https://eml.berkeley.edu/~webfac/card/laborlunch/peri.pdf
Good data link on engineering education in India:
https://www.gedcouncil.org/sites/default/files/Engineering+Education+in+India+Dec1608-1.pdf
Tables below have pre-H1 Indian immigrants demographics information when it comes to their education background levels and region of origin in India.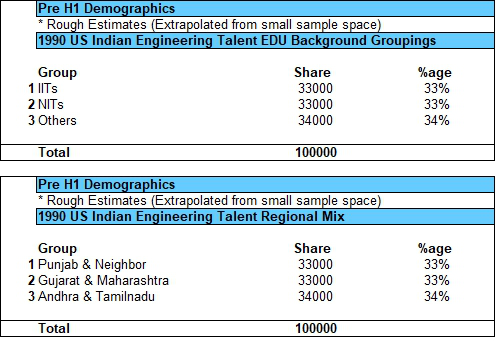 Pie charts below have visual details of same information.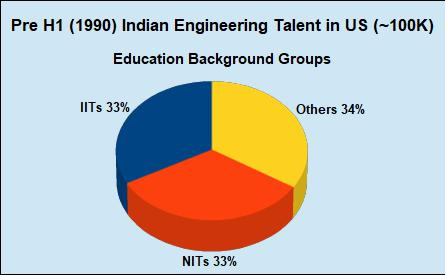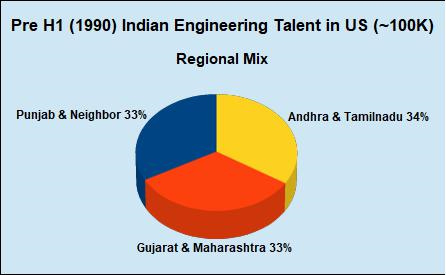 H1 visa based immigration system has impacted Indian population's demographics significantly and future trends are observable in tables below.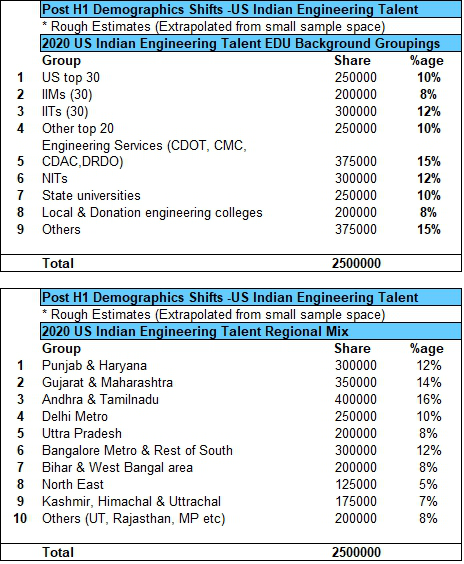 Same demographics information is better visible in charts below: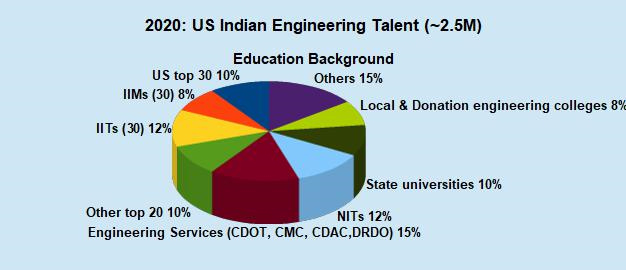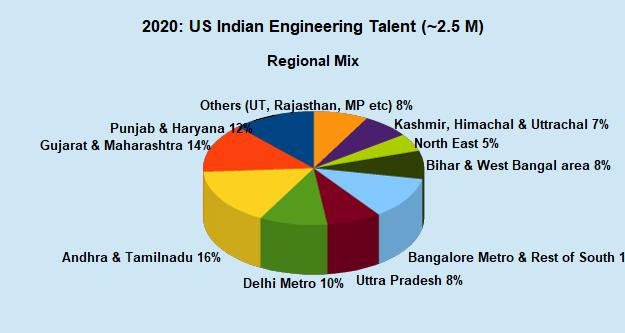 Overall, US population demographics has shifted a lot over last 40 years as shown below: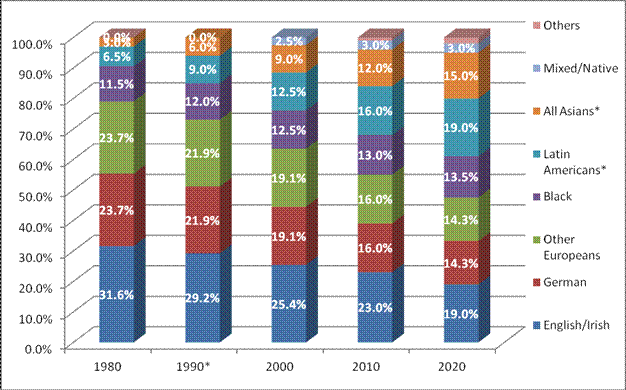 You would notice a big re-balancing in US population's global-regional mix happening over last 50 or so years. If everything follows the trends as it had been since last 35 or so years, by next 10 years or so there would be about 6 equally represented population groups in US population each at around 17% +/- level (living out exceptions). In last 30 years or so these three trends in US immigration have affected population mix big time.
Latin America had been a big source of immigrant population consistently over the years.

Introduction of H1 and other legal entry visas have opened doors for immigrants from Asian countries.

There had been minimal European and Russian/Eastern-Bloc immigration in last 30-40 years.
As you would notice from population data, these new trends in US immigration have created new good sized population groups representations. The secondary wave out of this new immigrant population, i.e. friends and family immigration (since now these new immigrants can support dependents) would further balance out regional mix.
Asian groups' family orientation, democratic demeanor and job-orientation would help this group do well in this new world for them and provide them economic stability. In conclusion, US as country is now a very different country with very different racial and ethnic profile and has immigrations from all over the world because of programs like H1b visa. This has created very well representation of world gene pool in home population and global racial mix is much better now in home population.
Learning curve and abilities based career selections
Just like technology "S" curve (Clayton Christensen) , every job role has its own "S" class learning curve. It starts with 6 -7 months of rapid acclimatization and then there is a period of 3-4 years of hyper growth and confidence building along with good results and high-end contribution generation. At some point in first 4 -5 years on your job, peak performance happens and experience plateauing starts at around when 90% plus of job mastery has been achieved.. Some people find this particular "happening" blocking and some don't. People who feel it would have few options to take at this point. Some of these options are:
Find and follow another "S" curve

Experience boredom, stagnation, lower engagement levels and even taper in decline but somehow hang in there and stick to it

Be happy with diminishing returns at "maxed" out job curve but find out some segways of utilizing your learning curve's potential
Inherently human brains are not only trained to learn at some learning curve, they are in-fact designed to do so. If the sustained level of "learning" that brain is "tuned to" does happen, body generates mood-elevating chemicals as a "thank you" note. When we are no longer learning, this "happy" biological process is thwarted, and dissatisfaction results. Some times these boredom and low engagement level conditions might even pull a person in depression and stress zone. Adequately challenging learning at work that someone's brain is tuned to like IIT class learning curve or Ivy class learning curve has to be present and available for "mental" satisfaction of performers. Otherwise person would "swing" moods and would try and find 'alternate" avenues of keeping brain "busy and engaged" in "some times good and in some times bad" activities.
Job dissatisfaction would result in any case even if person somehow keeps himself busy. And this ambiguous situation is not actually productive. On the other-hand, a sufficiently challenging learning "S curve" at work would keep person attracted to and engaged in job. Hence, correct learning curve mapping becomes important. Here is an example of some of the well known learning curves of Indian job market (UPSE class):

Mapping of "Interest" attribution to some of the "main" categories of work profile is important. Here is a list of main workstreams in a research organization.
At high level, one could bucketize these categories in following interest attributions:
Business and management interest

Research interest

Science and engineering interest

And of-course "Supervisory" work interest along community build-out interest
One possible example staffing strategy for "balanced" staffing and easy management is shown in below table in which management tasks have been separated from management decision making.

Skill tree staffing strategy for hierarchy building
When staffing organization, long term view in personality and people selection is as important as basic needed job skills view. This is even more important for jobs which change with time and "rate of learning" is more important over person's current resume. Along with rate of learning though, there are some more personality attributes which demand equal weight if not less for calibrating candidates such as, penchant for challenge, stickiness, Herculean and Olympian efforts, introvert or extrovert nature, need and desire for advancement in "your" organization vs. universal skill-set development. Based on regression on personality attributes, a person would be placed in one of these major personality types from following categories needed for your organization eg. Needed skills in cloud solution management team: Macros, Micros, Engineers, Long tail office workers, Problem

Organizations though could run "Hiring Schemes" which could help them create reporting hierarchies. Hierarchy building schemes may help organization which would want to in-force leadership or decision marking on better aligned, equipped and talented employees. One example of such an organization is "immigrant build companies" but with local management and ownership in geographies where immigrant population is not treated at par or is not yet fully immigrated. Some of these schemes though could affect employees adversely. Here are some sample thematic hiring schemes that might be needed or can be used for your "specific agenda" promotion:
Anti-Geography (Against a Particular Country)

Anti-Selection (Anti Darwin)

Anti-IQ (Anti Intelligence Testing)

Anti-Genetics (Sort of Genocide)

Anti-Culture ( i.e. Anti-Culture Foreign/Indian normal culture)

Anti-Special-Skills (Anti-Written-English, Programming-depth, Aptitude and Attitude)

Anti-Academics (Anti-EISLN or Academics: Wholeness, Sports, General Knowledge, Music, Media, Leadership, Effort, Allrounder, Broadview, Open-minded)

Anti-Brand (Well Known Education Brands)

Anti-Research/Reasoning (Anti Creative, Informative work, Thinking)

Anti-Learning-Curve (Anti Job Skills Learners I.e Anti-Technologies, Management, Corporate)

Anti-Social-Growth (Anti Maslow, Growing Middle Class)

Anti-Democracy (Anti Voting Right)
In globally integrated job markets though such schemes would show up and would be easily recognizable and hence multi-country workforce companies would have to be become extra careful if they would want to pick and run some of these schemes.