"Refreshing SODA"
Why SodaStream (NASDAQ:SODA) Will Not Lose its Fizz In the $1.6 Trillion Global Drink Market
"The Focused Stock Trader" has covered SodaStream (SODA $66.52) since its IPO in 2010 and have recommended SODA in the past; first when the stock first went public in 2010 at $24, then again earlier this year when we published an update on the company.
We reported that the global drink market is projected to be valued at $1.6 trillion in 2013, with soft drinks comprising a significant share of the market. With most of this market dominated by Coca-Cola (NYSE:KO) and PepsiCo (NYSE:PEP), the current market growth constraints of the soft drink market have been attributed to the worldwide economic recession . SODA has positioned itself as an environmentally friendly and cost effective solution for this market.
SodaStream has also introduced prepackaged, disposable capsules known as SodaCaps. To use a SodaCap, a consumer places the capsule onto a SodaStream bottle filled with carbonated water and presses down lightly to start the flow from the cap to the bottle. Natural air pressure from the bubbles enters the SodaCap from the bottom to further accelerate the process and helps to evenly distribute flavoring quickly and evenly throughout the bottle. SodaCaps can be recycled, and SodaStream plans to make them 100% biodegradable.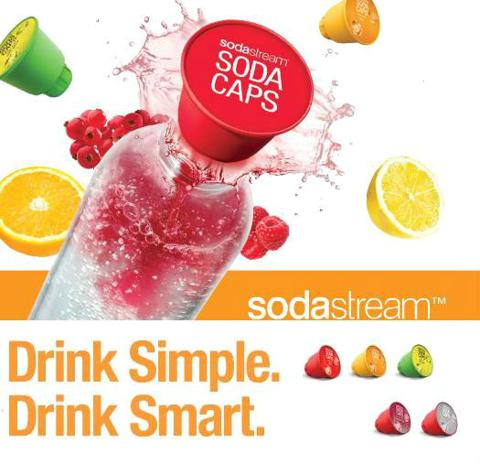 Recently, shares of SODA have gained momentum and have managed to break out from a narrow trading zone of $61-$64,closing at $66.52 on September 20th. SODA currently has 20.76 million shares outstanding and 19.60 million in the float. Average daily volume for the last 10 days stands at just over 750,000 shares compared to a 3 month average of 1.18 million shares.
SodaStream is a small company with a float of 19.6 million shares. The significance of this small float is that SodaStream had more than 8.22 million shares short, about 42% of the float. This means a short squeeze is possible in the future and if a catalyst occurs to trigger it, such as a positive earnings report where SodaStream beats analyst estimates (which has become almost customary), this would initiate the squeeze which would push shares higher.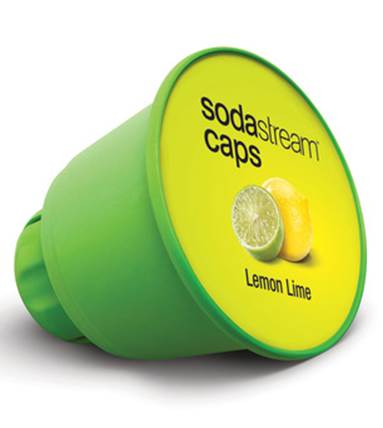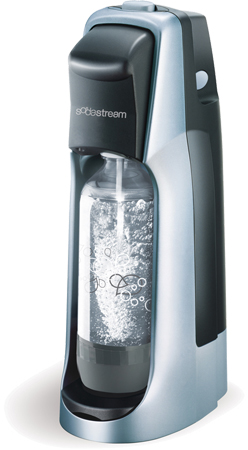 SodaStream announced a number of key partnerships earlier this year, including a partnership in February with Ocean Spray to bring Ocean Spray flavors to its customers. SodaStream also announced a partnership with EBOOST in order to reach into the fast-growing energy drink market. In March, SodaStream announced a partnership with Cott Beverages (NYSE:COT). Relationships with well-known names like Ocean Spray and Cott showcases the strong long-term growth prospects SODA will continue to see in the future.
SodaStream has pointed out that SodaCaps are as good for consumers as they are for soft drink companies. Consumers benefit from easy cleanup and consistent portions necessary to prepare their favorite beverages, and the SodaCap product allows soft drink companies to market their products directly to consumers. One of the key strengths in soft drink company margins over the years has been the business model of licensing syrup concentrate that is sold to bottling companies who produce the bottled drinks that are sold in stores. This business model absolves soft drink companies of the costly process of transporting large amounts of final product directly to store shelves, which would be a huge revenue engine for SodaStream if a major name brand such as Dr. Pepper or Pepsi was available as a SodaCap.
SodaStream's 2013 Q2 financial results showed that revenue increased 28.5% to $132.4 million compared to $103.0 million in the second quarter of 2012 and that gross margin for Q2 of 2013 was 54.3%, compared to 54.4% for the same period in 2012 due to expenditures for building SodaStream's distribution network. Current estimates for 2013 revenues call for revenues of $567.26 million, which will represent revenue growth of 30%. The average earnings per share estimate is $2.57, up 23% from the $2.09 EPS estimate in 2012, which most analysts expect SodaStream to beat.
Technical Analysis By Harry Boxer (TheTechTrader.com):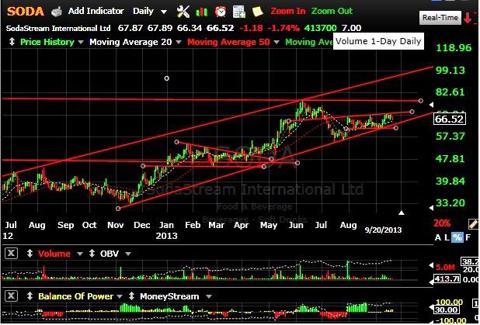 SODASTREAM (SODA) SODA had run in a 3 wave advance from the low $30's last November to near $78 by early June when it started a sharp pullback/retracement 4th wave which saw it retrace to $55 in just 5 weeks. The 5th wave appears to be underway, as its worked its way back to a trading range in the mid to hi $60's recently.We feel a sharper extension of the recent move could accelerate SODA first to retest the 52 week high near $78, then explode into a run that could take it to our next targets near $88 then possibly $100.
CONCLUSION
SodaStream continues to benefit from strong growth, a strong retail distribution network and strong partnerships with other soft drink companies to bring new products to market. The company is an outstanding growth story; SodaStream is looking to generate $1 billion in yearly revenue during 2016, which would be double what the company has generated in the past 12 months.
With a strong brand name and strong growth potential, SodaStream will flourish over the long haul, especially if further partnerships are announced and the company's plans for further expansion abroad proceed on schedule. Examples of international growth opportunities for SodaStream include regions such as South America (Brazil, Argentina and Columbia), Eastern Europe (Poland, Romania, Baltic Countries, Russia) and Asia (China, Australia, Japan)
"The Focused Stock Trader" believes that SodaStream is still undervalued, even at these levels. For those who feel that owning shares of SODA may be too expensive, one way to gain exposure would be to purchase in-the-money call options on SODA, call options whose strike price are close to the current trading price that will enable an investor to take advantage of appreciation in the stock price while minimizing risk.
As always, "The Focused Stock Trader" advises that the utmost due diligence is exercised before investing and that all investment decisions be discussed with a financial adviser to ensure suitability.
Disclosure: I have no positions in any stocks mentioned, and no plans to initiate any positions within the next 72 hours. I wrote this article myself, and it expresses my own opinions. I am not receiving compensation for it (other than from Seeking Alpha). I have no business relationship with any company whose stock is mentioned in this article.
Additional disclosure: I was assisted writing this article by my associate editor Anthony Orbanic.