Unilife Producing Leading Technologies in a $10 Billion Market
Company Description
Unilife (NASDAQ: UNIS) is a U.S. based developer, manufacturer and supplier of injectable drug delivery systems. Unilife's customers are pharmaceutical and biotechnology companies. Unilife manufactures and supplies proprietary devices to pharmaceutical companies in a format where they can be filled and packaged with an injectable therapy prior to its shipment to the end-user for safe, simple and convenient administration.
Unilife's Key Products
Unilife's has an extensive portfolio of injectable drug delivery systems. Unilife injectable drug delivery systems address unmet needs for the safe delivery and convenient disposal of injectable drugs and vaccines by healthcare workers and self-injecting patients. Unilife has products in many injectable device categories including prefilled syringes, auto-injectors, drug reconstitution delivery systems, wearable injectors, ocular delivery systems and novel delivery systems.
Prefilled Syringes: A prefilled syringe is a primary drug container and delivery system for the administration of an injectable therapy by a healthcare worker or patient. Prefilled syringes are supplied to pharmaceutical customers in a ready-to-fill format for filling and packaging with a measured dose of an injectable drug or vaccine. The primary container is compliant with industry standards and pharmacopeias to ensure protection of the drug formulation over a prolonged duration.
Auto-Injectors: Auto-injectors are used for self-administration by the patient outside of the health care system. Auto-injectors are designed to allow operators to automatically deliver the contents of a prefilled syringe at the push of a button. The auto-injector market is expected to be one of the fastest-growing segments in the medical device market.
Unilife's Value Proposition
Within the $2.5 billion prefilled syringe market, there are over 60 drugs and vaccines now available. To comply with needlestick prevention laws in the U.S., Europe and other regions, it is common for pharmaceutical companies to purchase a peripheral safety device. This peripheral safety device is attached on a standard prefilled syringe during a secondary assembly phase after filling. In additional to an additional step in the manufacturing process, the peripheral safety device increases packaging, transportation and storage costs by up to 60 to 70%.
Unilife developed prefilled syringes under its Unifill brand. All Unifill syringes are designed with USP-compliant materials in the primary drug container and for integration with standard packaging and filling processes. They are designed for intuitive use and compact, convenient disposal by healthcare workers or patients. These products cut down packing, transportation and storage costs by up to 60 to 70%. Unilife has current manufacturing capacity of 60 to 70 million Unifill syringes per year.
The auto-injector market is one of the fastest growing markets within the medical device market and expected to reach $1 billion by 2016. The growth of the auto-injector market is driven by the increasing trend of healthcare procedures being administered by the patient. Traditional auto-injector devices are relatively large in size, as they must accommodate various mechanisms to enable the depression of the prefilled syringe for needle insertion into the body, the injection of the dose, and either the withdrawal of the syringe back into the device or the extension of a sleeve to cover the needle. The large size of some auto-injectors can restrict portability, obstruct intuitive use and handling with some patients, and increase disposal volumes. Traditional auto-injectors do not notify patients at the end of dose. This leads to wasted medicine and reduce therapy compliance.
Unilife has a full platform of auto-injectors designed for use with the Unifill syringe. Unilife's proprietary auto-injectors overcome the problems of traditional auto-injectors. They are compact in size, easy to use and can be customized to meet specific customer needs. Unilife believes their auto-injectors are the world's first and only auto-injectors with true end-of-dose indicators. An audible, tactile click signals the delivery of the full dose and the retraction of the needle into the barrel of the Unifill syringe. The potential risk of a needlestick injury occurring after the use of the device is virtually eliminated.
Unilife's other products are very technologically advanced and provide proprietary solutions that will disrupt the market.
Unilife's Market Opportunity
Unilife estimates the global market for injectable drug delivery systems is valued at more than $10 billion with a compound annual growth rate of 11%. The market will double in just over 6 years.
Within the global injectable drug delivery systems market, the $2.5 billion prefilled syringe market is growing at between 12% and 16% a year. The prefilled syringe market will double by 2017. Unilife has the most advanced technology with the world's first and only range of products with automatic, integrated needle retraction.
The auto-injector market is expected to more than double in size over the next five years growing at 17% per year. The auto-injector market will reach $1 billion by 2016, Unilife has the only selection of electromechanical, reusable and disposable systems with true end-of-dose indicators.
Unilife has disruptive technologies for many other segments within the global market for injectable drug delivery systems.
Why Buy Now?
On November 20, 2013, Unilife signed a long term supply contract with Hikma Pharmaceuticals. Hikma Pharmaceuticals will receive a minimum unit volume of 75 million units of Unifill prefill syringes per year over a 15 year period. The initial launch calls for 20 different generic drug in Unifill. Hikma will make an upfront payment of $40 million with milestone payments to follow.
On September 9, 2013, Unilife signed a long supply contract with Sanofi for the Use of Unifill® Syringes with Lovenox®. Sanofi will purchase a minimum of 150 million Unifill syringes per year following a four-year ramp-up. Unilife will receive a minimum of $5 million and up to $15 million in milestone-based payments.
Both of these contracts with market leaders are evidence of the strength of Unilife's product. What is truly encouraging with these deals is the length of the contracts.
There is a significant shift in market trends, which are very favorable for Unilife. Pharmaceutical companies are rapidly shifting away from commodity devices to innovative technologies, a key selling point of Unilife's products, which are the most technologically advanced in their respective markets.
High cost injectable biologics are a large and growing share of pharmaceutical revenues. High cost biologics are very complex and best suited for easy delivery. Unilife's pre-filled syringes and auto-injectors are best in class products for easy delivery.
Within the next decade, half of all healthcare will be administered outside of healthcare facilities through self administration and self injection. This trend will require easy to use, intuitive products and cheap products. Unilife's pre-filled syringe and auto-injector are technologically advanced with features that easy the use of their products and decrease the cost of their products relative to competitors.
Within the injectables segment, there is a shift from vials to prefilled syringes. Unilife has the most advanced technology to address the pre-filled segment.
Unilife has significant unused capacity within its manufacturing facilities and the vast majority of costs are research and development costs, which are not connected to sales creating significant operating leverage. As Unilife expands its sales, after accounting for cost of goods sold and taxes, everything will be profits.
What is this opportunity worth? (Valuation)
The global injectable drug delivery systems market is valued at $10 billion and growing at 10% per year. For conservativeness, The Focused Stock Trader values Unilife on its pre-filled syringe products only, despite the significant opportunity outside of this market. Unilife will compete in all segments of the injectable drug delivery market but currently has market leading product within the $2.5 billion pre-filled syringe market. In 2017, the pre-filled syringe market is expected to grow to $5 billion. The current market is dominated by a few players with weaker products. The current market share leader Beckton Dickinson (NYSE: BYD) has approximately 50% market share with 4 others sharing just under the other half of the market. Beckton Dickinson is the only player producing injectables and auxillary safety supplies. Given Unilife's technological advantage and cost reducing product, Unilife should be able to obtain at the very least 5% of the market by 2017. This would equate to $250 million in revenue from the pre-filled syringe market alone.
For further conservativeness, The Focused Stock Trader use a 25% discount to the median medical device company's EV/Sales over the last 5 years. The median medical device company EV/Sales over the last 5 years is 7.72x. At a 25% discount to the median medical device EV/Sales, Unilife's target multiple is 5.80x. Using this target multiple leads to Unilife's total firm value of $1.45 billion in 2017. The present value of $1.45 billion at a 15% discount rate is $951 million. Unilife has a total cash position of $7.4 million and total debt of $22.4 million leading to a net debt position of $15 million. Subtracting net debt position of$15 million from the total EV of $951 million leads to an equity value of $936.8 million with 93.7 million shares outstanding leads to a total target price per share of $10.00.
Technical Analysis by Harry Boxer (TheTechTrader.com)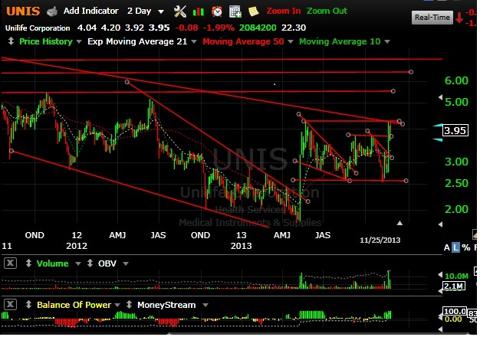 Unilife exploded out of a 3 year down trend in April after news of a new major multi-year contract, moving from $1.80 to $4.25 in a couple weeks. It then settled back in a 3 month falling wedge only to pop back from $2.60 to $3.75-3.77 twice in September and October. Recently it surges sharply on heavy volume as more contracts were announced retesting the May highs above $4 again. TheTechTrader.com believes the stock is poised to pop across Key resistance near $4.25 and move to new highs, testing the June 2012 resistance high near $5.50 (our first target). Beyond $5.25 the intermediate target is set at $6.50 & $7.27.
Conclusion
Unilife has a $10 billion opportunity in front of them. They are poised to take advantage of this through a strong product portfolio. Unilife's products are technologically advanced, relativel cheaper to produce and much easier to use, which should allow them to capture a good portion of this $10 billion opportunity.
Disclosure: I am long UNIS. I wrote this article myself, and it expresses my own opinions. I am not receiving compensation for it. I have no business relationship with any company whose stock is mentioned in this article.