In the short run, the market is a voting machine, but in the long run, it is a weighing machine. --Benjamin Graham
According Robert Shiller's Inflation Adjusted PE Ratio, the market is not cheap…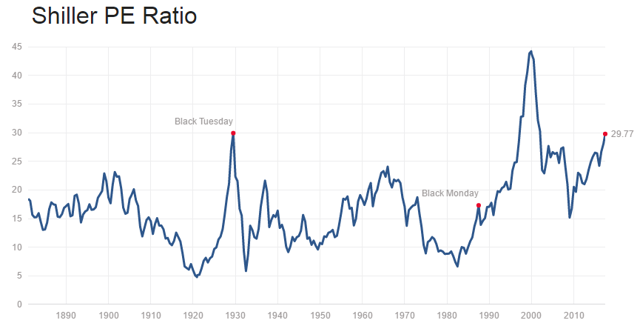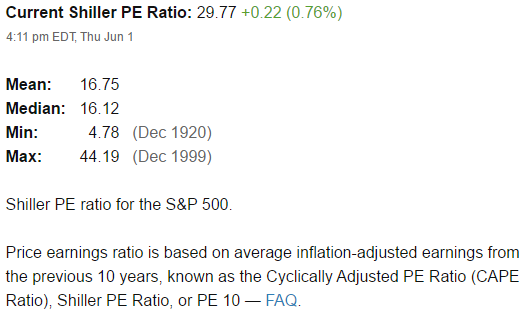 …But that certainly doesn't mean it can't get a lot more expensive. For example, see the 1999-2000 Tech Bubble in the same Shiller PE chart above (things got a lot more expensive, before they came back to reality).
And as shown in the following table, Technology stocks, as measured by the Nasdaq 100 (NASDAQ:QQQ), have been on fire relative to the Dow Jones Industrials Average and the S&P 500 fairly consistently year-to-date, over the last year, and over the last 5-years.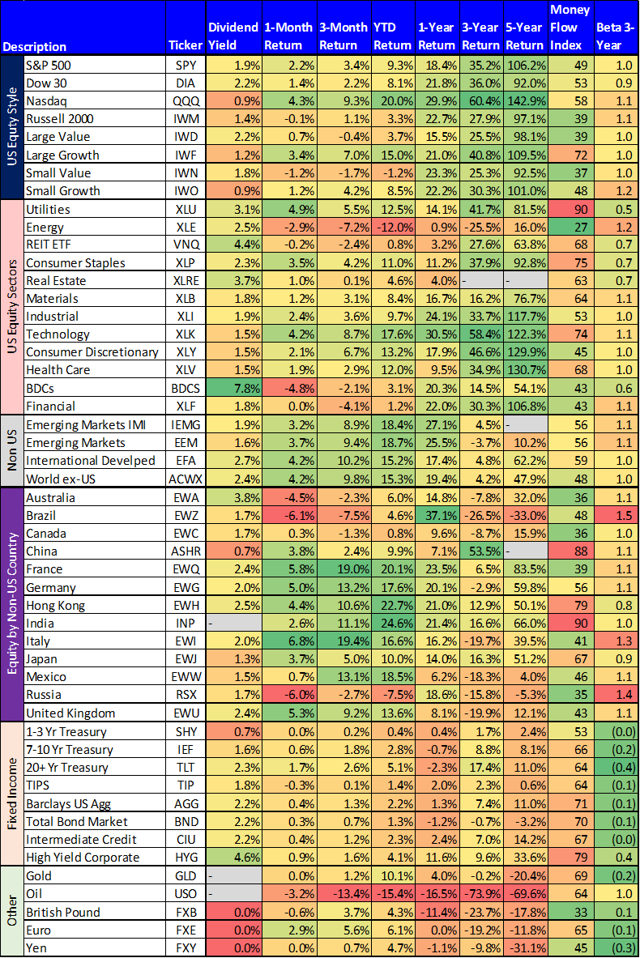 (table data as of June 1, 2017, source: Stock Rover)
The rally in tech stocks (and the market in general) is undoubtedly the result of the rebound from the financial crisis in 2009 and the subsequent quantitative easing by the US Fed. However, one big question now is "Is there moral hazard?" Said differently, has the rally made investors so overconfident that they are practically fearless? To a lot of people, the VIX (the market fear index) suggests the answer is "yes" considering the index is sitting near all-time lows.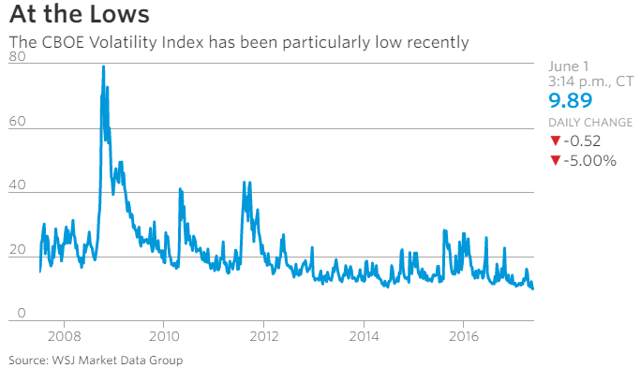 Worth mentioning, it's not just Tech stocks, but large cap growth stocks (NYSEARCA:IWF) have also been outperforming (and in case you're wondering, AMZN, FB and GOOGL have been big contributors, but it's really not all just those juggernauts, there are many other contributors too).
However, historically speaking, this is exactly opposite of what always happens over the long-term. Specifically, as shown in the following charts, Value stocks outperform Growth stocks market cycle after market cycle.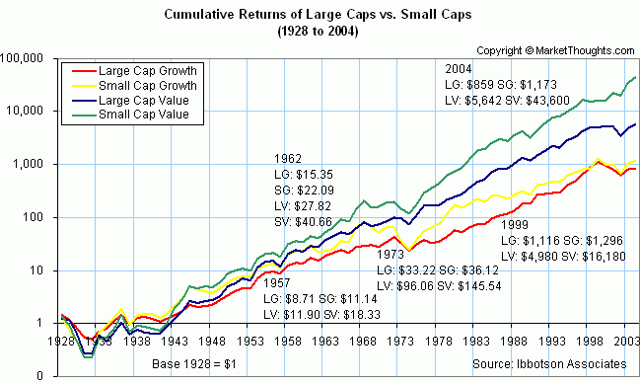 And more recently…

In fact, Small Cap and Value historically outperform Large Cap and Growth over the long-term, which leads us to believe despite the recent rally in Large Cap Growth Stocks, the Value Stock Rally is coming. We're not saying it's coming tomorrow, next week, or even this year, but it absolutely is coming, and when it does, you should be ready.
By "be ready" we are NOT suggesting you sell all your stocks today, and buy 100% small cap value ETFs. As always, you need to cater your investment portfolio to meet you individual needs (perhaps that is income) and your personal tolerance for risk. But what we are saying is don't you dare go chasing returns by ditching your plans, and allocating all of your investment dollars to AMZN, GOOGL and FB!!
*Side note: there is nothing wrong with owning some AMZN, GOOGL and FB as long as they fit your strategy and long-term plan, just don't get over-excited by what has been happening in the market lately to the point that you ditch your plans and make bad risky decisions.
Within our Seeking Alpha Marketplace Service (The Value & Income Forum) we manage three propriety investment portfolios to meet investor needs. For example, the following three tables give a flavor for the number and types of investments we own within the three strategies (the names and tickers are reserved for members-only).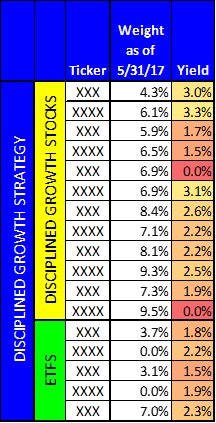 And all three strategies continue to outperform the S&P 500 since inception, and two of them offer significantly higher income depending on investor needs.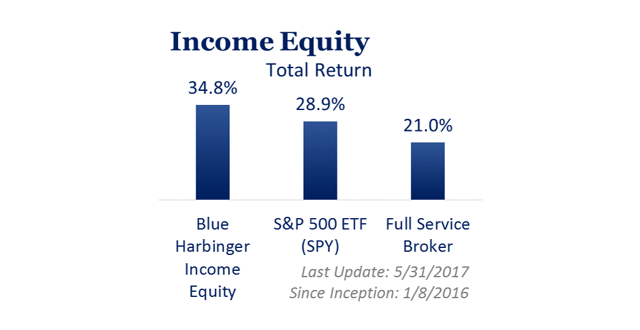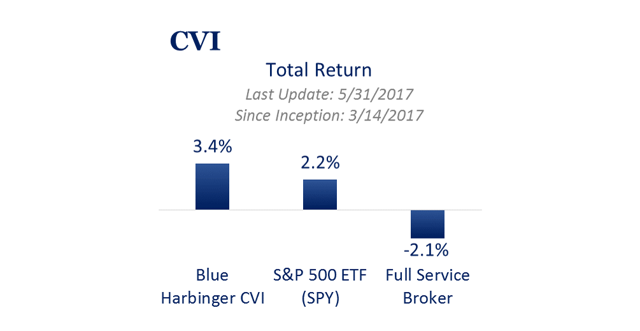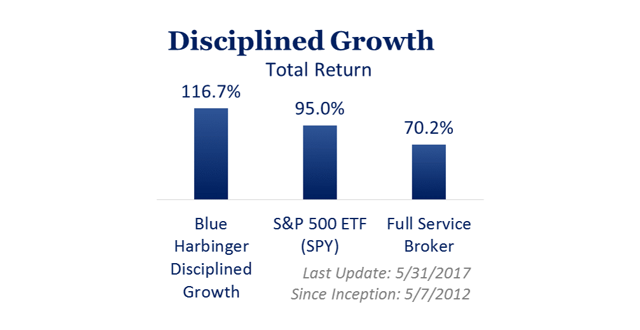 And recall, the current yield on the "Income Equity" strategy is 5.4% and for "Concentrated Value & Income" it is 7.0% (and higher if you count the income from options sales (note: we only sell options in the CVI portfolio)).
Value Stock Catalyst
What could cause the shift to Value Stocks instead of Growth Stocks? Well, for starters it could simply be the return of volatility. If the market suffers any kind of a shock, it could quickly cause a dramatic sell-off in riskier Tech stocks and Growth stocks.
Similarly, rising interest rates can slow the rally. With the Financial Crisis now years in the rear view mirror, rising rates may cause less investment dollars to go to risky stocks and instead flow into safer fixed income products and even savings accounts as rates get higher.
The following chart shows how savings account returns have been squeezed over the years, essentially punishing savers.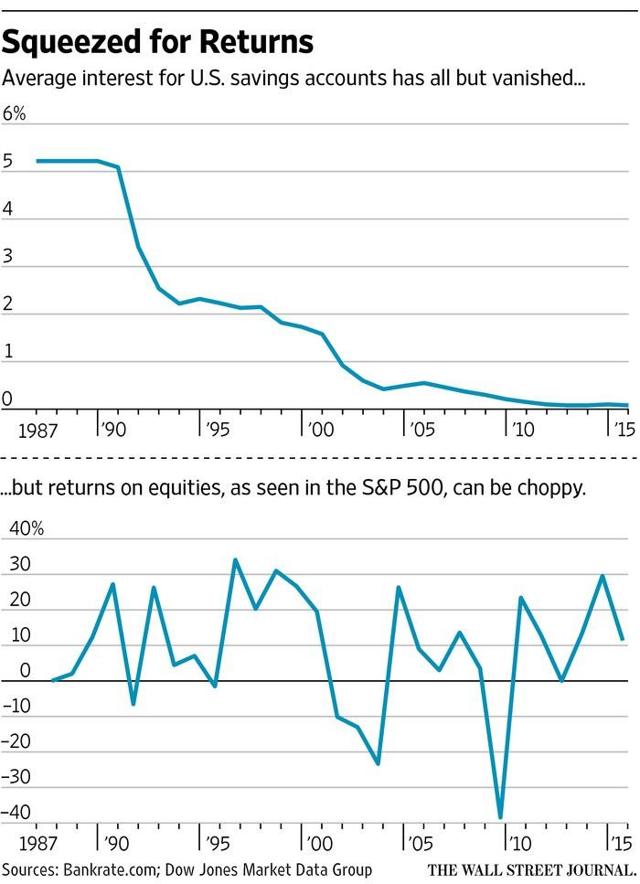 And considering the riskiness of most stocks, many investors have been attracted to Utilities stocks which offer higher dividend yields and less volatility. And our earlier returns table shows Utilities (a Value Stock sector) have actually bucked the trend and delivered decent returns in recent years, particularly over the last one-month. But as contrarians, we know trends reverse and returns often revert toward the mean.
The solution, of course, is to own quality stocks across a variety of attractive sectors in order to meet your personal objectives and achieve the long-term returns you want despite short-term market volatility, which we expect will eventually return, perhaps sooner than later. For perspective, here are a few of our recent investment ideas:
And importantly, haphazardly chasing returns (i.e. piling all your assets into a handful of tech stocks) is often a recipe for failure, whereas sticking to your disciplined, diversified, long-term plan is a proven strategy for success.
Disclosure: I am/we are long FB IWN.