Yesterday was the 235th
 birthday of the founding of the United States Marine Corp.
I talked to an old friend who left his leg in Vietnam, and thanked him for his service to our country.
He was on his way to a ceremony in his home town and then into Kansas City for lunch with officers and other Marines.
I thanked him for his service, and suggested he puff out his chest today.
A couple of other calls to "leathernecks" to thank them for their service left me with a lump in my throat.  Lunch was with an old friend that received a Bronze Star for his heroic actions in Vietnam.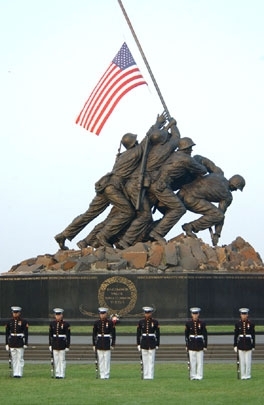 Iwo Jima Memorial in Washington, D.C.
21,570 Japanese and 6,821 Marines Killed in the Battle of Iwo Jima
Thinking about my friends and others that gave the last ounce for us makes all the daily work we do in the market seem insignificant.
Bob Parsons is the founder and President of GoDaddy.
They host our website.
Bob Parsons is a Marine.
Each year Bob sends out his tribute to the Marine Corp.
Maybe his tribute will encourage you to make a few calls to men you know that spent time fighting for your freedom.
I encourage you to make a few calls, you will be better for it.
The Marine Corp was founded 235 years ago.
A committee of the Continental Congress met in Tun Tavern in Philadelphia.
They drafted a resolution to form two battalions of Marines to fight for independence at sea and shore.
The resolution was approved on Nov. 10, 1775, officially forming the Continental Marines.
After organizing, the force was ready in early 1776.
According to Answers.com the present day Marine Corp consists of 203,000 active duty, and 40,000 in reserve.
The Corp motto is Semper Fidelis, Latin for "always faithful."
Today is Veteran's Day.
The markets are open, but stock trades made earlier in the week will not be 'settled'.
Take some time from your day to attend a ceremony or thank a veteran.
With all of the above, we want to make our annual suggestion to think of using Worcester Wreath Co. for a nice gift for friend or customer.  Worcester grows the balsam wood, makes the wreaths and ships them to your address.  This Company's president, Morrill Worcester donates wreaths every year for Arlington National Cemetery.  Maybe a little bit of the money you spend with him will help him continue this philanthropy. Morrill started by giving 5,000 wreaths to decorate the graves at Arlington National Cemetery in 1992
This year Wreaths Across America will decorate over 100,000 heroes' graves all over the world.
You can read about this company's commitment to our fallen heroes.  Wreath laying day is the second Saturday in
December, this year falling on the eleventh.  Wreaths Across America is a 501c3 organization that organizes the wreath ceremonies at 300 locations in the U.S. and 24 foreign cemeteries where our fallen heroes rest.  There are few charities more deserving of our support.  You can donate at Wreaths Across America.
Quote:

War does not determine who is right, only who is left.
- Bertrand Russell
Disclosure:
No Positions