Apple held a product event today in San Francisco as investors and traders held their breath.
Steve Jobs showed up to wow them.
Eric Schmidt, CEO of Google, sat in the third row with other Apple Executives.
Schmidt resigned from Apple's Board of Directors a month ago because of increasing conflicts of interest.
The crowd, and investors, waited for a big product introduction.
There was no great excitement, a new iPod nano with a camera/FM radio, iPhone version 3.1 software available today, upgrades to iTunes and price cuts going into the holiday season.
Read the story about Jobs return to Apple.
Apple (NASDAQ:AAPL) hit a 52-week high during the show.
The Federal Reserve released the Consumer Credit numbers yesterday for the month of August.
Consumer Credit declined $21.6 billion in August compared to expectations of a contraction of only $3.8 billion.
This is amazing, the sixth month of declines, and the largest month-to-month decline since 1950.
This number reveals less demand for loans, but also reflects less money available to loan by banks.
Credit card debt is down almost $70 billion in the last year.
The Fed released their "Beige Book" today sighting evidence the economy is improving.
Half of the Fed's reporting districts reported improvement, with others "stabilizing" or at least defining the economic decline as "moderating."
The Beige Book comes out eight times per year, two weeks before each FOMC meeting.
The report seemed optimistic for the economy.
Elizabeth Warren, chair of the Congressional Oversight Panel, recommended yesterday that Treasury place Chrysler and GM investments in a trust to avoid political pressure and government interference.
Treasury has spent or committed over $80 billion to the auto sector, with limited expectations of recovery, according to the COP report.
Market Watch had a short report on the TARP Funds.
I have added a new video to the website under "Diversions".
Subscriber R.C. sent it to me and I thought it warranted sharing with our other subscribers.
I hope you enjoy it.
Watch the Juggler

.
Friday, the Labor Department reported that nonfarm payrolls (jobs) decreased by 216,000 in August. Today's chart puts that decline into perspective by comparing job losses during the current economic recession (solid red line) to that of the last recession (dashed gold line) and the average recession from 1950-2006 (dashed blue line).
The current job market has suffered losses that are more than six times as much as average (20 months after the beginning of a recession). In fact, if this were an average recession/job loss cycle, the number of jobs would have begun to increase five months ago.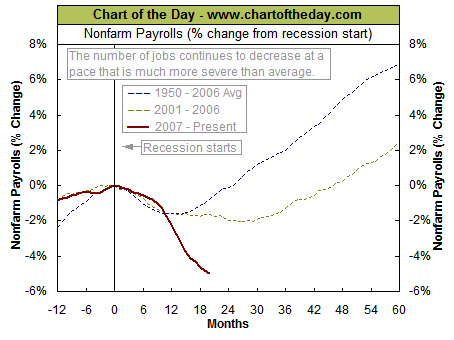 How's that Hope and Change Thing Working out for You?

Disclosure: No Position