5/28/09
Crude oil continues its march to $70 per barrel, and beyond.  Seventy dollars is not going to destroy demand.  The Energy Information Agency (NYSEMKT:EIA) released their forecast for energy usage through 2030 yesterday.  The headline tells the story for our future, "
World Energy Use Projected to Grow 44 Percent Between 2006 and 2030
."   If they had stopped at the headline, they would not have embarrassed themselves.
The EIA went on to predict the middle ground for crude oil pricing in 2030 of $125 per barrel on production of 107 million barrels per day. Let's see, they are predicting a 44% increase in usage with only a 33% increase in production. Economics is a tough discipline when you work for a bureaucracy.  When a scarce item is in short supply, the price must rise until supply matches demand.
How do we get a 33% increase in production?  Oh! Bama and environmentalists do not want to drill for oil, anywhere.  Every major oil field in the world is declining production.  Have we forgotten about the very real concept of "Peak Oil"?  Mexico will be importing oil within five years; Chavez in Venezuela is destroying production in the name of socialism.  OPEC countries have been lying about their reserves since the '70's, because production quotas are based on reserves. The prediction of higher usage fed the market yesterday, driving crude higher.
I wrote about Peak Oil on 12/31/08, "

Peak Oil does not predict or mean that we will run out of oil, but that production will peak, flatten and then decline on existing wells. The problem is replacing old wells and fields faster than they decline. Hubbert originally predicted 'Peak Oil' would be reached between 1965 and 1970. This would be the time when we could no longer replace the declining production with new wells. We have imported oil in increasing quantities year after year. Peak Oil has not affected us because of the availability of oil imports. Now we see peak oil effects on oil exporting countries fields also. Saudi Arabia, Iran, Venezuela, Mexico, and Russia all are facing declining production and increased domestic consumption. Large capital exploration projects are required to find the oil needed to replace the fields that are on the backside of the curve. The first oil in Pennsylvania was sopped up in rags from pools that bubbled to the surface. Today's large oil pools are found in deep water, under salt, under ice in the Arctic, or off shore in political and environmentally sensitive areas like Florida and California."
Today, the world only finds one new barrel of oil for every 4 barrels we consume.

 

New wells drilled in the last few years have doubled but production has remained flat.

 

Almost 75% of today's production is from fields discovered prior to 1970.

 

The U.S. now produces the same amount of crude as in 1947

 
Today the EIA report on stocks and days of supply gave the crude market more gas.  Traders are treating this like a couple of teenagers in dad's car on Saturday night!  Today's report showed stocks and days of supply continuing their decline for the third week.  Next week's report should continue the trend since it lags one week and will cover a holiday weekend.  Usage for holiday travel should have affected supply, and production could show small interruptions because of the shortened workweek.
Below are the two charts graphing the supply and production that are pressuring prices.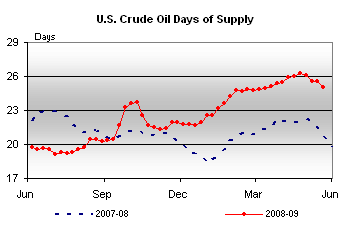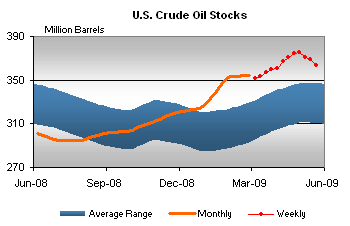 Think of the do
wnturn in the red line of each graph
as OPEC's finger in your wallet!
Today's Market Conclusion:  Oil is headed higher.  You can play it with the USO or DXO Ultra.  Be cautious of the DXO as it's ULTRA status exposes you to "tracking error."  You may also look at DIG, it is an ULTRA fund that owns exploration and production oil companies.  Exxon is their largest holding.  The unique feature of the DIG etf is it uses margin, not futures to attain it's ULTRA status.  For more information on tracking error reference our article under Investor Resources on ULTRA ETF's.  I am going to write more about "tracking error" tomorrow.
Disclosure: Long USO, Long DIG