The world bond market continues to send strong bullish signals for the outlook of both equities and commodities and commodity and emerging market currencies. We have long held the belief that the behavior of fixed income/bond markets tell an investor much of what is going on within world financial markets and there appears to be no exception right now.
Emerging market bonds continue to outperform US investment grade debt and world bond markets in general. This behavior highlights the flow into anything emerging market. This is very bullish for world equity markets in general and emerging market equities in particular. It also has bullish ramifications for emerging market currencies.
The behavior of emerging market debt relative to developed market and investment grade debt is being mirrored by the behavior of the junk bond market in the US relative to investment grade debt. This gives more credibility to the signals being generated by emerging debt.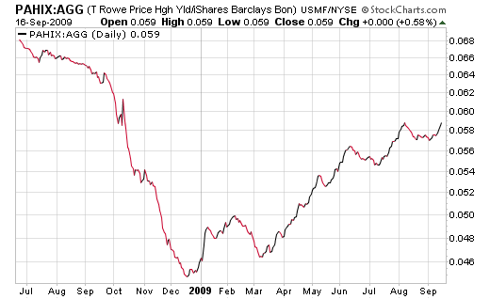 Inflation protected bonds in the US are on the verge of breaking higher against non inflation protected debt. This implies that inflation premiums are on the rise which should be very bullish for commodity prices in general. Touch wood a break higher on the chart below should coincide with a break above $75 on oil.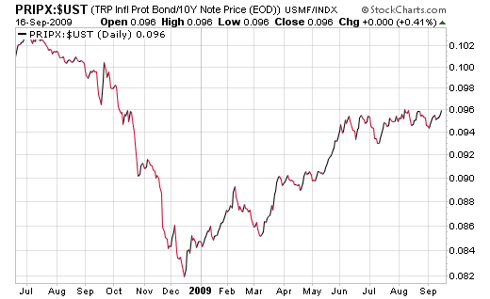 In all four charts above the trends seem clear with a series of higher highs and higher lows. Furthermore, the trends seem healthy in that they have not gone up in a straight line which suggests that weak hands have been kept to a minimum. Only when trends become linear in appearance will we worry about weak hands entering the market and the ensuring collapse!
 Disclosure: Long PCY, JNK, DBC