Going long the USD now is more or less the equivalent to buying greenbacks at the peak in late 2008, or should we say at the height of desperation! There are a number of ways of looking at how overbought the USD is. Apart from gazing at magazine covers and talking to the average fund manager/trader we look at the option market to gain an understanding of just how the crowd is positioned. Specifically we look at risk reversals (in essence the difference in price between like for like put and call options). Right now the premium paid for put options on currencies is at a premium to calls far exceeding that which occurred in late 2008. So if you are short currencies against the USD now in essence you are saying that things are going to get much worse than in 2008. Yes stranger things have happened.......have a go and join in on the one of the most crowded trades financial markets have witnessed ever since the TMT bubble broke in 2000!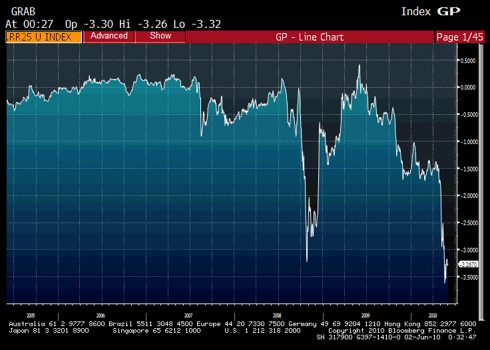 Of course the case against the USD thickens. Note just how close the USD Index is to the previous highs (those of 2008)! Those are very significant resistance levels which are just a percent or so away from current levels.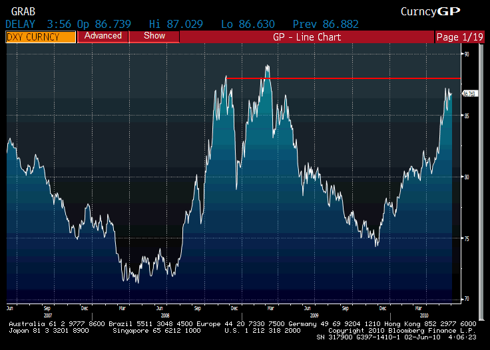 And for those who fancy their chances at timing the market, perhaps now is an opportune time. A tripple top, well it could be......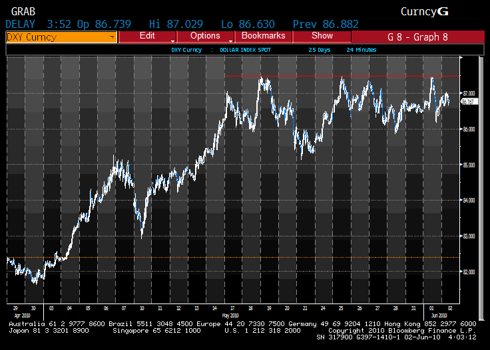 We look for extremes in crowd sentiment and place options positions that go against how the majority of participants are positioned. Given how cheap call options are now on the likes of the EUR, CAD, GBP, and CHF we think that being positioned for a crack in the USD over the coming days/weeks is well worth the punt! Remember it is not a case of being right or wrong rather how much you stand to make if you are right vs. how much you will lose if you are wrong.
Disclosure:
Long Calls on FXE, FXB, FXC