The deflationists/double-dippers are still out in force. What has intrigued me over the course of the last five months is how the crowd has been deluded by doomsayers (need I mention the big-swinging names) and has found every emotive reason in the book to not take notice of what is actually happening with the majority of indicators rather they have focused on what will happen. One classic example is employment in the US. I can find little to no credible evidence suggesting that the employment situation in the US is deteriorating. Yes I guess that will get the skeptics falling off their chairs in fits of laughter! Well perhaps you know better than me. I tend to believe things when I see them and the chart below does not look too bearish to me.

Conference Board Employment Trends Index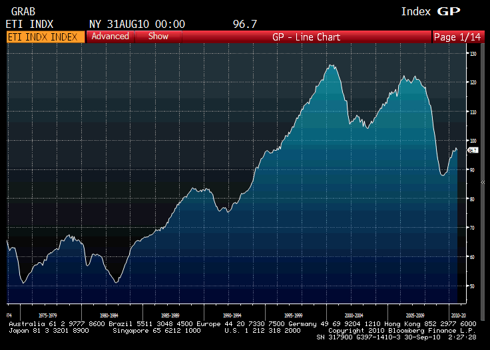 The Employment Trends Index aggregates eight labor-market indicators, each of which has proven accurate in its own area. Aggregating individual indicators into a composite index filters out so-called "noise" to show underlying trends more clearly.
The eight labor-market indicators aggregated into the Employment Trends Index include:
Percentage of Respondents Who Say They Find "Jobs Hard to Get" (The Conference Board Consumer Confidence Survey®)
Initial Claims for Unemployment Insurance (U.S. Department of Labor)
Percentage of Firms With Positions Not Able to Fill Right Now (© National Federation of Independent Business Research Foundation)
Number of Employees Hired by the Temporary-Help Industry (U.S. Bureau of Labor Statistics)
Part-Time Workers for Economic Reasons (BLS)
Job Openings (BLS)
Industrial Production (Federal Reserve Board)
Real Manufacturing and Trade Sales (U.S. Bureau of Economic Analysis)
Contrary to popular belief........by hook or by crook....the US economy is improving. Yes all is revealed if take the time to look where no else bothers to look.The interference by the Federal Reserve can only mean one thing - "overstimulation". The ultimate result being yet another crisis of an inflationary variety.
Disclosure:
Long VTI GCC TBT SLV