Times of market uncertainty lead investors to invest in companies that are recession resistant like sin stocks, healthcare and consumer staples. The benefits of these are that consumers will continue to spend money with these companies, regardless of the state of the economy. One of these companies, whose brands are well known by nearly everyone in America, is General Mills (NYSE: GIS). They have paid uninterrupted dividends for 117 years, a testament to the stable nature of their business and their commitment to their shareholders through generations. However, in the last few years, they have been facing headwinds due to, among other things, changes in consumer tastes with millennial. I would like to analyze their turnaround progress as well as take a look at their valuation to determine whether they warrant investment today.
Their brands span the globe and are in nearly every household: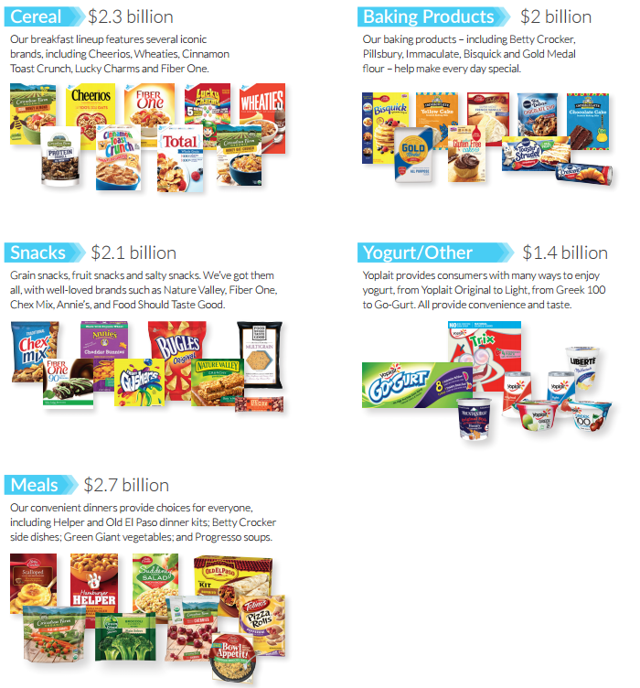 Source: General Mills Website
Because of negative trends in consumer tastes away from key brands, General Mills experienced an earnings drop in 2015 from $2.83 to $1.97 per share, a 30% drop. They didn't even experience an earnings drop during the Great Recession in 2008 or 2009. This shows that they got complacent and allowed consumer tastes to get away from them. They have obviously noticed their issues, and are working to get past them. With their most recent earnings releaseyesterday, let's see how its progressing with full year 2016 results.
In their 2015 annual report, management laid out their goals for 2016:
Drive more from the core (adapt core brands to changing consumer tastes
Reshape portfolio for growth (acquisitions and expansions in organic segment)
Fund our Future (protect profit margins while promoting top-line growth)
They were able to drive 1% organic growth in sales. However, their divestitures, forex, and the 53rd week in the reporting period led to net sales declining 6%. Gross margins did expand yoy from 34.7% to 35.6% due mainly to cost savings and input cost inflation. They have guided for an additional 150 bps increase in margin for 2017, so we will see if they are able to execute on that. They were also able to generate $1.9B in free cash flow, and they spent $1.1B on dividends and $435M on share repurchases. These numbers show they may be gaining traction on the turnaround, once they are able to get out from underneath the forex issues.
Green Giant divestiture:
Divesting older brands is something that these massive consumer staples companies like General Mills and Procter & Gamble have had to do to focus themselves on a core portfolio for future growth. Their sale of Green Giant to B&G Foods gave B&G their largest single brand (something that will allow them to focus on bringing it into current consumer tastes and invest more in advertising) and gives General Mills some extra cash while they focus on their newer brand portfolio targeted at today's consumer. It impacts sales and earnings, but I believe that pruning back big companies like this to spur new growth can be a difficult decision to make and should allow them to emerge leaner and more profitable.
Yoplait launch in China:
The Yoplait launch in China has recently reached 10% market share in Shanghai, and to build on this they plan on introducing it in Beijing this month. This is a good opportunity for growth, and the yogurt has been shifted to meet Chinese consumers' tastes. We will see more of how this opportunity shapes out in future earnings reports, but I think that this is good progress.
Annie's expansion in America:
The acquisition of Annie's in America has opened up the doors for General Mills to appeal to the organic consumer. In addition to this, their push to remove all artificial colors and sweeteners from cereals by December 2017 has started to show big effects. Annie's grew 11% YOY, and their cereal brands managed to turnaround from -6% in 2015 to +8% in 2016. This shows that the company is making strides towards keeping up with current trends.
Acquisition of EPIC Provisions and Carolina:
Finally, the acquisitions of EPIC Provisions and Carolina yogurt brands in Brazil opened up new avenues for future growth. The yogurt franchise in Brazil should mesh seamlessly with General Mills Yoplait efforts in the rest of the world, and I believe that adding this market should drive sales going forward. Their EPIC Provisions brand is a very millennial-friendly packaged meat bar product. It shows their commitment to chasing after the new consumer and should represent a good opportunity going forward.
These moves represent a massive effort on the part of General Mills to refocus themselves and appeal to a new generation of consumers. They are doing a good job of making key acquisitions to put them into new markets, and the divestiture of Green Giant probably won't be their last before this transition is through. They aren't through the woods yet, but this year has shown progress, and investors should be satisfied with the moves management has been making to create growth.
Quantitative Analysis:
General Mills is a dividend challenger, having raised their dividend for 13 straight years, but that doesn't really do the company justice. Their 117 years of uninterrupted dividends is truly impressive, and shows that for generations, they have managed to have staying power as well as intelligent and conservative capital allocation. Their dividend growth rates have been solid for a firm as large as this one:

However, their payout ratio has been eking upwards over that time from 37% in 2010 to 71% most recently, as well, due to tepid earnings growth. This is getting close to being prohibitive, and if the trend continues a dividend cut could be possible. Hopefully, their turnaround will have spurred earnings growth before that happens.
Their earnings have decreased by 2.5% per year for the last 5 years (discussed above) and they have guided for a modest 5.5% increase the next 5. Their debt load is closing in on being a real issue. Their debt, from the 10-K, sits at a bit over $7B, around half a billion dollars down from last year. This is something that investors need to be wary of, and I would like to see debt continue to trend down. Their current ratio of .8 is lower than I would like it, so hopefully they are able to improve this.
Their return on equity has been outstanding for years: (courtesy ofMorningStar)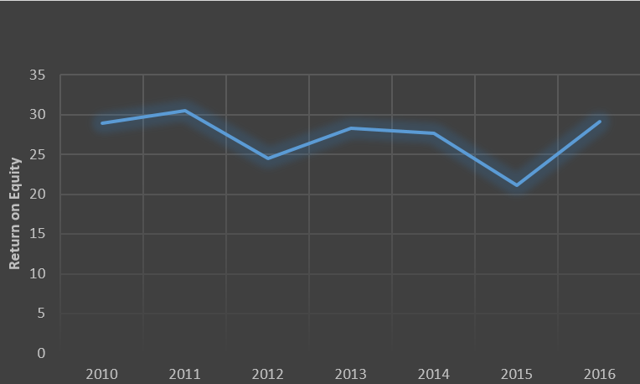 Their ROIC-WACC spread (a measure of the creation of shareholder value over time measured by return on capital) has been good, as well: (courtesy of GuruFocus)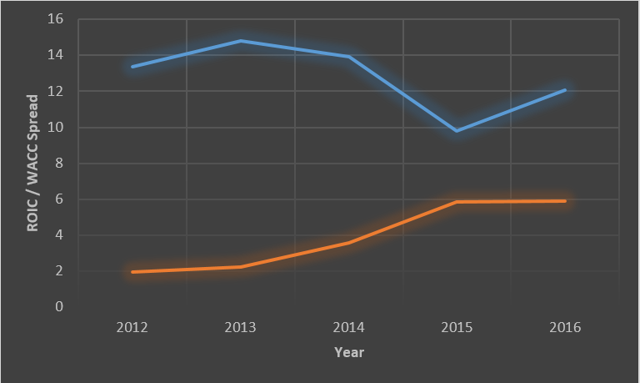 With that, their FCF yield is around 4.7%, which is slightly below average.
Now, to look at valuation, their ttm P/E is 29.04 (due primarily to depressed earnings but also a run-up in share price) and their forward P/E is 23.46. This gives them a PEG ratio of 5.31, which shows overvaluation, in my opinion. I have attached one of Chuck Carnevale's FAST Graphs to visually illustrate: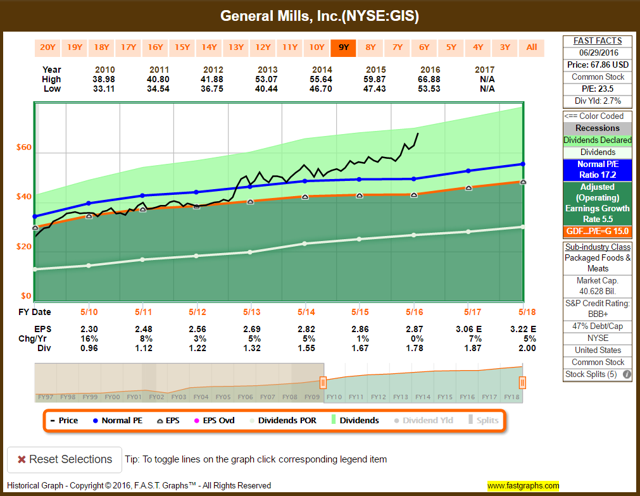 Source: FAST Graphs
The blue line represents normal P/E, the black line is price, and the orange line is reported earnings. When earnings flat lined, price continued to go up, and the recent run to safety has led the share price into deeply overvalued territory.
In conclusion, I believe that management is doing a pretty decent job in turning around this consumer staples stalwart. I would absolutely be interested in investing due to their staying power, recession resistance, and safety. However, the company is overvalued along with most of their sector, and I believe that it will be difficult for their earnings growth to match up to the share price any time soon. I am going to do an article on another company in this sector, which I believe is a much more compelling investment opportunity. If you would like to read more articles like this one, click the follow button next to my name at the top. Thanks for reading.
Financial statistics were sourced from FinViz, unless otherwise stated. This article is for informational purposes only and is not a formal recommendation to buy or sell any stock. Please do your own due diligence and/or consult a financial professional prior to making investment decisions.
Disclosure: I/we have no positions in any stocks mentioned, and no plans to initiate any positions within the next 72 hours.