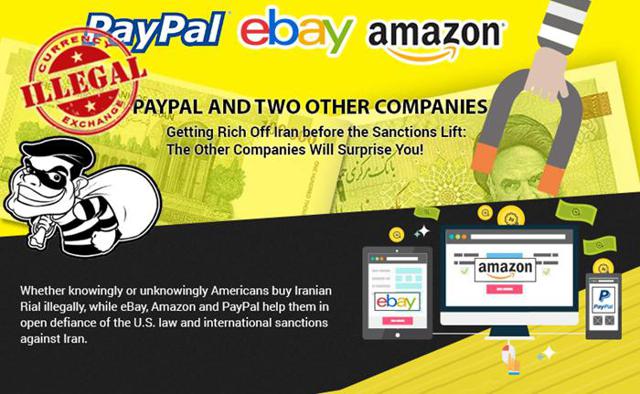 Expose : PayPal, Amazon and eBay Iranian Rial Scandal with Millions of Sales
Whether knowingly or not, Americans are illegally buying Iranian Rial, while eBay, Amazon and PayPal are helping them in open defiance of U.S. law and international sanctions against Iran. In fact, these U.S-based illegal Rial sales appear to amount to more than $1,900,000 during the past 90 days alone.
See the full text of the President's Executive Order here
In particular, Section 2 (NYSE:I) says it's illegal and they are guilty of violating the sanctions:
that the person has materially assisted, sponsored, or provided financial, material, or technological support for, or goods or services to or in support of, any Iranian person included on the list of Specially Designated Nationals and Blocked Persons maintained by the Office of Foreign Assets Control (SDN List) (other than an Iranian depository institution whose property and interests in property are blocked solely pursuant to Executive Order 13599 of February 5, 2012) or any other person included on the SDN List whose property and interests in property are blocked pursuant to this paragraph or Executive Order 13599 (other than an Iranian depository institution whose property and interests in property are blocked solely pursuant to Executive Order 13599);
So, why aren't these companies being held accountable for violating the Executive Order?
When Americans buy Iranian Rial through sellers with listings on eBay, Amazon and other platforms, PayPal processes the transactions, and thus provides the Iranian government with access to American cash via currency smugglers and organized crime. Yet, according the U.S. government, Iran is still a "state sponsor of terrorism"See the U.S. State Department's terrorist list here.
Right now, without any checks or balances you could set up an eBay account for an Iranian Terrorist sell Illegal Rial and process the payments via PayPal! Does anyone else see a problem with this?
PayPal, Amazon And eBay Currency Exchange Fraud Exposed. Check Out The Whole Story : Section 1 To 7
SECTION 1: Why does licensing and regulation matter in currency sales? See the 7 reasons
Take a look below at the licensing required for legitimate businesses to sell currency both Federal and State requirements are not met by eBay and Amazon sellers. FinCen is a department in the US Treasury that regulates financial services companies. Unlike the State Licensing, FinCen doesn't require companies to undergo an approval process. Any firm can register with them in about 20 minutes.
1. FinCen Regulates The Following Transactions:
Transactions that exceed $1,000 per customer within a 24 hour period. If a dealer conducts any transaction that exceeds $1,000 in an individual transaction or multiple transactions of the same buyer that exceed $1,000 within a 24 hour period, the following information must be kept and stored in the event of a FinCen audit:
Customer Name
Customer mailing address
Customer Social Security Number
Government Issued ID
Currencies the customer is purchasing
Gross profit on transaction
Date of order
What the customer paid with
OFAC Check
The records of these transactions must be held on file for 5 years.
FinCen also scrutinizes all transactions exceeding $10,000. The regulator requires all of the information listed above, in addition to a CTR filed with FinCen. A CTR (Cash Transaction Report), where FinCen wants all the details entered into their database for review.
FinCen also requires a SAR (Suspicious Activity Report) to be completed in some instances. This form must be filled out for any transactions that may arouse suspicions due to potential irregularities. It must be submitted to FinCen immediately.
There are multiple listings on eBay exceeding the FinCen limits without proper record keeping or filing.
The sellers that are violating these rules on eBay, Amazon, and PayPal are not registered with the UST. It's impossible to comply with the FinCen record keeping regulations while selling currencies in a third party marketplace without access to customer data. Since the customers are virtually anonymous, sellers are unable to collect the customer's social or Government issued ID.
Sellers that violate FinCen reporting and record keeping rules and regulations are committing a Felony and subject to a $5,000 fine. Thousands of these transactions have happened on eBay, Amazon, and through PayPal. Since these companies facilitate the transaction, they are also guilty of failing to comply and risk facing the same penalties.
2. State Licensing Requirements
Over 20 US States require people that sell currency to be licensed by their state financial regulators. The state licensing process is in-depth with no guarantee of approval. Unlike the FinCen registration that virtually any seller of a currency can be approved for, the State licensing is much more stringent.
Every state has different approval requirements, but the following requirements generally apply:
Complete AML program
Have a full-time Chief Compliance Officer
Meet minimum business net worth requirements
Complete certified financial audits by a CPA
Undergo a criminal background check via the FBI
Fingerprinting placed on file
In-depth analysis of business activities, websites, office locations and other assets
Be bonded and Insured. (An expensive process that can easily cost over $100k per year)
Submit application fee (some states don't charge a fee while others charge over $10,000)
List of Agents (People that sell under your licensing)
Monthly, Quarterly, BiAnnual, Or Annual reporting. Typically gross amount sales and gross amount earned from the exchange
Conclusion: State licensing is extremely expensive and time consuming. None of these eBay sellers meet the licensing requirements, therefore they are operating illegally in these states and using eBay, Amazon and PayPal to illegally distribute currencies.
Penalties for violating state regulations are very harsh and in some cases require violators to refund 100% of the proceeds to their customers. In addition, regulators can impose severe fines and ban companies from operating in the state altogether or even file criminal charges.
3. AML Compliance
Since the penalties for violating these regulators are so strict, companies are required to have an AML (Anti Money Laundering) program. This provision of an AML program can be anywhere from 5 pages to 500 pages depending on the size of the company and the depth of their network.
The AML program explains internal company processes to combat money laundering, including compliance collection and reporting.
4. Agency Relationships
Agency relationships allow companies to operate non MSBs / unlicensed state currency exchanges under their license, which means the company is responsible for their activities and in most cases the fulfillment of the product being sold.
In order to be an agent of another organization's license, an entity must undergo the same in-depth, due diligence process that applies to license holders, because they are accepting liability for all of those agents. If an agent goes rogue, then the license holder will face the same consequences.
A good example of an agency relationship is Western Union and Publix Supermarkets. Publix sells the WU services to their consumers and Publix receives a share of the profits, without having to be licensed themselves. WU will hold the licensing, handle reporting, compliance, etc. Agents allows MSB's to scale their operations, but it's up to the MSB to be selective with their agents due to the immense risk.
eBay, Paypal, and Amazon may be properly licensed, but they facilitate illegal currency transactions on their platforms. None of these companies would extend their licensing via an agency relationship with a small time marketplace seller, especially when these sellers are selling the currency from countries listed on the Terrorist Sanction list and are processing transactions that exceed reporting thresholds without complying with the FinCen KYC requirements or state licensing compliance requirements (which have no minimum reporting requirements).
5. Banking Regulations
Getting legal, banking as a Money Service Business (NYSE:MSB) is a tough ordeal for new and established companies alike. Due to the account risks and the repercussions, if the bank collaborates with a poor or fraudulently operated MSB, significant fines and criminal felonies can be brought against all parties involved, including the bank. These eBay and Amazon sellers are not registered or licensed, their banks almost certainly do not know what they are processing for. Businesses that lie to their bank about the nature of their business are committing felonies (bank fraud), so eBay and PayPal are aiding and abetting additional criminal activity every time they allow that seller to withdraw funds to their bank for illegal currency transactions.
6. Consumer Risk
Consumers could also be harmed by illegal transactions. The State licensing and FinCen was put in place to combat illegal financial services companies and money laundering.
Most consumers probably have no idea that it is illegal to own or purchase the Iranian Rial and that they could be funding terrorist activities by doing so.
It's not the consumer's responsibility to understand the complexities of the money services industry. Sellers should be expected to operate within the law, but many are clearly failing to do so.
7. Source of Currency
The source of the currency is another major compliance hurdle that compliant company takes very seriously. They go to great lengths to make sure they are buying currency from legitimate sources that are not involved with terrorism or other illegitimate activities. Since no legitimate source sells the Iranian Rial, the seller, their bank, eBay, Amazon and PayPal are at risk.
SECTION 2: There is no legal way to import currency from Iran: See the 4 points given
One investigator conducted a test and contacted various online suppliers and asked them to supply the Iranian Rial. One anonymous person was contacted who said he could obtain Rial. Here is a screenshot the corresponding message exchange over WhatsApp:
This dealer clearly admits the currency is smuggled through Jordan and then onward to the U.S.
American investors who buy Iranian Rial may be naive or unaware that the economic sanctions against Iran are still in force and legally prohibit them from buying or possessing IRR…
Yet, PayPal and other major corporations that should be savvy enough to understand financial regulations are openly ignoring the U.N. and U.S. government sanctions, while profiting from the booming online Rial trade.
Either U.S. government watchdogs haven't noticed that Americans are eager to buy Rial, or else they've decided to overlook PayPal and other corporate scofflaws as they continue to break the sanctions against Iran.
Why are these corporations, special? Others have been prosecuted for similar offenses Here is a list of some companies that have violated the sanctions.
1. It's still illegal to buy Iranian Rial
Right now, the Iranian Rial is being sold widely even though it's illegal, even though as of August 2015, Americans cannot legally purchase IRR. Yet, U.S. authorities are overlooking these sales.
Until the sanctions are lifted or the authorities act to stop illegal currency sales, the booming U.S. black market in Rial will continue to thrive.
2. A long history of economic sanctions against Iran
Many governments and international agencies have imposed strong economic and financial sanctions against Iran over the years, and these sanctions are still supposed to be enforced. However, at least with regard to Americans who are eager to buy Iranian Rial, the sanctions are being overlooked.
The U.S. was the first nation to place sanctions on Iran after the Iranian Revolution in 1979, and has led the efforts in enforcing international restrictions ever since.
In 1995, before any serious concerns arose over nuclear proliferation, the U.S. government expanded its original import-export sanctions to prohibit companies from doing business with the Iranian government.
The U.S. has led an international effort to use economic and financial sanctions to influence Iranian policymakers.
U.S. policymakers want Iran to abandon its uranium enrichment projects, which the U.S. and other world powers fear might be used to produce nuclear weapons.
The United Nations Security Council has coordinated with the United States to enact a long list of sanctions against Iran over the years.
In 2006 the Security Council issued Resolution 1696which requested that the Iranian government stop its uranium enrichment activities.
Resolution 1737 was passed shortly thereafter, which changed the UN's effort from a request to a demand, and imposed sanctions against nuclear-related business activities. This regulation also froze the assets of certain key companies and individuals involved with the Iranian nuclear projects.
Those sanctions were followed by Resolution 1747 in 2007, which imposed an arms embargo, the freezing of Iranian assets and further prohibited financial dealings between Americans and Iranian businesses and organizations.
Following the UN action was Security Council Resolution 1803 in 2008. This extended the asset freezing even further and required states to monitor activities of Iranian banks and financial institutions.
Subsequent Resolutions strengthened the sanctions, including Resolution 1835 in 2008, Resolution 1929 in 2010 and Resolution 1984 in 2011. These additional sanctions were designed to further tighten the noose around the Iranian economy.
In 2012, the Security Council passed Resolution 2049, which extended the mandate period for the Iran Sanctions Committee for another year.
Beyond the U.S., the European Union and various other countries have imposed their own complementary sanctions against Iran, because of its nuclear development program.
In 2012, the EU agreed to impose an oil embargo against Iran, and freeze certain Iranian central bank assets on deposit in Europe.
In that same year, nearly all Iranian banks were disconnected from SWIFT, the world's electronic inter-bank communications platform.
Australia and Canada also independently imposed financial restrictions and other sanctions against Iran.
These sanctions were all intended to strangle the Iranian economy and force the Iranian leadership to heed the demands of the U.S. government.
Yet, the sanctions are being ignored by those Americans who are eager to buy Iranian Rial.
3. Sanctions were meant to impact the Iranian Rial and the economy
From the beginning, the U.S. government and its allies designed the sanctions to have maximum impact on Iran's economy and currency. Story from Bloomberg Business.
The U.S. specifically targets the Iranian Revolutionary Guards and other governmental-business entities, which control much of Iran's national commerce.
As indicated earlier, at first the U.S. targeted the Iranian oil and petrochemical industries, including efforts to reduce oil exports. The restrictions were gradually expanded to impact the entire Iranian economy.
Over time the restrictions against interacting with the Iranian financial system have become nearly seamless in their coverage.
4. Here are the activities specifically outlawed under various provisions of often-overlapping sanctions-
Invest in Iran, which means buying the Iranian Rial
Deposit money or maintain money in the Iranian banking system, which includes Americans buying and holding the Rial
Import any goods or valuables from Iran, which happens when dealers sell the Rial to Americans
Facilitate any kind of trade with Iran, including buying Iranian products such as physical Rial currency
Logically, these successive layers of restrictions and sanctions apply to all forms of Iranian banking and financial transactions, including currency sales in which Americans buy Rial from dealers online or in person.
SECTION 3: Economic Sanctions? Not When You Buy Iranian Rial Using eBay, Amazon or PayPal
The U. S. - hosted Rial marketplace is growing quickly. In fact, Rial sales on eBay alone reached over $1.9 million during the past 90 days. Investors buy the currency online from listings posted on eBay, Amazon or other platforms, then PayPal and other payment processors complete the transactions.
However, such activities clearly violate PayPal's published Acceptable Use Policy.
In particular, as shown in the image below, Section 3 (NYSE:G) of PayPal's Policy specifically forbids transactions involving currency exchanges.
Ordinary retail buyers shouldn't be blamed, since the currency is being offered so widely based on the credibility of these major companies.
It's difficult to believe that senior decision-makers at PayPal, eBay and Amazon could be unaware that illegal currency is being actively sold through their platforms.
Even worse, these companies are actively targeting consumers with advertising to achieve more sales, as shown in the screenshot of a sample advertisement below..
For American investors already buying the Rial, the economic sanctions against Iran are irrelevant. Either nobody has told them that buying IRR or conducting any other financial business with this "enemy nation" is against the law or else they're so eager to own Iranian currency that they just don't care.
SECTION 4: Evidence of illegal sales of Iranian Rial
Iranian Rial is being openly and widely sold on eBay and Amazon
Even while the sanctions against Iran supposedly continue in full effect, Americans who want to buy Iranian Rial are flocking to eBay and Amazon.
As of late August 2015 there were approximately 700 active listings on eBay through which mostly-professional sellers offer Iranian Rial banknotes to anyone who wants to buy IRR.
See the eBay listings offering Rial
Rial is also being illegally sold on Amazon
Illegal Rial sales in the U.S. appear to be growing, although the evidence is only anecdotal so far.
Here's a sample of the sales volumes from eBay:
The above data were gathered from terapeak and the full sales data can be found here.
These illegal Rial sales are being conducted on the PayPal platform and underwritten by Wells Fargo. In fact, it appears that WF has been underwriting at least some portion of PayPal's online processing business since 2002.
In spite of this obvious-thriving illicit marketplace for Iranian Rial sales, no U.S. government organization seems to be investigating the sanctions-busting Rial dealers or their customers.
SECTION 5: Are Americans who buy Iranian Rial scofflaws or farsighted investors? Consider this
From the apparent volume of retail sales on eBay, Amazon and other online platforms noted above, it seems that Americans are increasingly eager to buy the Rial.
Although it's difficult to speculate on their motives, it's possible that they're buying Rial for the same reasons investors have recently been buying Iraqi Dinar and other foreign currencies.
If the demographic is similar, many small-scale Rial buyers are seeking an opportunity to achieve large gains from relatively small investments.
It's also likely that among the Americans buying the Iranian Rial online from illegal sellers at eBay and Amazon, there may be some larger, institutional investors who seek to make a "play" on the Iranian economy before the sanctions are removed.
After all, if mom-and-pop investors have noticed the opportunity to buy Rial and are clearly taking advantage of it, then it's also likely there are at least a few institutional investors seeking to scoop up low-priced IRR for resale after the sanctions are removed.
Of course, unlicensed and illegal currency dealers are also active participants and beneficiaries of the black market for Rial in the U.S. As seen earlier, most online Rial dealers appear to be small-yet-active sellers of the forbidden currency.
There are sobering yet unanswered questions: Since Rial is illegal in the U.S., where are the dealers obtaining their supplies? How many Rial sellers are actually agents for the Iranian government, assigned to access the U.S. banking system?
Since Rial banknotes are illegal in the U.S. and are available only from the Iranian banking system, there must be a network of Iranian financial agents that support the value of the IRR while harnessing the power of the U.S. banking system.
To demonstrate the ease at which currency can be purchased, we purchased from several of the dealers and then notified PayPal about the illegal activity. Nothing was ever done. These are brand new, never circulated notes directly from the Iran Central bank.
When Americans buy IRR from Iranian sellers, the money received may be directly benefiting terrorism. This is contrary to the wording and the spirit of the sanctions against Iran.
Yet, an alarming number of investors are ignoring the sanctions. So, are Americans right or wrong to buy Iranian Rial?
SECTION 6: Why U.S. corporations help American citizens illegally buy Iranian Rial?
Although Americans purchase Rial for a variety of reasons, including the desire to profit from an expected rise in the currency's value once sanctions are lifted, the reasons major U.S. corporations help them evade those sanctions are less clear.
Corporations like PayPal, eBay and Amazon would seem to have little to gain and much to lose by openly allowing sales of a commodity (Rial banknotes) that are clearly illegal under current U.S. law.
These American companies host Rial sellers routinely, apparently without determining whether they're U.S. citizens or perhaps Iranian citizens or others acting on behalf of the Iranian government or business interests.
Or, perhaps the marketplace is too small for the in-house compliance staff at PayPal to notice the widespread sanctions-busting activities of the buyers and sellers on their banking platform.
It may be argued that these companies have simply overlooked their legal obligations, and would correct any compliance issues once brought to their attention.
However, PayPal staff has been made aware of this illegal activity several times, yet they still refuse to comply with the law.
The only sure way to understand the reasons PayPal, Amazon and eBay are participating in, indeed creating this illegal online marketplace would be for the appropriate authorities ask them about their practices.
It's perhaps understandable that profit-making corporations would turn a blind eye to "gray area" sales of Rial and other currencies of nations disfavored by the U.S. government.
But what about the responsibility of the U.S. government itself in allowing Rial sales? Perhaps the feds are overlooking the Rial sales industry for political reasons, such as not wanting to derail diplomatic discussions.
Still, illegal sales have been increasing for more than a year, long before there was any discussion about the possibility of ending the sanctions.
Perhaps the authorities haven't been made fully aware of this large-scale circumvention of the sanctions against Iran.
For those who buy Iranian Rial…. PayPal, eBay & Amazon help evade government sanctions
Major corporations are openly breaking U.S. federal law and international sanctions by creating, hosting and participating in the online Rial sales marketplace.
And, it seems that ordinary Americans have "jumped the gun" by buying Rial ahead of the actual lifting of sanctions.
The soon-expected removal of sanctions is certainly fueling Americans' eagerness to buy Iranian Rial, yet it's too early to know whether the value of the Rial will rise or fall after the sanctions are lifted. .
The only certainty is this: Until the sanctions against Iran are actually removed by UN and U.S. authorities, the illegal-yet-overlooked online Rial sales are certainly strengthening the Iranian government's bargaining position while weakening that of the U.S. government.
SECTION 7: The Iranian Rial's future
As signaled in recent reports from financial news organizations, the anticipated easing of sanctions, together with improved relations between Iran and the U.S. as well as other nations, is expected to boost the value of the Rial.
In the meantime, until or unless U.S. authorities cut the banking connections by which PayPal, eBay, Amazon and other American companies are undermining the government's international credibility and strength, Americans will continue to buy Rial and use the U.S. banking system to feed the Iranian government.
Why CurrencyLiquidator.com released this story:
As a licensed money services business we're required by law to report illegal activities in our industry. Prior to the publication of this report, several attempts were made to inform PayPal, eBay and Amazon regarding the continuing illegal use of their platforms, yet the black market Rial sales continue.
Full Disclosure: We're a foreign currency exchange and we offer a wide variety of foreign currencies from around the world. As of the original publication date of this report (early September 2015) the Rial isn't yet legal for sale. Once the Iranian Rial becomes legal to own, we'll offer it to you through our Buy Iranian Rial page.
Article References:
"See the full text of the President's Executive Order here"https://www.whitehouse.gov/the-press-office/2013/06/03/executive-order-authorizing-implementation-certain-sanctions-set-forth-i
"See the list of states which sponsor terrorism here" http://www.state.gov/j/ct/list/c14151.htm
https://www.whitehouse.gov/the-press-office/2013/06/03/executive-order-authorizing-implementation-certain-sanctions-set-forth-i
"sanctions'" http://iranprimer.usip.org/resource/us-sanctions
"Here is a list of some companies which have violated the sanctions" http://www.treasury.gov/ofac/downloads/t11sdn.pdf
"expanded" https://en.wikipedia.org/wiki/Iran_and_Libya_Sanctions_Act
"uranium enrichment projects" http://www.bloombergview.com/quicktake/irans-uranium-enrichment
"Resolution 1696" http://www.un.org/press/en/2006/sc8792.doc.htm
"Resolution 1737" https://en.wikipedia.org/wiki/United_Nations_Security_Council_Resolution_1737
"prohibiting financial dealings" https://en.wikipedia.org/wiki/United_Nations_Security_Council_Resolution_1747
"extended the asset freezing even further" http://legal.un.org/avl/ha/ga_1803/ga_1803.html
"Resolution 2049" http://www.un.org/press/en/2012/sc10666.doc.htm
"SWIFT" http://www.swift.com/about_swift/shownews?param_dcr=news.data/en/swift_com/2015/PR_iran_sanctions_agreement.xml
"financial transactions" http://www.forbes.com/sites/jonmatonis/2013/06/17/government-of-worlds-reserve-currency-targets-iranian-rial/
"Acceptable Use Policy" https://www.paypal.com/webapps/mpp/ua/acceptableuse-full
"terapeak" The above data were gathered from http://www.terapeak.com/
"here" https://www.currencyliquidator.com/blog/wp-content/uploads/2015/08/Illegal-Iranian-Rial-Sales.pdf
"boost the value of the Rial" http://www.al-monitor.com/pulse/originals/2015/05/iran-import-sanctions-investment-consumer-foreign-assets.html