Restoration Hardware is a retailer of high-end luxury home furnishings. RH sells furniture, decor, textiles, bathware, lighting, tableware, outdoor & garden, and child & teen furnishings. It has 84 stores around the nation and markets itself as a "lifestyle brand." RH's business model is centered around visionary CEO Gary Friedman's plans to transform the retail experience within the home furnishings industry. Currently trading at $29.82 per share and a 10x trailing EV/EBITDA and 19.5x P/E multiple, the stock offers a cheap buy into strong future revenue growth and gross margin recovery that will help the luxury furniture company generate steady cash flows beginning 3 to 4 years into the future.
Our thesis centers around three key points. We believe that the recovery and full rollout of RH Modern in all of its Next Generation galleries by the end of 2016 will lead to strong long-term revenue growth as RH monetizes its investment into the RH Modern line. In addition, CEO Gary Friedman's vision for the RH brand drives long-term revenue growth and customer stickiness. As a result of increased revenue and a smaller percentage of rent as a portion of COGS, gross margins should be able to recover to pre-2016 levels of at least 36%.
Shares have fallen ~70% since November 2015 due to a market overreaction illustrated by two bad quarters due to short-term issues in addition to the company undergoing a "transformation period." However, the company offers strong fundamentals and long-term revenue growth opportunities through brand improvements and customer loyalty. We believe the transformation period will shift the business model toward better sustainability and stability of FCF generation in the long run.
RH operates in a niche market subject to consumer sentiment and low switching costs. Brand and reputation for a luxury home furnishings company are key in justifying the price premium RH charges for its products, which usually range from $500 - $10,000 depending on the type of item. RH is a reputable and unique brand in the luxury industry with the largest scale as well as the first mover advantage in capturing unique locations like the Boston Museum of Natural History for its "Next Generation" retail galleries.
The $104B home furnishings market is highly fragmented, where the top 5 home furnishings brands make up of less than 20% of the total industry revenues according to Bloomberg. The industry has a 15-year historical average growth of 2% and maintains high exposure to macroeconomic headwinds, especially within the housing market, as consumers usually tend to buy new furniture when they move to a new home. While there have been rising concerns regarding competition in retail from other mail-order catalogs, online furniture retailers, and e-commerce, our primary research shows that the impact of these potential disruptions is mitigated due to the nature of the luxury industry, where consumers prefer to actually feel the furniture out for themselves before investing $2000+ in them.
The stock traded down due to the RH Modern production delays and what the market sees as an unwarranted shift in the business model toward a membership-based selling model. In an industry where customer satisfaction is key for driving consumer stickiness, the production delays led to negative investor sentiment surrounding RH's ability to retain its premium brand image.
The thesis ultimately boils down to whether or not you believe in the visionary CEO Gary Friedman's plan for Restoration Hardware. As the Steve Jobs of the furniture industry, his unpredictability scares away many investors in the market who can't stomach the risk that he may direct the company toward taking another unexpected turn in its business model.
Reasons for Mispricing
So what exactly happened to the share price and why were gross margins depressed? Management cites that costs associated with the launch of RH Modern had a -0.3 EPS hit on FY16, and timing issues in booking revenue due to the company's transition to a membership based model will lead to another -0.3 EPS hit. In addition, the market is skeptical of RH's rapid increase in store count and square footage expansion plan, building six 43,000 sq. ft. Next Generation galleries a year for the next 2-3 years upon historically negative free cash flow and uncertainty in the membership business model.
However, the market has largely written off RH Modern as a failed product line due to its poor rollout. In fact, based on primary diligence conducted with customers in the retail stores, RH Modern is actually selling well among interior designers and clients and analysts were bullish on its reception when the line first launched. In the long run, the production delays will purely a hiccup in revenues that has now been priced into the stock price and offers a cheap buy into the spike in RH Modern revenues that will be generated within the next year or so. RH Modern has only fully rolled out in Next Generation galleries as of September 2016, almost a year after its initial rollout in RH Los Angeles. Thus, there is still significant potential for the company to benefit from the strong product line release in the near future.
Analysts were bullish on sales expectations and popularity of the line-Goldman Sachs upgraded it to a "Buy," citing expectations that a recovery will begin by the end of the year. The RH Modern line, despite its poor rollout, was very popular with interior designers and clients, and customers have complimented the product's "quality," "environment," and "experience." Since RH Modern launched, the stores have been far more popular with people aged 25-35.
All of this is part of the vision of CEO Gary Friedman, who was president of Williams-Sonoma prior to joining RH and rescuing it from bankruptcy in 2001. RH lost money in nine of the thirteen years it was operating before Friedman was hired. In 2012, Friedman was forced to step down briefly after an inappropriate relationship with his secretary, but was rehired soon after. Friedman's plan, centered around brand repositioning to a luxury retail business model based on brand loyalty and increasing customer stickiness, is based on three key pillars: Next Generation gallery expansion, the membership model, and focus on RH Modern and rebranding.
With the release of the Next Generation galleries, RH has become more like a design center than a traditional retailer, with a walk-in catalog model. The market is fixated on Same-Store Sales and Sales/sq. ft., but this is not an accurate representation about how RH makes money-RH is more about selling "spaces." With interior design services and specialists, RH aims for customers to buy rooms at a times, not aisles; they aim to have a welcoming, personal environment while still maintaining the luxury feel-to be the "Apple" of home furnishings, as Friedman describes it.
RH is transitioning to closing smaller Legacy stores and opening much larger Next Generation design galleries, with plans to open six Next Generation Galleries in 2016 and six more in 2017. In the 2017 galleries, RH plans to add restaurants, wine vaults, and coffee bars. This will drive store traffic, and it is a long-term investment in the brand, enforcing the model of a luxurious walk-in catalog that RH has adopted. As RH transitions from "product"-based to "project"-based, members are working more closely with interior designers, and sales have consistently risen with square-footage expansion. In fact, sales leap 50%-150% historically when products are in stores versus online or in catalogs. The main issue with this expansion are the barriers to entry-large display halls like the Boston Museum of Natural History are hard to come by. However, RH has already attained spaces for the Next Generation galleries it is planning to open in the coming couple of years. With its Next Generation stores, RH has been dominant in consumer visibility and brand recognition.
The RH membership program, which was rolled out in March 2016, is a rebranding initiative designed to shift RH away from its "chaotic promotional platform" of intermittent discount periods, which raises brand quality. The program includes complimentary interior design, which encourages customers to buy "spaces" rather than one-offs and has network effects as designers boost sales via a cross-selling platform and increased loyalty. The market misses the benefits from this interior design service, and it is afraid that the fixed discount on all items will depress margins due to the timing of revenue recognition-discounts lengthen the selling cycle and decrease the urgency to close sales within a deadline. However, there exists significant sales growth potential from synergies in cross-selling capabilities involved with the interior design services
The market is also unnecessarily bearish on the membership model. Memberships don't seem to make too much sense for a furniture company where the same consumers only return to shop for furniture every 3-5 years. While a membership model may be ineffective for a traditional retailer, simply serving as any incentive for customers to buy from RH at all at a 25% discount is beneficial to the company because all of their products themselves are already very high margin. Because the membership model is replacing the traditional "On Sale" cycle, investors have negative sentiment surrounding how the membership model will depress margins. This consistent 25% markdown on all their products for a simple $100 annual payment inevitably depresses margins, but it's important to realize that this depression is only a one-time shift that has been factored into the share price and, based on our conversation with the sales representatives at the RH Boston, serves mainly to allow potential customers to buy RH whenever they want to instead of having to wait for a sale or risk these consumers shopping elsewhere for luxury furniture. This smoothing of the selling cycle makes sense due to the nature of the housing market and how consumers purchase furniture in bulk. Logically, it does not make sense for any consumer to wait more than a month with an undecorated room specifically because they are looking to buy the RH brand. If the membership model drives sales volume, it can also reduce inventories and serve as a source of cash that will give a one-time boost to free cash flow. Smoothing the revenue also mitigates the risk of having quarterly earnings misses purely as a result of unfortunate revenue timings.
Valuation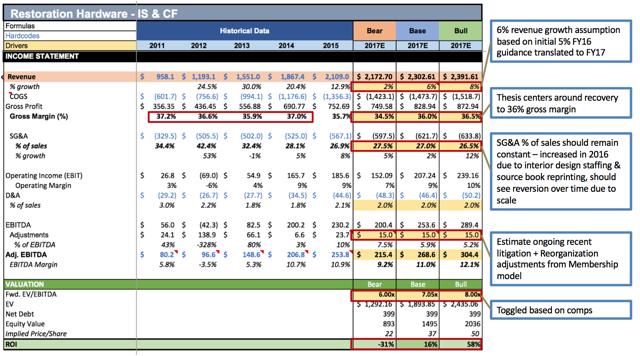 Model built as of 10/1/16

Given that RH is undergoing a transformation period and has had historically negative free cash flows given its relatively young nature of its current business model (since 2011) and unclear capex disclosure, a DCF does not make sense for evaluating this company and we can only reasonably project out two years forward on an EV/EBITDA basis. Given the rapid revenue growth within the past 5 years, we conservatively project out revenues on a growth percentage basis because there is limited confidence in projecting out Sales/Sq. ft. and Same-Store Sales for a "walk-in catalog" style retailer. As aforementioned, we do not believe that Sales/Sq. ft. is a good way to represent revenues for a non-aisle based retailer because sales are less linearly correlated to square footage growth.
Because management guided for 3-5% revenue growth for FY16 before adjusting down to 1-3% after a bad Q1, we believe a 6% base case growth rate is conservative for FY17, if the company is able to at least recover to FY16's initial estimates given a successful RH Modern rollout. By the end of F2017, the membership model will have settled in and the RH brand will have made significant progress thanks to the CEO's rebranding efforts through the membership program and new format Next-Generation gallery expansions with restaurants, hotels, coffee bars, and wine vaults that will drive customer traffic in the long run and make the company appear as a truly exclusive luxury brand.
Using a comp set based on FY17 blended forward consensus multiples, we arrive at a 7.05x EV/EBITDA multiple, conservative based on the trailing two-year average of 8.5x, and an equity value of $37/share, yielding 28% upside from the current share price of 28.91. In the bull case where RH Modern sells better than expected and the membership model succeeds in smoothing the selling cycle and driving sales volume, revenue should grow at least 8% and yield a 73% upside. The base and bull cases are much more likely than the bear case because the membership program, the store expansion, and increase in SG&A investment to sell RH Modern and restructure the business would all have to fail in order for margins to depress further and lead to the bear case to play out.
There are many avenues for margin recovery and high likelihood of success. Gross margin will likely recover as RH Modern rolls out successfully and transforms the brand and business model, closing out FY16 and FY17 as a key driver of revenue growth. Its real estate expansion strategy should yield revenues that scale well relative to costs, which should improve gross margins. Moreover, continued expansion of eye-catching brick-and-mortar stores continues to drive brand recognition, and driving higher-margin direct and online sales will yield synergies. From its new membership model, interior designers will be able to successfully push significant cross-selling and reputation of quality, improving sales. Waterworks sales beat estimates due to such increased synergies from designers. Lastly, cost-cutting, including SKU count rationalization and streamlined staffing, has been successful and has minimal drag on sales growth. As a result of these factors, we assume that RH can recover to a 36% gross margin.
There are a couple of risks around our thesis, which trusts that RH will learn from its mistakes and succeed in rebuilding and protecting its brand image. Foremost of these risks is reputational risk. There are low switching costs, so a customer can easy forego the small investment of $100 in the membership program to switch to a competitor. Moreover, another botched rollout of new product lines could be harder to recover from, and Friedman, unpredictable as he is, could become involved in another controversy. The luxury furniture market is also highly correlated with the housing market, so macroeconomic headwinds could affect sales. There are also risks that the transition will not be enough. It is possible that the membership model fails to build loyalty or network effects, and there won't be a payoff from the one-time margin hit. Similarly, Same-Store Sales could fail to recover due to massive increase in square footage in the transition, and new product line rollouts could fail to catalyze sales in the long-run. But even in the case of stagnation, EBITDA could still be driven inorganically through a bolt-on M&A like Waterworks, or if the talks about acquisition by Williams-Sonoma lead to fruition.
The key takeaways are threefold:
1. RH has strong fundamentals, which are undervalued due to skepticism surrounding recent news. If RH can recover from short-term reputational hits to continue investing successfully in developing its brand, RH Modern rollout is nothing more than a temporary hiccup in sales growth. Hence, RH will be able to continue capturing market share in high-end luxury industry, leading to long-term revenue growth.
2. The transformation period moves the business toward better sustainability and stability in long run performance. Real estate expansion is expected to continue to drive sales growth, and the transition to membership model will smooth sales and increase loyalty
3. RH can recover to 36% gross margins by capitalizing on its recent innovations in the near future. We have a low downside, as valuation will remain relatively stable, given recent hit the name has already taken. On the other hand, we have much higher upside if brand repositioning is successful and the steady monetization of roughly four of investments into infrastructure pay off through consistent high-margin furniture sales and recovery to historical margins & sales growth trajectory.
Disclosure: I/we have no positions in any stocks mentioned, and no plans to initiate any positions within the next 72 hours.