The Labor Day holiday is right around the corner, and now is a good time to figure out which stocks are likely to perform well for the rest of 2012. To do that, we'll take a look at ten year seasonality of stocks in the SP500 index. With the caveat, of course, that past performance is not a guarantee of future returns.
In order to isolate the high odds stocks, we will focus only on those companies which have had positive seasonality for 9 out of the last 10 years (in Sep. - Dec. 2008 almost all SP500 stocks registered declines of varying degrees). This initial scan results in 15 names (you can find the complete list on my blog).
The average 10 year seasonal gain for the stocks in the list ranges from 24% for NVDA to 5.5% for SO.
We can narrow down the list further by focusing on those stocks which have outperformed their average 10 year seasonal gain during the last three years. This way we end up with the best most recent performers, and they are: VRSN, CBE, TXT and INTU.
VRSN and CBE are already making new monthly highs, and a pullback to 68 for CBE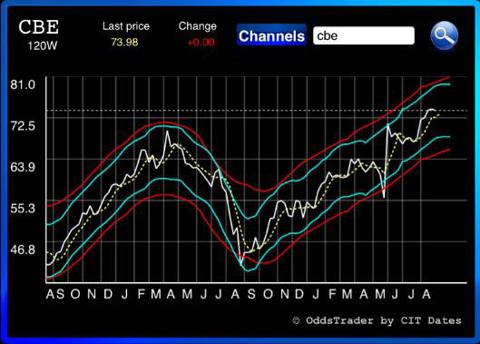 and 46 for VRSN should provide low-risk entry points.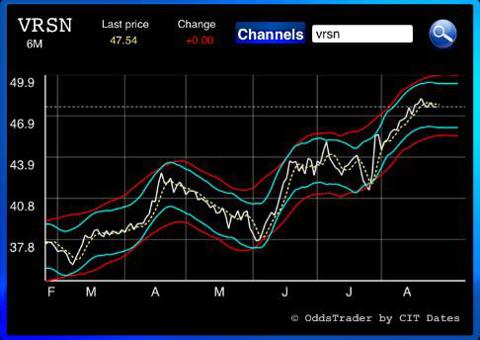 For INTU and TXT a breakout above monthly resistance at 62 and 29, respectively, should signal that the end-of-year rally has started.
If one doesn't mind venturing outside the SP500 universe of stocks, another option is to adopt a top down approach by first scanning the different industry groups, and then looking for outperforming stocks within them. Among the different industries, the best and most consistent performers for the selected time period are Farm & Construction Machinery (CNH, CASC, ALG), Application Software (VRSN and INTU), Scientific & Technical Instruments (NYSE:A), Independent Oil & Gas (CWEI, COG), Aerospace & Defense (NYSE:HEI), Beverages (ABV), Drug Manufacturers (NASDAQ:MDCO), Personal Computers (NASDAQ:AAPL), Auto Parts Wholesale (NYSE:GPC), etc. Again, the Top 10 industry group list is on my blog.
Disclosure: I have no positions in any stocks mentioned, and no plans to initiate any positions within the next 72 hours.